Romanian SocDem leader meets Trump's national security adviser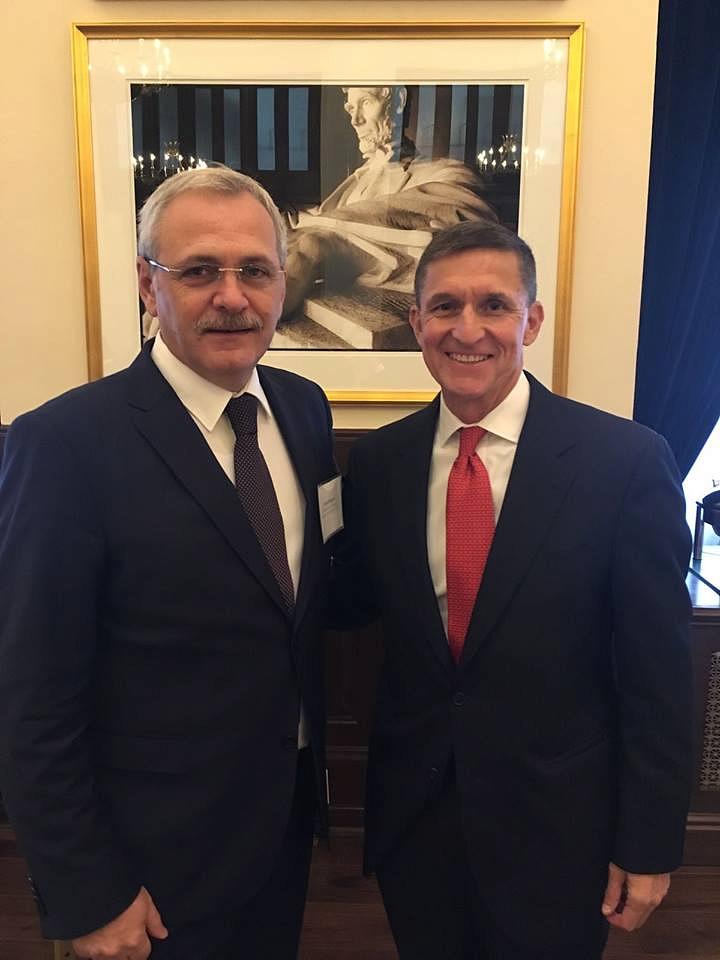 Romania's Social Democratic Party (PSD) leader and Chamber of Deputies president Liviu Dragnea met Michael Flynn (opening picture), future national security adviser in the new Trump administration, and Ed Royce (picture below), the chairman of the Foreign Affairs Committee of the House of Representatives, during his visit to the U.S..
Dragnea put photos of his meetings with both American officials on his Facebook page.
Referring to his talk with Michael Flynn, Dragnea said in his Facebook post that they discussed "the excellent perspectives of the strategic partnership between Romania and the United States, and the fact that national security and stability are two key factors for the development and prosperity of a nation."
He assured Flynn that the Romanian Government would respect Romania's commitment to allocate 2% of GDP on defense, Dragnea also wrote. On the other hand, Michael Flynn confirmed the United States' special interest in Romania, and the new American administration's willingness to develop the partnership with Romania.
The talk with Ed Royce was also a "pleasant discussion" about the Romanian-American relations, Dragnea wrote on Facebook.
"Mr. Royce stressed the seriousness of Romania, confirmed over time in several difficult moments. In turn, I confirmed Romania's attachment to the strategic partnership with the U.S., as well as the Romanian Government's commitment to developing political and economic relations between the two countries. I also assured Mr. Royce that Romania would continue to be a reliable pillar for the transatlantic relations."
Both PSD leader Liviu Dragnea and Prime Minister Sorin Grindeanu were invited to American President-elect Donald Trump's inauguration. However, the Romanian Presidential Administration said in a statement that the country's ambassador to the U.S. is the country's only official representative at the inauguration ceremony.
"Delegations made of representatives of some institutions or political parties, who take part in events organized in the margins of the official inauguration ceremonies, do not represent the Romanian state. Romania will be represented by the ambassador to the United States," reads the Presidency's statement.
While Dragnea was in the U.S. meeting various officials, the PSD Government in Bucharest published two emergency ordinances on pardoning some categories of convicts and changing the criminal law. The Romanian media wrote that the two ordinances, which would also help the PSD leader solve his legal problems, were supposed to be discussed in the cabinet meeting on Wednesday morning, but a surprise visit from President Klaus Iohannis determined the Justice Ministry to make the drafts public for debate.
Irina Popescu, irina.popescu@romania-insider.com
(Photo source: Liviu Dragnea on Facebook)
Normal