Chief antigraft prosecutor dismisses media scandal: This attack is aimed at subduing the Romanian state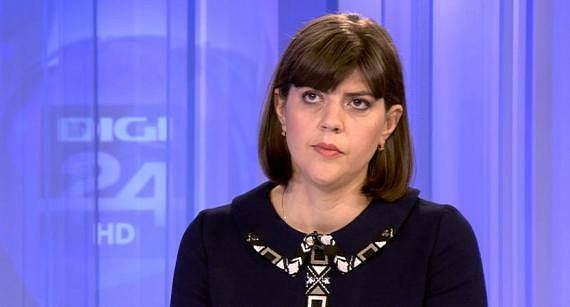 The recent media scandal in Romania about anticorruption prosecutors allegedly fabricating evidence in is part of an attack on justice that has been going on for over a year, aimed at subduing the Romanian state and humiliating its citizens, Laura Codruta Kovesi, the chief prosecutor of the National Anticorruption Directorate (DNA) said on Wednesday evening, in her first press conference at the DNA headquarters in over four years.
The powerful DNA chief prosecutor, who has made a name for herself as the champion of Romania's fight against corruption, dropped the technical language and decided to respond to the recent allegations against the institution she manages in a simpler manner, using powerful phrases.
She denied the allegations against DNA prosecutors from the Ploiesti office, who were recently accused of allegedly fabricating evidence by a former MP sent to court in a corruption case. "DNA prosecutors do not falsify evidence. DNA prosecutors respect the law and their work is verified by judges," Kovesi said.
Former deputy Vlad Cosma claimed that prosecutors from DNA Ploiesti allegedly asked him to produce false evidence against former MP Sebastian Ghita, a defendant in several corruption cases, who ran off to Serbia in December 2016. Vlad Cosma himself and his father, Mircea Cosma, a former president of the Prahova County Council and an influential member of the ruling Social Democratic Party (PSD), are waiting for a final court decision in a corruption case. A court has already sentenced them to eight and five years respectively in prison.
Kovesi said that Cosma started this scandal after trying to negotiate lower sentences with DNA Ploiesti prosecutors and that people close to Cosma warned the prosecutors they would start this scandal. However, the prosecutors didn't concede to the blackmail because they had followed the law, according to Kovesi.
The former MP presented recordings of conversations he had with a former DNA Ploiesti prosecutor, Mircea Negulescu, who was recently excluded from magistracy due to misbehavior.
The DNA head said that the institution has always taken action when some of its prosecutors didn't follow the law and internal procedures. "I think there are problems in all institutions. What's important is how you react to them," she said.
She added that this new scandal is aimed at discrediting the prosecutors and weakening the people's trust in the justice system, and that the people who have been attacking the DNA in recent months are either defendants sent to court for corruption or people who have been convicted for corruption.
"These are people who have money and resources and want to discredit what we have achieved in recent years," she said after reminding that during her four years as DNA chief, the institution has sent to court two former prime ministers, 11 ministers, and dozens of senators and deputies. "Is it a coincidence that recently local courts have ruled convictions against defendants in a certain political party? I wonder," she said without further mentioning the name of the party.
"We have been witnessing a defendants' festival," Kovesi added. "This attack is not about Kovesi, it is aimed at subduing the Romanian state and humiliating its citizens. Justice is under assault," she concluded.
She also took the time to answer the journalists' questions and said she wouldn't resign.
DNA and its chief prosecutor have been targeted by many attacks from politicians of the ruling coalition in Romania, who have been speaking about abuses and about DNA being part of a shadow structure aiming to take over political power in Romania, the so-called "parallel state".
After several internal scandals, the most recent of which is related to dropping the charges against seven former ministers in the high-profile Microsoft case, the pressure on DNA chief prosecutor Kovesi has increased.
The recent allegations launched on Sunday evening by former DNA prosecutor Mihaiela Iorga and former MP Vlad Cosma at local Antena 3 news station, have triggered many political reactions.
Prime minister Viorica Dancila even called justice minister Tudorel Toader back from a visit in Japan to clarify the situation. Some leaders of the Social Democratic Party (PSD) have said that Toader should ask president Klaus Iohannis to dismiss Kovesi from DNA's helm.
The justice minister will make his official announcement tomorrow. He has been saying for several months now that he has already made up his mind about the DNA chief.
Parliament committee asks for action on Romania's chief anticorruption prosecutor
Disciplinary action against Romanian anticorruption icon
Internal conflict threatens Romania's powerful anticorruption department
Romanian SocDem leader: New case of Anticorruption Directorate aims to destroy ruling party PSD
Normal