Romania reached 62% of its 2030 sustainable development goals, president says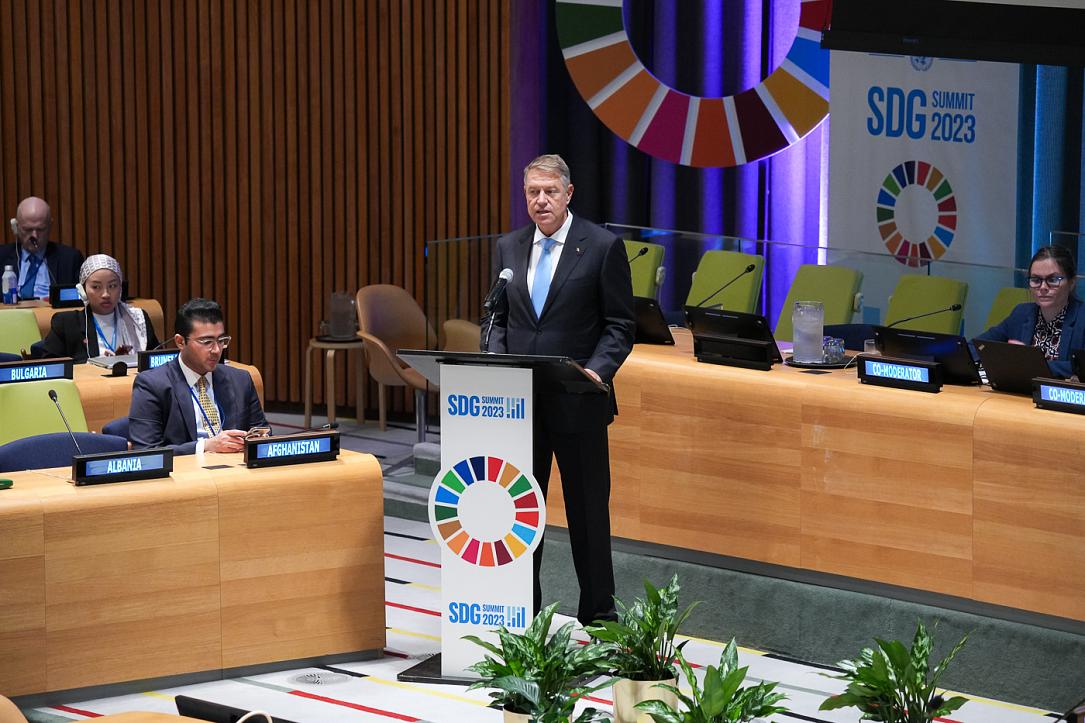 Romanian president Klaus Iohannis recently delivered a speech at the Summit on Sustainable Development Goals - Leaders' Dialogue with the theme 'Unity and Solidarity: Strengthening the Multilateral System for Consolidated Support, Cooperation, Follow-up, and Review' in New York.
During the speech, Iohannis noted that Romania already achieved 62% of its 2030 national targets.
"This year's summit marks the mid-point of the implementation of the 2030 Agenda for Sustainable Development. I am pleased to highlight that, according to the 2023 Voluntary National Review on SDGs, Romania already achieved 62% of its 2030 national targets. I would also like to underscore that Romania made significant progress on the SDGs associated with environmental protection and limiting climate change," the president stated, according to the official press release.
Some of Romania's accomplishments, according to the head of state, are the further development of institutional structures for SDG implementation; training experts in sustainable development; and advancing the national set of sustainable development indicators. Romania also adopted ambitious strategies and commitments related to climate change mitigation and adaptation, circular economy, and education for climate and environment, with the help of its regional partnerships and multilateral institutions.
"Dear colleagues, there are only seven years left until 2030! The clock is ticking and we must accelerate our cooperation. The remaining years must be used for decisive action which is not possible without unity, solidarity, and strong multilateral engagement. We need to further strengthen the UN Development System, better monitor the SDGs implementation, and base development policies on science and reliable data," Iohannis noted at the end of his speech.
During his time in New York at the United Nations General Assembly, president Klaus Iohannis also discussed with the leader of Kazakhstan, Kassym-Jomart Tokayev, about concrete steps to boost trade, energy cooperation, and connectivity, including through the Port of Constanța. Kazakhstan is Romania's most important economic partner in Central Asia, Iohannis said on social media, cited by News.ro.
The 78th session of the United Nations General Assembly takes place in New York from September 18 to 22.
(Photo source: Presidency.ro)
Normal