Partner Content
(P) Cambridge School of Bucharest: High Standards for Success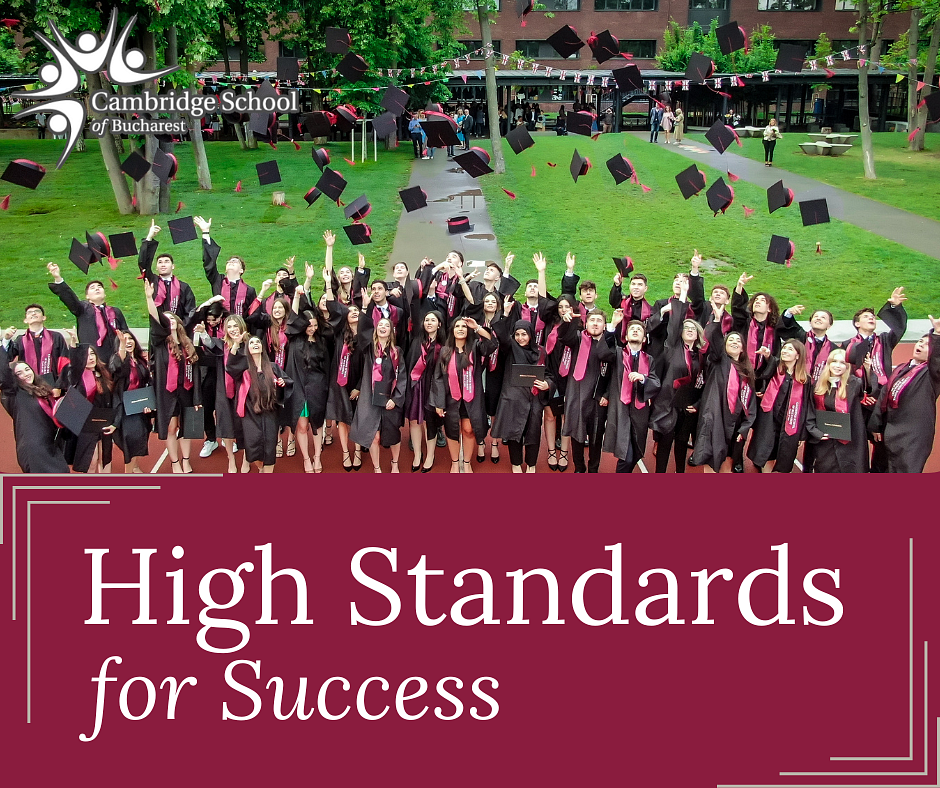 Cambridge School of Bucharest (CSB) has long been renowned for its commitment to providing exceptional education, and its high standards for success have once again been demonstrated through its students' outstanding achievements. With a track record of fantastic academic results, excellent extra-curricular opportunities, and a focus on charity and sustainable projects, CSB continues to provide a nurturing environment that not only prepares students for their future university applications but also broadens their horizons.
Year 13 have finished their A Levels, and are now on their way to embarking on their next journey of higher education. The graduates this year have been placed in top universities internationally, from Stanford University, LSE, University of Manchester, University of Sheffield, TU Delft, Bocconi Erasmus University, University of Amsterdam, Amsterdam Fashion Institute to La Salle. Many of these students have been at CSB since Nursery, just 3 years of age.
CSB's commitment to excellence is further exemplified by the impressive achievements of its students in the field of science and technology. This year, three CSB students have been accepted into TU Delft, one of the world's leading technical universities. Daniel will be pursuing a degree in Aerospace Engineering, while Mara and Horia will embark on the study of Nanobiology.
Beyond academic success, CSB recognises the importance of developing well-rounded individuals who are compassionate and socially responsible. The school encourages students to get involved in charity and sustainable projects, not only to benefit their communities but also to enhance their university applications.
One notable example of this is Rebecca, the Head Girl for academic year 22/23. Rebecca's dedication and hard work paid off when she won a gold award at the prestigious Duke of Edinburgh International Awards.
This award offers students a unique opportunity to develop essential life skills, gain recognition, enhance their employability, and broaden their horizons. Rebecca embarked on a two-year journey, involving outdoor activities, charitable projects and community initiatives, which lead to her receiving gold. This remarkable accomplishment, along with her exceptional academic performance, led to her acceptance at Stanford University in the USA to pursue her studies in Creative Writing.
Karl, Head Boy for academic year 22/23 consistently excelled in sports, always participating in tournaments in a variety of sports, and just recently won two gold medals at the Grand Prix Athletics Tournament. He discovered his passion for hospitality during his work experience placement at Therme in 2022. Through CSB's emphasis on providing real-world experiences, Karl was able to explore his interests and develop his skills in the field. As a result, he will now be heading to Hotelschool The Hague to pursue his studies in Hospitality Management.
Tudor, another remarkable student, has been accepted to the prestigious University of Sheffield to study General Engineering. Throughout his time at CSB, Tudor's passion for problem-solving and his curiosity to explore various engineering disciplines have been truly commendable. He played a pivotal role in establishing the Eco-Committee, consistently coming up with new initiatives to keep the CSB campus greener.
A strong emphasis is placed on educating CSB students about the importance of sustainability and empowering them to make tangible contributions to a greener world. Thanks to the Eco-Committee, the school installed a solar farm on the Oak building's roof, a progressive step that will generate over 50% of the school's energy in the upcoming academic year. This renewable energy initiative not only reduces carbon footprint but also serves as a practical example of sustainable practices in action.
The committee also implemented a system to reduce waste, and did a school-wide campaign to promote reusable water bottles to minimise plastic waste. This year, the Eco-committee organised community litter pick in the Baneasa Forest, promoting community engagement and environmental consciousness.
CSB's commitment to charitable endeavours extends to its Sixth Form students, who actively participate in making a positive impact on the community. During the Christmas period, both Year 12 and Year 13 students enthusiastically engaged in Casa Ioana's initiatives. They volunteered at the Soup Kitchen located in Gara de Nord, offering meals and essential clothing to individuals facing hardships. Additionally, Year 12 students visited Casa Ioana's shelter for survivors of domestic violence, spreading holiday cheer by presenting thoughtful gifts to the resilient women and children residing there.
The success stories of all our Year 13 students reflect the school's commitment to providing a nurturing environment that fosters academic excellence, personal growth, and a strong sense of social responsibility. With its high standards for success and dedication to holistic education, CSB continues to empower students to reach their full potential and succeed in their future endeavours. To find out more about how CSB can power your future, contact us on https://www.cambridgeschool.ro/admissions/.
(p) - This article is an advertorial.
Normal