Nature in Făgăraș Mountains: The pine marten in Romania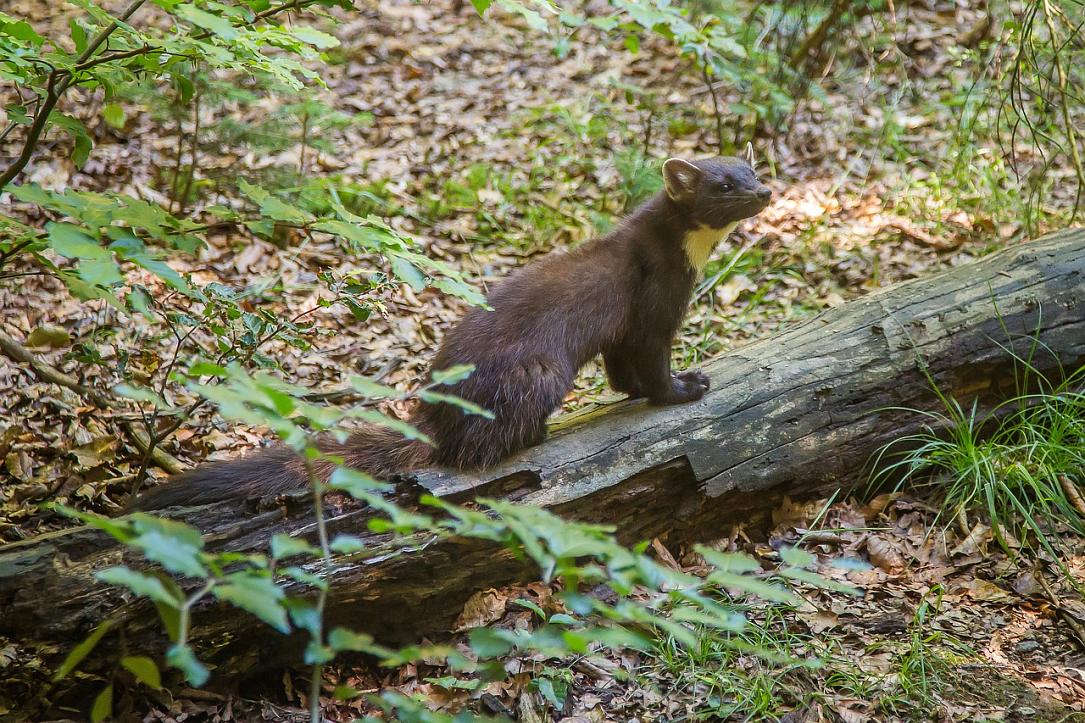 Romania-Insider.com is publishing a series of articles about wildlife in Romania, zooming in on the wild animal and plant species in the Fagaras Mountains area. This editorial series is sponsored by the Foundation Conservation Carpathia.
The cute-looking pine marten is one of the animals most difficult to spot in the forest. It is small but has an important role in keeping the species it preys on in check.
The pine marten can live in most of the forests across the country, in deciduous, mixed and coniferous woodlands, as well as scrub. Overall, it can be found across most of Europe, Asia Minor, northern Iran, the Caucasus, and in western Siberia. Woodlands with an incomplete canopy and dense understorey vegetation have been described as their optimal habitat.
Unlike their relative, the stone marten, they do not usually go out into the open or in the vicinity of villages. They are quite difficult to spot, and while their traces might be visible at winter, on the snow, they are a rare sight in general. They are mainly active at night and at dusk. At day, they sleep in dens, which can take the form of a hollow in a tree, crevices in the rock, or disused nests of squirrels.
A member of the mustelids, a family of carnivorous mammals which also include the stoat, weasel and badger, the pine marten is up to 53 cm long, about the size of a cat. It has a bushy tail, of up to 25 cm long. With dark brown fur, it is recognizable by the large cream-colored patch on its throat, which distinguishes it from the stone marten, which has a white spot on its throat. They use their claws to climb trees with ease and they also run quickly on the ground. It weighs around 1.5 km, with the females weighing slightly less. The pine marten has an average lifespan of 3 to 4 years but can live up to 11 in the wild.
The pine marten is a small carnivore, feeding on small mammals such as voles (Microtus agrestis) and other rodents, birds, insects, frogs, snails and carrion. Where and when fruits and berries are available, the pine marten feeds on them as well. As a predator, it plays an important part in regulating the populations it feeds on, especially in case of voles and other rodents, where regular population increases are seen.
The pine marten needs relatively natural forests so any loss of woodland can become a threat to their presence. In UK, for instance, the pine marten population dropped to a minimum after it lost its habitat because of deforestation for turning the land over to agriculture, in addition to being hunted for its fur or because it predated on game birds. Where spruce monocultures are planted, the pine marten will not be able to find a suitable habitat as no other species, and not the ones it feeds on, can be found in the environment.
Besides the availability of the right food, the pine marten is also dependent on having the habitat to grow their young, which can often be hollow trees. Three young are born in an average litter size. They are blind at birth and only open their eyes after five weeks. The mother is the only one responsible for raising them, and weans them when they are about six weeks of age. By seven or eight weeks, the offspring ventures outside of the den, and can disperse by 12 to 16 weeks. As such, if the old trees are removed from the forest, the pine marten is losing the place where it grows its young.
Because they hard to find, hunting has not turned into a threat to the pine marten locally. If hunters happen to see one, they might shoot it, but since they are hard to spot, they are not hunted much. In countries where it is hunted regularly, this is done through trapping, something which is not allowed in Romania. The pine marten is wanted for its fur. Since they are small in size, a lot of them are needed, making the use of the fur difficult.
Sources:
Featherstone, Alan Watson. Pine marten (Martes martes) at treesforlife.org.uk.
Herrero, J., Kranz, A., Skumatov, D., Abramov, A.V., Maran, T. & Monakhov, V.G. 2016. Martes martes. The IUCN Red List of Threatened Species 2016 at iucnredlist.org.
Christoph Promberger, Foundation Conservation Carpathia
Schwanz, Lisa. Martes martes. European pine marten at animaldiversity.org.
(Opening photo: Pixabay)
This article is part of the "Nature in the Făgăraș Mountains" editorial series, currently sponsored by Foundation Conservation Carpathia.
Normal