Cannes and Emmy nominated movies at Anonimul Film Festival: Certified Copy, Temple Grandin – see trailers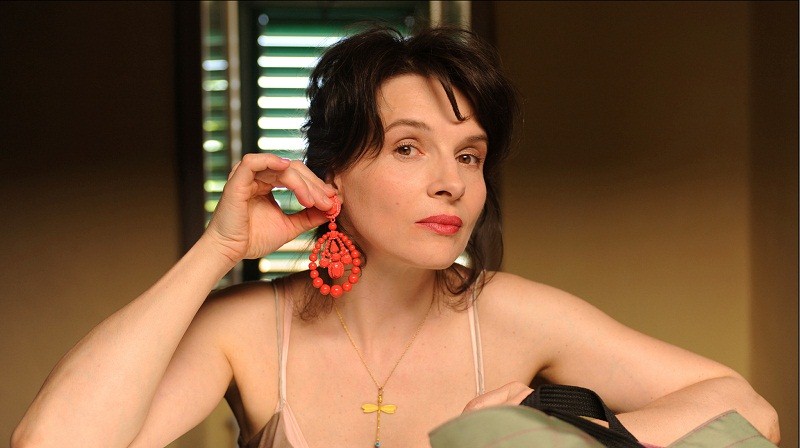 The Anonimul Film Festival, which will start on August 9 in Sfantu Gheorghe, in Delta Dunarii, will feature a movie which was included in the official competition in Cannes this year – Certified Copy, with Juliette Binoche playing the main character (in picture). (Trailer below) A second film, Temple Grandin, with 15 nominations at the Emmy Awards, will also be screened in the Anonimul Film festival (trailer below). The film is based on a real story (see a speech by Temple Grading on TED below).
The Certified Copy movies will be screened on August 9, in the first day of the competition. Juliette Binoche received the award for the Best Actress at Cannes for this movies. The movie is directed by Iranian director Abbas Kiarostam, known for other movies such as Under the Olive Trees, Taste of Cherry, The Wind Will Carry Us, Ten, all of which were either nominated or received awards at international film competitions.
Temple Granding, directed by Mick Jackson, will be screened during the HBO evening, when the The Shukar Collective Project will also be featured.
The seven films compete for the USD 3,000 Grand Prize of the Festival, which are based on the public votes. See below the lineup of the film festival in Sfantu Gheorghe:
Zero, directed by Pawel Borowski, Poland, 2009

Vulpitele/Foxes, directed by Mira Fornayova, Slovakia- The Czech Republic- Ireland, 2009

La mare/Alamar, directed by Pedro Gonzalez-Rubio, Mexico, 2009

Micuta Slovena/Slovenian Girl, directed by Damjan Kozole, Slovenia- Germany- Serbia- Croatia- Bosnia- Herzegovina, 2009

Caravana Cinematografica/Kino Caravan, directed by Titus Muntean, Romania, 2009

Reincarnarea lui Trotki/The Trotki, directed by Jacob Tierney, Canada, 2009

Pe calea cea buna/On the path, directed by Jasmila Zbanic, Bosnia Herzegovina- Austria- Germania- Croatia, 2010
Romanian titles included in the fiction short movies section:
Before and after 22 December, directed by Andrei Cohn

Midas and the Phantom's Story, directed by Jamil Hendi

Ela, directed by Tudor Jurgiu

Music in the blood, directed by Alexandru Mavrodineanu

Derby, directed by Paul Negoescu

Me and my sister, directed by Ozana Nicolau

No news, directed by Alexandru Stanescu

Pools, Germany, directed by Emanuel Vasiliu
Romanian entries in the animation short movies section
Bad habits, directed by Oana-Catalina Gheorghiu

Vive la crise, directed by Alexei Gubenco
-->

Normal

-->