Famous Romanians: Constantin Brancusi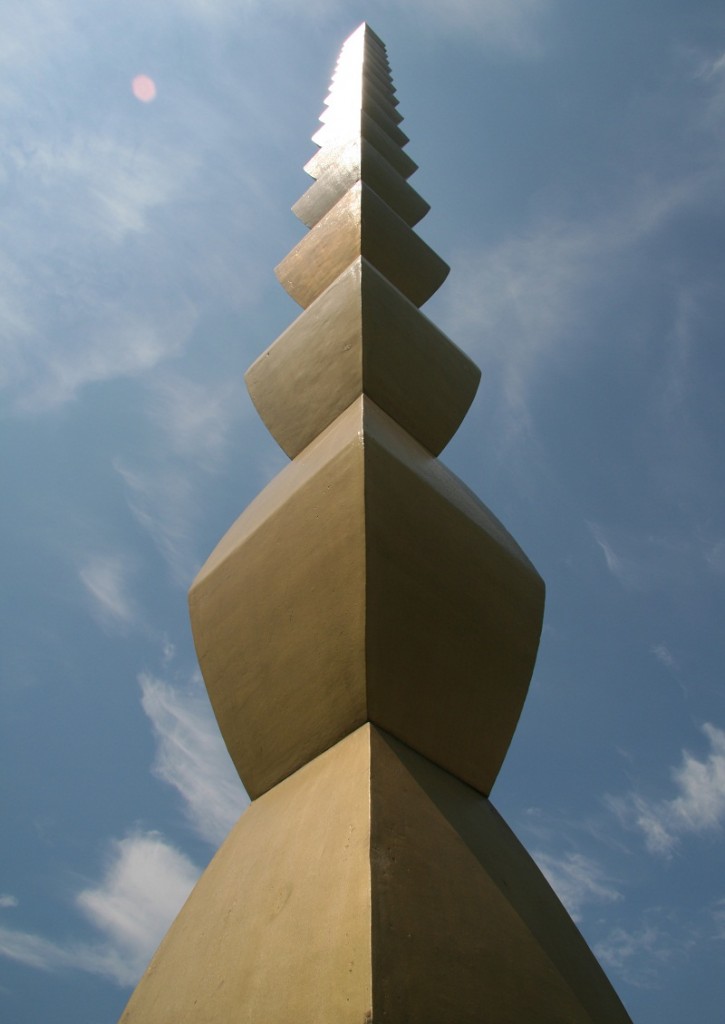 Known as the "the father of modern sculpture", Constantin Brancusi was a painter, architect and a master of "abstract art". Through his original work he became one of the most well-known sculptors of the 20th century and Romania's most famous international artist.
By Alexandra Fodor
Constantin Brancusi was born in 1876 at Hobita, in Oltenia, southern Romania. In 1883, he started working as a shepherd in the Carpathian Mountains. Later on, he worked as a dyer, as an assistant in a grocery and then as a servant at an inn. While working at the inn he was challenged to make a violin as a bet. He succeeded so well, that the owner of the shop decided to help him to enroll in the provincial Craiova School of Arts and Crafts. From Craiova he went to Bucharest in 1898 to study sculpture at the School of Fine Arts, then to Munich, Zurich and Basel before arriving in Paris in 1904.
He exhibited at the Salon de Societé Nationale des Beaux-Arts in 1907 and attracted the attention of Auguste Rodin. For a short time he worked as an assistant to Rodin, but soon left to work on his own, saying "nothing grows under the shade of great trees" and soon developed his highly individual style.
One of his earliest works Écorché (1903), which shows the inner muscular structure of a male body, remains a masterpiece for the anatomical studies.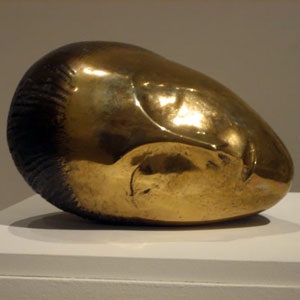 The Kiss (1901-1921 various versions) was his first truly original work and the most abstract sculpture of the period representing two embracing figures locked together in the same block of stone. Other works include Sleeping Muse (1910), several versions of Mademoiselle Pogany (1913-1931), Bird in Space, The Prodigal Son (1925) and the Sea-Lions (1943)
Constantin Brancusi became a pioneer of metal carving, but did not remain limited to it; he also created masterpieces out of wood, marble and stone.
Brancusi reached the high point of his career by creating the monumental Ensemble from Targu Jiu, Romania, which constitutes a tribute to the Romanian soldiers who died in the First World War. The Gate of the Kiss, the Table of Silence and the Endless Column are the most important pieces which compose the Ensemble. (The Gate of the Kiss is one of the most popular locations for those planning a wedding, because it is said that whoever kisses underneath will have a harmonious and happy life.)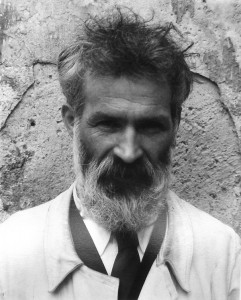 He died on the 16th of March 1957 at the age of 81 leaving behind a legacy of monumental works (1200 photos and 215 sculptures). He was buried in Cimetière du Montparnasse in Paris. Many of his works can now be seen in the Museum of Modern Art (New York), in the Romania National Museum of Art as well as in other museums around the world.

-->

Normal

-->