Dutch dog trainer from Transylvanian village on nature, shepherds and sheepdogs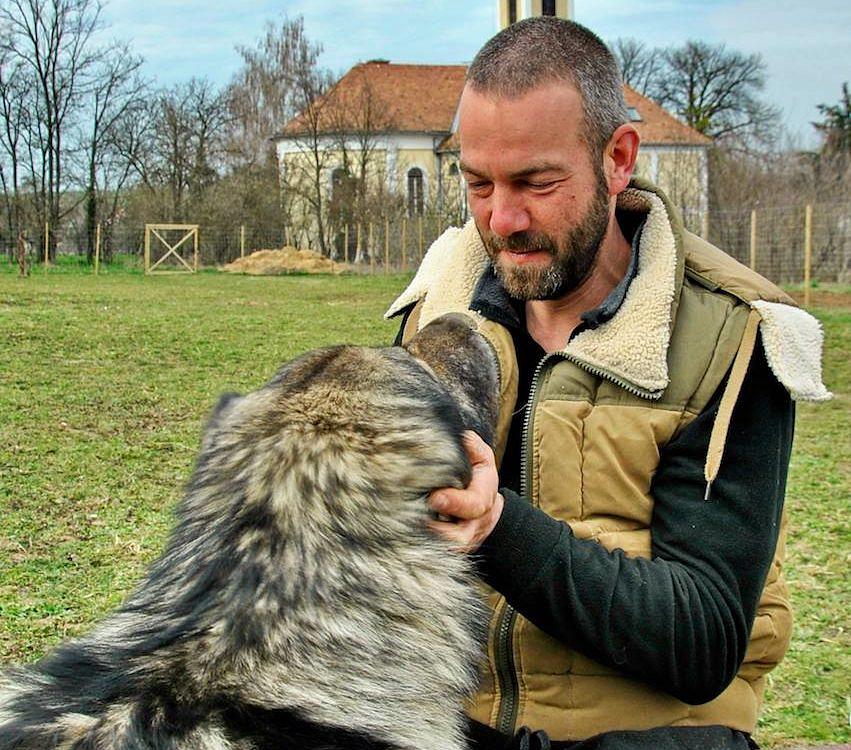 After working as a canine trainer in the Dutch army, Ray Dorgelo moved to Romania to be closer to nature.
Although born in a city, 40-year old Ray Dorgelo has always loved wild animals, from rabbits to small birds to bears. As a kid, he would play outside all the time and watch documentaries about animals and nature.
As we are speaking on Skype on a Sunday morning in mid-June, I notice a big carpet representing a bear on the wall behind him. "He looks rather scary," I comment. "No, he actually seems friendly," Ray responds. We clearly read bear-related images differently.
The Dutchman talks from his house in a village near Cluj-Napoca, in north-western Romania, where he now lives with his wife Jenny, five Carpathian Shepherd dogs, two goats and eleven chickens.
Almost ten years ago, while working as a canine trainer in the Netherlands, Ray started attending a course on ecology and wildlife. He and a colleague became friends with a professor who was involved in the protection of large predators, including in Romania. Ray knew that Romania still had a large population of bears, wolves and lynxes. For example, the Carpathian brown bear population of Romania is the largest in Europe outside of Russia. Not long after, he started working on EU-financed project carried out by the University of Forestry in Brașov, central Romania.
"We started doing field work, visited the shepherds' camps, monitored the dogs, the problems that shepherds have there," Ray explains.
A year later, Ray and his colleague started a similar project themselves. They donated a pack of Carpathian shepherds dogs to shepherds who didn't have good dogs. He kept coming to Romania several times a year until he finally moved here.
The wedding
Two years ago, Ray and Jenny got married at a sheepfold in Transylvania. They wore traditional Romanian clothes at their wedding and had around 40 guests, including a shepherd family, their own families from the Netherlands and Romanian friends.
"We had a big tent with a table and chairs around it. We ate tocană from ceaun from the shepherds, sheep cheese, slănină," Ray recounts. They also had 11 shepherd dogs at the ceremony. It was a way to show their friends that these dogs are not dangerous, although they have a bad reputation. "They were very well-behaved," the man adds.
Just like my anxiety-based first reaction to the bear represented on his carpet, many people tend to judge animals from a position of fear. This leads to misjudging. Ray would like to change this. In his village, some people are scared of his five Carpathian Shepherd dogs. But others love them, especially kids.
Ray and Jenny live in a rented house in this village, which is predominantly inhabited by Hungarians. It's convenient because Ray works in Cluj-Napoca and has to commute every day. He coordinates the custom-service Dutch department of a company. They're thinking about buying a house in the mountains and opening a bed-and-breakfast business there at one point. And they want to continue working on ecology problems. "We want to work and live with the things we love. We are very active internationally in the predators' problems, also in the Netherlands and Belgium," says Ray.
Talking to shepherds
Romanian shepherds need good guard dogs to protect their livestock, Ray explains. If a wolf or a bear kill the dogs or the sheep, it's sometimes impossible for the shepherds to recover financially.
Unlike the attack and rescue dogs he trained in the army, shepherd dogs don't really need training. "They need guidance and monitoring. When they are young and they make a little mistake, if they want to play with the livestock, for example, you need to make a correction with your voice, and that's it. It's in their instinct and you need to give a chance for their instinct to develop and come to the level of a good guardian dog. This cannot happen with a lot of pressure", Ray says.
Ray and Jenny often talk to shepherds during their walks.
"Most of the times they want to talk because they don't get a lot of attention from people," Ray explains. The shepherds start talking about their animals, their work, their adventures. They also complain about the lack of grazing ground. With the city's continuous real-estate development on its outskirts, there is less and less grazing ground for sheep.

"What they tell me depends on what I ask. I ask about the predators' problems, if they have good dogs or if they have problems with the sheep."

When he doesn't ask enough questions, they will ask him. Why did he come to Romania? For its nature, Ray replies. They are surprised by that. "They will ask <do you have wolves in the Netherlands?>. Only a few. <What kind of sheep you have in the Netherlands?> They are interviewing me."

It's becoming harder and harder for Romanian shepherds to continue their profession. "They can't sell their cheese due to European hygiene laws, many of them don't milk sheep anymore, they only sell the sheep for meat."

When I ask Ray what he thinks about Romanians' relationship to nature, he pauses. Then he says:

"I don't like to put things in boxes but I meet a lot of people who like nature but are not aware of the influence they have on it and their duty to nature," he says. "They throw garbage in the forest, in the rivers, even in the national parks. I don't think they do it on purpose, but they are not aware of it. The same with cutting the forests. You can't replace that old forest. When you lose the forest you lose the whole ecosystem. You can't replace it by planting new trees. I think it's a really special country and everybody should do their best to keep it and not to sell it to foreign companies and destruction."

Diana Mesesan, features writer, [email protected]

(photos courtesy of Ray Dorgelo)

-->

Normal

-->