Beautiful Christmas fairs in Romania for all those who want to be Santa Claus this year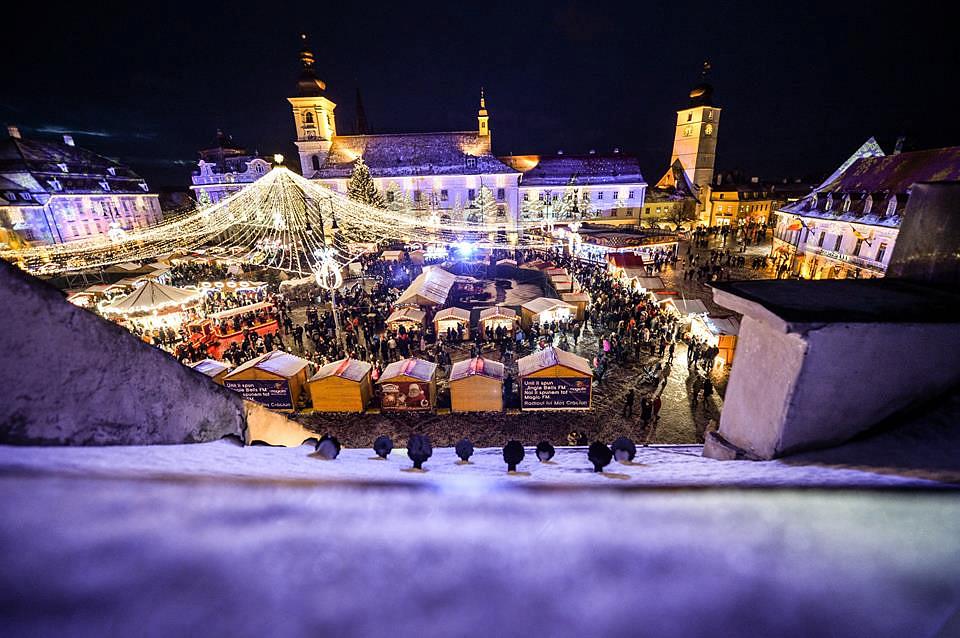 Christmas has always been one of Romanians' favourite holidays, especially as they love giving and receiving gifts. Most of the cities in Romania host Christmas fairs and other such events in this period. Here are some of the markets in Romania that should be on the list of those who want to be Santa Claus this year:
Bucharest:
The traditional Christmas Market in Bucharest opened on December 1, in the presence of mayor Gabriela Firea and thousands of people. The fair is located in Constitutiei Square this year, in front of the Parliament Palace, and accommodates more gift shops and food booths than in previous years. Santa Claus also has his own house at the fair, where children can tell him their Christmas wishes and take pictures with him. Moreover, visitors can have fun at the ice-skating rink and the carousel. The event's program also includes concerts and shows. The Christmas Market in Bucharest is open daily between 10:00 and 22:00, until December 31. The entry is free.
A beautiful Christmas tree and other surprises also expect visitors in Universitatii Square, in downtown Bucharest, while other small fairs are being organized in the Old Town.
On December 17, another small fair will be organized in front of the Romanian Athenaeum. At the the event, called the Athenaeum Christmas Fairy, visitors will have the chance to buy food, handmade jewelry, and traditional clothing items for their loved ones, while enjoying the live music. A pink Christmas tree will also be installed there, to remind women to stay healthy. The fair will be opened only on December 17, between 12:00 and 22:00.
Live music and Christmas gifts will also expect visitors at the ALT. CRACIUN event organized at ARCUB Gabroveni from December 16 to December 23. The fair will be opened daily, between 14:00 and 21:00, and the entry will be free.
15 Design Gallery in the Old Town also hosts a special event in this period, called Design Fair at Hanul cu Tei. The fair is part of the Designed in Bucharest program, which aims to promote design creation made in Bucharest. The event will stay open until December 28.
Moreover, Hanul cu Tei also hosts the Rembrandt Christmas Festival Fair, an event where several creation workshops and painting exhibitions will be organized. The fair will close on December 24.
The Christmas Gifts Fair is another big event dedicated to those looking for gifts for the holiday. The event, which is hosted by the Romexpo exhibition center, started on Thursday, December 7 and ends on Sunday, December 11. The 24th edition of the annual IWA Charity Christmas Bazaar, organized by the International Women's Association of Bucharest also takes place at Romexpo on Sunday, December 11.
The German Embassy in Bucharest also hosts its annual Christmas Market on Friday, December 9, between 4 PM and 8 PM. The money raised from selling gifts and other traditional items will be donated to charity.
For those who want to buy collection gifts, Artmark auction house will organize the Christmas Auction on December 15, 18:00, at Cesianu-Racovita Palace.
Other events in Bucharest:
Noblesse Palace Christmas Fair (December 16-22)
Royal Handmade Fair at Stirbei Palace (December 19-21)
Crazy Christmas at The Ark (December 10)
Dichisar Christmas Edition at Impact Hub Bucharest (December 10-11)
Marche de Noel at Casa Universitarilor (December 10-11)
Bounty Fair – Christmas Edition at Casa Universitarilor (December 17-18). Christmas events and fairs will also be organized at Bucharest's biggest shopping malls.
Sibiu
The Christmas Fair in Sibiu (opening picture) is one of the most beautiful such events in Romania. The fair opened on November 18, with more than 80 exhibitors from Romania and abroad being present at this year's edition. It will stay open until January 3, 2017, between 10:00 and 22:00, in the city's Grand Square (Piata Mare). Find more information on its official web page here.
Brasov
Besides being one of the most famous mountain resorts in Romania, Brasov also hosts a beautiful Christmas market in this period. Visitors can find almost everything there, from food, jewellery, paintings, and dolls, to Christmas decorations, clothing items, and toys. The fair is located in Sfatului Square, in downtown Brasov.
If you are close to Brasov, you should also visit the Christmas Fair at the famous Bran Castle, also known as Dracula's Castle. More information can be found here.
Cluj-Napoca
This amazing city in central Romania also hosts a beautiful Christmas Fair in Unirii Square. The market will stay open daily, until December 26. Find more information about the events organized during this fair here.
Timisoara
The tenth edition of the Christmas Fair in Timisoara, western Romania, was opened on December 1. Located in Victoriei Square, the event brings together some 100 exhibitors, a huge Christmas tree, and many events for the visitors. The Christmas Fair in Timisoara will stay open until January 8, 2017. Find the entire program here.
Alba Iulia
The beautiful citadel in Alba Iulia should be on any tourist's list, especially in this period, as the Alba Carolina Citadel has turned into a fairytale-like place, with lots of lights and things that can become special Christmas gifts. There is also an ice skating rink for those who want to have some fun while shopping for Christmas.
Other large cities in Romania that host beautiful Christmas fairs are Oradea, Arad, Sebes, Iasi, Satu Mare, and Craiova.
Happy holidays!
Christmas special: Brunches and parties in Bucharest, 2016
Irina Popescu, [email protected]
(Photo source: Targul de Craciun din Sibiu on Facebook)
Normal