Romanian NGO launches anticorruption short film contest on dedicated website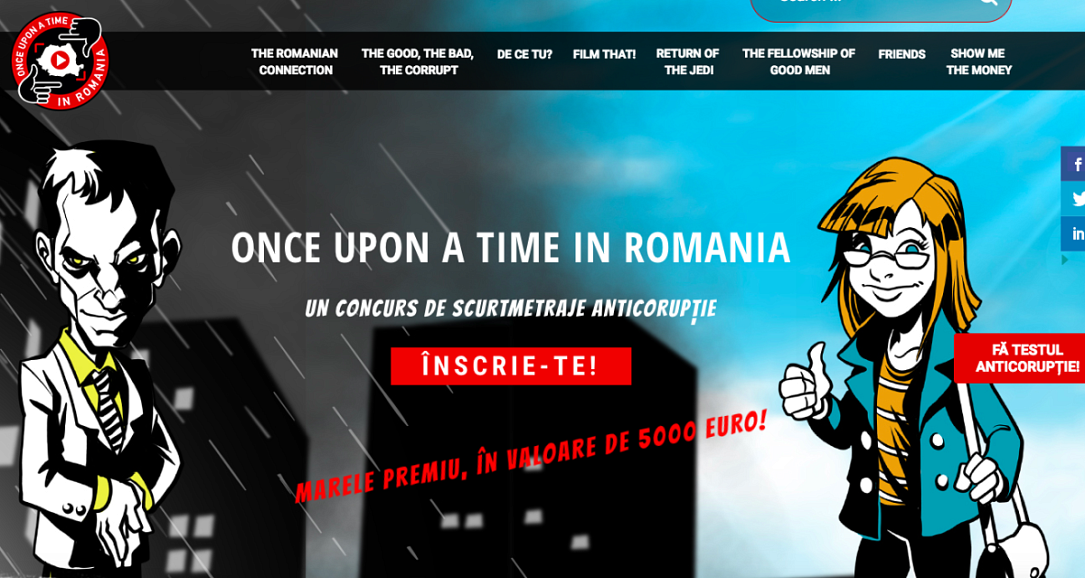 Local civic movement Initiativa Romania has launched the Once Upon a Time in Romania project, which includes an anticorruption short film contest, an interactive anticorruption website, and a series of interviews with people with merits in fighting corruption, which will be broadcast online.
The short film competition has total prizes of EUR 9,000, with the big winner being set to receive EUR 5,000. The deadline for submitting the short films is December 1, 2017, with all categories of films being accepted, from short animations or infographics to testimonials or fiction. They should be between 90 seconds and 5 minutes long. More details can be found on the dedicated website Onceinromania.ro.
The Onceinromania.ro site has an educational purpose, being meant to make people break the inertia and act against corruption, according to Initiativa Romania. The entire site is built on a cinematic concept, the pages of the site being called, for example, The Romanian Connection - which includes the full map of top level political corruption, The Good, the Bad, the Corrupt – a category that makes a correlation between corruption and poverty or corruption and the lack of democracy, and Show Me the Money – a donation page for the contest.
In The Romanian Connection category, readers find information and statistics related to the phenomenon of corruption in Romania. For example, the website says that one out of ten MPs and one out five mayors of county capitals and Bucharest are being prosecuted, sued, convicted or in situations of incompatibility and conflict of interest. There is also a list with the names of MPs, county council presidents and mayors with justice problems.
Romania's new online Corruption Museum puts famous bribery cases on display
Romanian Senate president worried about some ambassadors' anticorruption "fetish"
Irina Marica, [email protected]
Normal