Romanians erect statue for their best football player of all time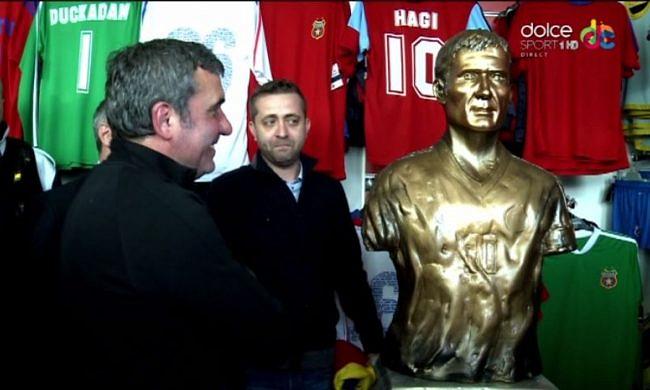 Famous Romanian football player Gheorghe Hagi, currently owner and manager of the Viitorul football club, had his wish granted: he now has a statue. Hagi, who said in the late 90s that players of the Romanian Football's Golden Age should all have statues for their performances during tough times, yesterday received a bronze statue as a birthday gift from fans. Hagi, who played for football club Steaua and in Romania's national team, wearing number 10 on his T-shirt, is one of the Golden Age football players.
His statue is located inside a recently inaugurated Steaua football club fan store, located across the street from the Steaua stadium in Bucharest. Fans will have to pay 10% of the store's revenues to the football club.
The former player, now 50, was considered one of the best attacking midfielders in Europe in the 80s and 90s and is the greatest Romanian footballer of all time. He was nicknamed Maradona of the Carpathians and was one of the few footballers to have played for both Spanish rival clubs Real Madrid and Barcelona. He also played for Galatasaray, which he later coached. Hagi recently gave Turkish president Recep Tayyip Erdogan an autographed T-shirt during Erdogan's visit to Romania.
Gheorghe Hagi played for the Romanian national team in three World Cups in 1990, 1994 and 1998, as well as in three European Football Championships in 1984, 1996 and 2000. He was captain of the Romanian team for 65 times.
Hagi currently also runs a football academy under his name. His son Ianis is also an up and coming football player, who already has 'good offers' from football clubs abroad, according to local media.
(photo source: dolce-sport.ro)
Normal