Romanian smart power outlet startup enters European B2B accelerator competition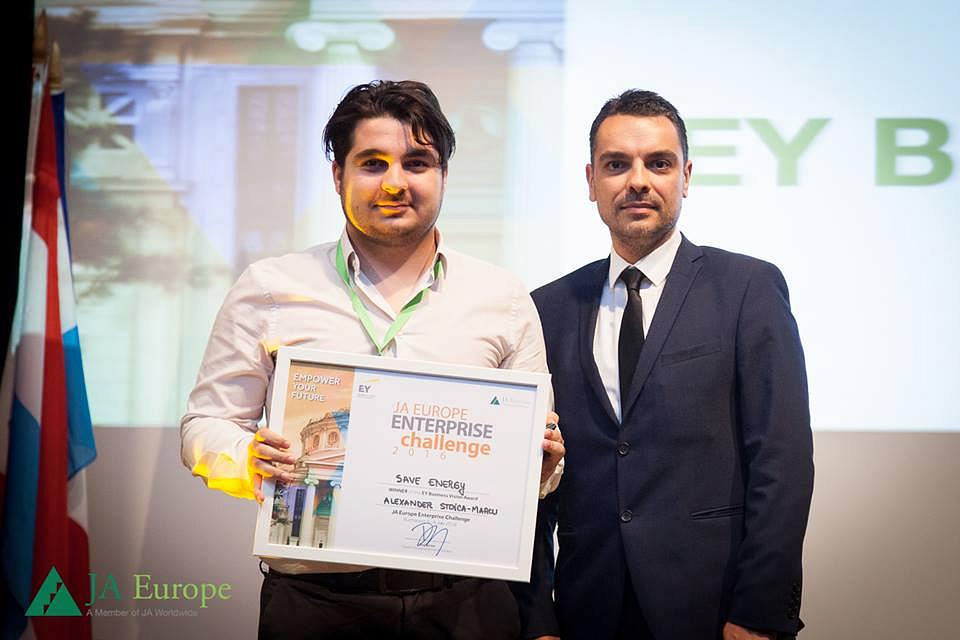 Save Energy, a Romanian startup that created a smart power outlet which detects unused appliances and stops the electricity flow to them, went into the final competition phase of the B2B Startup Wise Guys accelerator, a European program based in Tallinn, Estonia, start-up.ro reports.
The Romanian startup will compete alongside other 24 startups in Tallinn, after which 11 companies will be selected to enter the accelerator program. Save Energy won the local round of the Startup Wise Guys competition, which took place as an elevator pitch, where each contestant had 90 seconds to present their ideas.
Save Energy also won in July 2016 the title of Best Junior Achievement Start Up Company in Europe as a part of the European Enterprise Challenge, which gathered 14,000 students from over 300 universities.
Save Energy is the initiative of 20-year old Romanian entrepreneur Alexander Stoica-Marcu (pictured, on the left), founder of several other businesses, including flower delivery service 101 Trandafiri, and VivaGene, a platform connecting in vitro fertilization services with potential customers. His LinkedIn profile is here.
"I disagree with the label that this area is one for outsourcing. There are very many high-potential entrepreneurs here. This is why we are here, because many lack the business experience and we help them. We explain to them how to take their products to market," Peter Marculans, Entrepreneur in Residence at Startup Wise Guys, told start-up.ro.
Startup Wise Guys is run by Wise Guys Investments OÜ (Wise Guys), an investment company established by private Estonian investors together with VC fund SmartCap in 2012. It invests in early stage technology companies and enhances their investment potential through this accelerator program. It has run seven programs so far and over 50 companies have been accelerated. In 2016 it expanded to Riga to open the first accelerator program in Latvia.
Romanian smart transportations startup joins Deutsche Telekom accelerator program
(Photo source: JA Europe Facebook Page)
Normal