Romanian film review – The beauty of loneliness: Matei Child Miner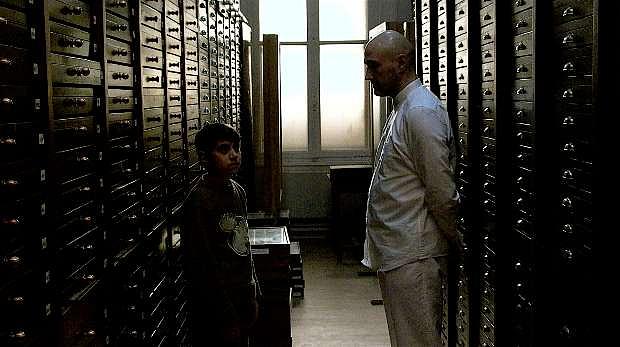 One of the visually most beautiful films I've seen this year, Matei copil miner/Matei Child Miner is an intriguing little movie.
A feature film debut for Alexandra Gulea, the film tells the story of a young boy growing up in a desolate mining town. Matei's mother is working in Italy and the taciturn boy is left in the care of his equally taciturn and often grumpy grandfather (played by a solemn Remus Mărgineanu, who has an uncanny resemblance to horror films legend Christopher Lee). After a prank with his classmates, Matei gets expelled and this crucial moment sets both an external and internal journey in motion.
Children left in the care of relatives by parents working abroad is a pressing social matter in Romania and it's good to see that artists have taken it on. Matei Child Miner chooses to focus less on the problems of the issue than on Matei's perspective, making the film less of a social criticism than I had expected. Matei is obviously a child with issues but these are not at the (explicit) core of the story. He is an introvert who almost never talks and channels his entire passion into his love for insects; his coming-of-age journey is told with few words and many touches of magic (neo)realism.
I called the film intriguing because it has so many flaws that should make it obnoxious and still, it works beautifully. The acting is often wooden, and it's amazing how both professionals and non-professionals sometimes deliver their lines like robots, the story is often predictable and some things happen so suddenly you wonder where that all just came from. But newcomer Alexandru Czuli is so compelling as Matei, with his big eyes and the wise-beyond-his-years melancholy look and the images so pitch-perfect, you are left with no choice but be endlessly touched. Even the poetic mix of reality and dream, which stumbles more than once, is effective in the end.
This is Czuli's film; he makes Matei an adorable figure without resorting to cheap sentimental tricks. But this is, most of all, Reinhold Vorschneider's film. The excellent director of photography has worked on some of the most remarkable German films of the past years and his perfect framing and impressive use of light and colour make Matei Child Miner pure joy. Go watch it on a big screen; this strange little film deserves nothing less.
By Ioana Moldovan, columnist, [email protected]
Normal