Romanian film review - Love Building: How to fix love in seven days. A crash course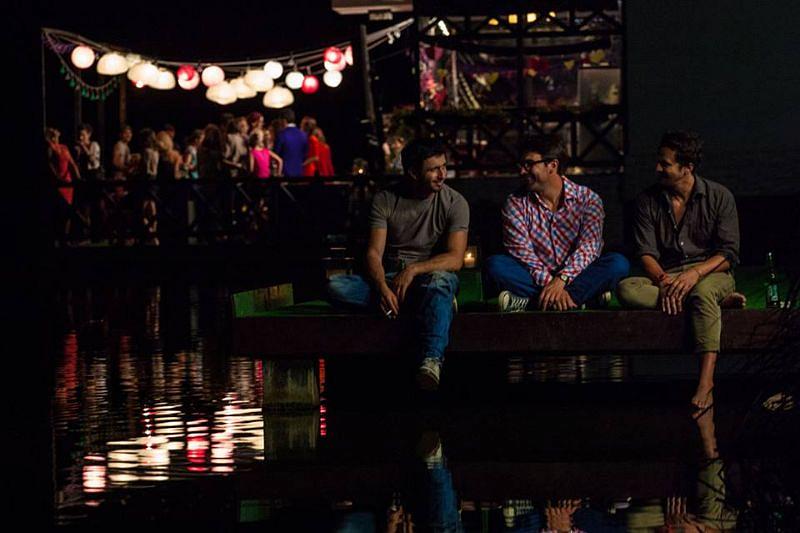 Love Building, the newest Romanian comedy, will premiere this Friday and then take the entire country by storm. At least I hope it will because if there's any justice in this world, it should be the blockbuster of the season.
I was raving about it in my review of this year's Transilvania International Film Festival (TIFF), where its premiere was by far one of the most enjoyable experiences, with a sold-out cinema roaring with laughter and a team so nice they made you wish they started working on their next common film right away.
Love Building takes a simple premise and builds a mostly comedic scenario around it: fourteen couples with problems - both straight and gay, young and less young - enroll for a 'love-fixing camp' to get back their mojo. The workshop is set in an idyllic lake resort and led by three therapist friends, a geeky late bloomer, an apparently well-adjusted nice guy, and a bad-boy with serious love issues. Needless to say, the three hilariously flawed heroes will find their own romantic ideas challenged while the couples will have one revelation after the other. There's also some high drama (of course) but the mix of humor and sadness always manages to hit the right notes.
Love Building is remarkable mostly because of its conception: the film was produced with private financing and the cast is, with few exceptions, made out of non-professionals who had been part of an acting course at Actoriedefilm.ro, a project for training aspiring actors founded in 2010 by the film's main stars, Dorian Boguță, Alexandru Papadopol and Dragoș Bucur.
That the film has been made is not just a pleasant affair but, especially in a funding-tricky country like Romania, a small miracle. The film's strongest asset is sometimes its biggest problem though: due to the mostly amateur acting, some scenes are a bit stiff. However, the sheer enthusiasm of the newcomers paired with the great aplomb of the professional trio Boguță, Papadopol and Bucur surely delivers, as do the great writing and imaginative editing and shooting.
Don't get me wrong: Love Building is no masterpiece but I can't think of any other multiplex pic so enjoyable while being aimed at real grown-ups. A genre comedy that takes its audience seriously is already a huge achievement if one looks at other recent comedies with a romantic vibe, the amusing but highly clichéed Minte-mă frumos/Sweet Little Lies, the nice but slightly silly Bună! Ce faci?/Hello! How Are You?, or the downright ridiculous Funeralii fericite/Happy Funerals. And to pay the film a further compliment: it has a very democratic and natural take on same-sex couples and generally on gender roles, which is no small detail considering the thorniness of these matters in this country. Well-done on this as well.
Check out the film's official page for more background info and, depending on your status, potential dating help.
The ever-reliable Cinemagia site has a complete list of screenings venues and if you're still not convinced or the (admittedly) tacky poster makes you cringe and want to pass, maybe the amusing trailer will do the trick:
[embed width="560" height="315"https://www.youtube.com/watch?v=0s_HurN9ktc">
Normal