Romania deepens defense ties with Germany and the Czech Republic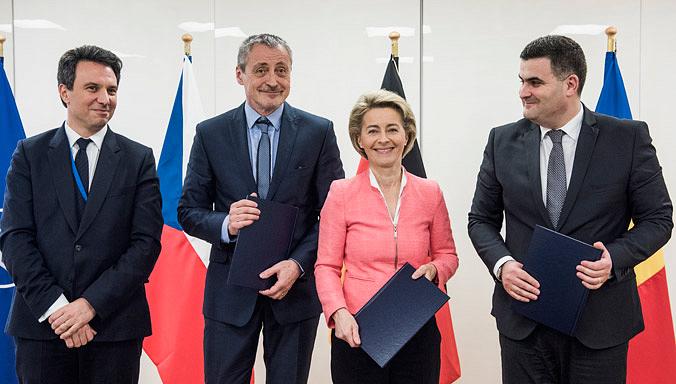 Romania is to deepen its defense ties with Germany and the Czech Republic, following arrangements signed on Wednesday by the three countries' defense ministers, NATO announced in a press release.
Thus, the Czech Republic's 4th Rapid Deployment Brigade and Romania's 81st Mechanized Brigade will work closely with Germany's 10 Armoured Division and Rapid Response Forces Division.
Under NATO's Framework Nation Concept, smaller armies can integrate their capabilities into an organizational structure provided by a larger 'framework' nation, NATO announced.
"With these two arrangements, the Czech Republic and Romania each agree to contribute a brigade to a German-led multinational division," said NATO Assistant Secretary General for Defence Investment Camille Grand during the formal signing ceremony.
Romania, Germany, and the Czech Republic will begin their cooperation through joint training and exercises starting this year. According to the NATO statement, this initiative is part of a broader drive to expand European defense cooperation in the margins of the meeting of NATO defense ministers in Brussels this week.
Romania's defense minister Gabriel Leș also had a meeting with Polish defense minister Antoni Macierewicz, in which the two officials discussed the cooperation between the two countries in implementing the decisions of the NATO summit in Warsaw. Romania and Poland both host NATO command centers and each country will send trooops to the other to be part of the new allied structures they host. Poland will also send aicraft to Romania to take part in military exercises with Romanian aviation forces this year, according to a press release issued by Romania's Defense Ministry.
Some 500 American soldiers with tanks come to Romania
President: Romania remains committed to the EU, NATO
Irina Popescu, [email protected]
(Photo source: nato.int)
Normal