Naspers CEO: Romania is among our top 4-5 markets in terms of return on investment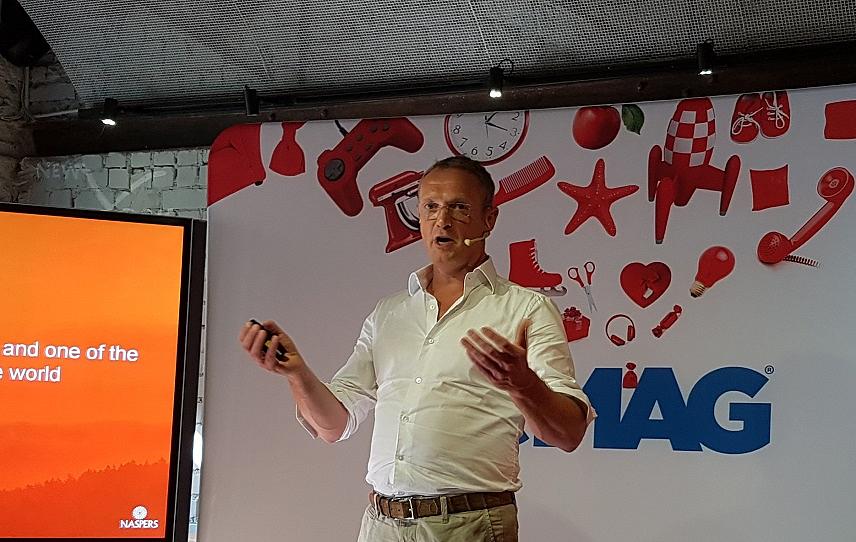 Romania has massive potential to become a tech hub in the region and in Europe due to its engineering and software creation talent, Bob van Dijk, the CEO of Naspers - one of the biggest technology investors in the world, said in a press conference in Bucharest.
"Romania is one of our core markets. In fact, it's among our top 4-5 countries around the world in terms of return on investment," van Dijk said. The fund's local investments, which include eMAG, the largest local online retailer, and OLX, the biggest classifieds site, are on a loss, but that is due to massive investments carried out in the past few years. The Naspers executive thinks that they will develop into profitable companies in a few years as the local online market grows.
He bases his optimist estimates on the population size and the increase in quality internet access, the fast growth pace of the local eCommerce market, as well as the quality of the people running the local businesses. The Dutch executive added that unlike other countries, where Naspers also had failures, the fund hasn't had any bad experience in Romania so far and that is also due to the people who coordinate the local businesses.
Naspers' top investment in Romania is the online retailer eMAG. Bob van Dijk thinks that eMAG is one of the fund's core assets because it has managed to develop into a regional player and can further expand.
"eMAG is an excellent platform, locally made, but a world class product. It's not only a Romanian story anymore, it has expanded throughout the region. Who knows where it will end? It can be extended much further," he said, adding that people from other companies in the group come to study the platform and to copy its features to other regions.
Naspers bought the majority stake into eMAG in 2012 and currently holds little over 74% of the retailer's shares. eMAG's Romanian CEO Iulian Stanciu owns the remaining 26%. In 2015, eMAG reached total sales of EUR 440 million on all its markets, which include Romania, Bulgaria, Hungary, and Poland, and in 2018 it's turnover should reach EUR 1 billion, according to Iulian Stanciu.
In the past five years, Naspers has invested over USD 120 million in eMAG. The fund hasn't disclosed its total investments in Romania, but the sum is "significantly higher, although not a multiple of the eMAG investment", according to Bob van Dijk.
Naspers' other businesses in Romania include OLX, the biggest local classifieds site, payment processor PayU, and auto classifieds platform autovit.ro, which was its first investment in Romania, in 2009.
Naspers is one of the biggest technology investors in the world. It operates in more than 130 countries and runs some of the world's leading platforms in internet, video entertainment, and media. Its investments include Chinese group Tencent, and Russian Mail.ru. The fund also has sizeable investments in Central and Eastern Europe.
Naspers has an annual turnover of USD 12 billion and a market capitalization of over USD 75 billion.
South African group Naspers sells Czech operations to focus on Romanian eMAG's regional expansion
Naspers consolidates online fashion retail activities in Romania via eMAG – Fashion Days deal
Andrei Chirileasa, [email protected]
Normal