The young German who restores Transylvanian churches and organizes trips by old carriage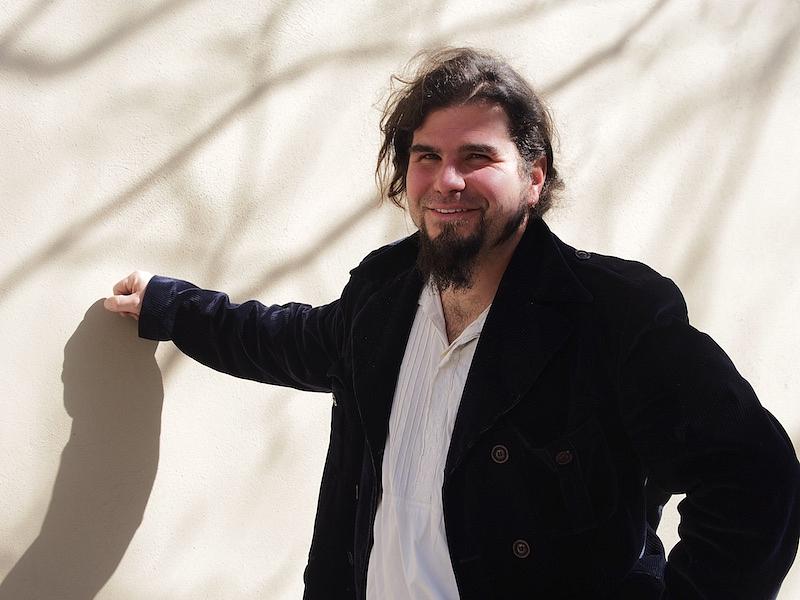 In medieval times, young men who completed an apprenticeship as craftsmen went traveling for at least three years to gather experience. Christian Rummel kept this tradition alive.
The blue-eyed, bearded man takes a seat at an old restaurant in Bucharest. Wearing a Romanian peasant blouse and a large corduroy jacket, he is different than most of the people having lunch there. The man checks the menu, then orders a vegetable soup in  Romanian, with a hardly noticeable foreign accent.
Apart from his appearance, there is something else that sets him apart from the others: his life story. Christian Rummel is a former traveling craftsman, who is now restoring old churches and houses in the area of Sibiu, in central Romania. Little chance to find another person with a similar story at a restaurant in Bucharest.
Christian is in  Bucharest for a conference, but he is anxious to return to Richis, the village near Sibiu where he lives. Two or three days in the city is the maximum he can take. He has built his entire life in Richis: the workshop, his house, friends, his daughter and her mother, are all there.
His main connection to Romania is his five-year-old daughter Antonia, for whom Christian restored an old carriage bought from Germany. On her birthday, the little girl was invited into the carriage and carried around the village like a princess.
Ten years ago, Christian's life looked very different. He was living in a small German town called Oettingen. The 22-year man had completed his education as a carpenter and was certain about one thing only: he wanted to see the world. So he became a journeyman.
Wandering years
After throwing a big party, where he sold everything he owned, Christian embarked on his three-year journey. The aim was to wander around Germany and different countries, working in workshops or factories to gather experience. Christian was not allowed to have a phone, or keep any connection to home.
The tradition dates back to medieval times. Young men who had completed their training as craftsmen would travel around the country establishing new connections. It was a sort of coming-of-age process, with a strong professional feature. During this period, you were not allowed to return home and you couldn't be reached. The underlying philosophy was that you learn new things and you grow only if you walk away from your roots, at least for a while. In a way, it resembles the more contemporary walk-out-of-your-comfort-zone philosophy, but in a more radical and physical version.
Christian spent one year in Germany, then two more years in Scandinavia, France, Switzerland, Austria, Hungary, South-America. He worked in furniture design in Berlin, but he also built houses with eucalyptus wood in Bolivia.
The red thread leading him to a new life in Romania came in the form of an email on a cold November night, seven years ago.
Christian was in an internet cafe in Hungary, with his partner, when he got an email invitation from Florin Cioaba, the self-proclaimed "King of Roma Everywhere". Cioaba was inviting them to Sibiu.
Being a traveling craftsman also meant taking up new challenges. Christian said yes. He first arrived in Copsa Mica, a town in Sibiu county famous for its insane pollution levels. It was raining when he hit the town and the place was cramped with ruins. "Where have I gotten?" he thought.
He never actually met Cioaba, but he managed to get to the Sibiu Journeymen's Association (Asociatia Casa Calfelor). The fortified churches and people in Transylvania appealed to him, so the 25-year old man stayed in Romania. He first lived in an apartment in Sibiu, but not long after, he bought an old house in Richis. It was his first restoration project in Transylvania.
Life in Richis
In the beginning, Christian had no employees and was doing the whole work himself. He was curious to learn the craft from the old people in the village, but there were few craftsmen left who could teach him. Their physical death also meant the death of many traditions. He did learn a lot from an 80-year old man in Richis called Johann Schaas. Christian would also study old books to learn about materials, restoration techniques. As he took on more and more projects, he hired people to help him.
One of his biggest projects was the restoration of the Biertan fortified church, where he worked for two years. Christian also restored the Evangelical Church in Sibiu and many parochial houses.
"When you restore something, you are busy with history," says Christian.
The carriage project was a sort of meditation for Christian. He was having dinner with some friends and neighbors one August evening, when it started raining and the electricity went off. The idea of a big, 19th century old carriage just popped into his mind. He imagined that he could organize a three-day tour in Transylvania with that carriage and he would be the coachman.
Christian bought an old carriage from Germany and began restoring it every evening after work. He would drink a beer and try to solve the carriage's mystery, just like you would solve a puzzle.
After a year and a half, Christian took the first trip with the carriage on his daughter's birthday. He went to her house in the afternoon, where Antonia was already waiting for him dressed up like a princess. The girl told him that she'd like to be carried to a restaurant to eat pancakes with vanilla and cheese dumplings (the famous papanasi).
Christian then managed to organize one of the first tours. Four people hopped on the carriage, all elegantly dressed, and Christian- the coachman- took them to the fortified church, to a concert, then to a wedding. He remembers the good time everybody was having, as they were passing through a forest at night time, lighting the way with lanterns, laughing and feeling like time could be bended, like history is not irreversible. The old carriage was, in a way, a romantic time machine.
Diana Mesesan, features writer, diana@romania-insider.com
(photo by Diana Mesesan)
Normal