TV5MONDEplus streaming platform available in Romanian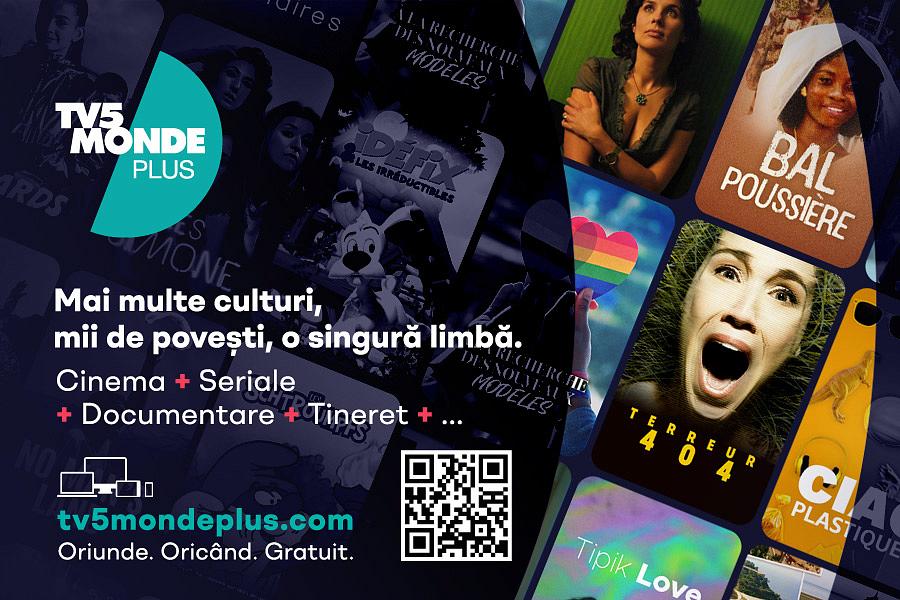 French-language broadcaster TV5MONDE said on March 15 that it launched TV5MONDEplus, its streaming platform in French, with a Romanian interface and subtitles. The on-demand platform is accessible for free on all devices, namely the web, mobile applications, connected TV, and smart TV.
According to the press release, every week, over one million Romanian households watch the TV5MONDE Europe channel, which has been providing Romanian subtitles since 2008. Moreover, the viewing time of its TV programs has increased by 26% in the last four years, showing an increased interest of Romanians in francophone productions.
In addition, the broadcaster is the privileged partner of the biggest cultural events in Romania, such as the French Film Festival, Transilvania International Film Festival, and Astra Film Festival.
"Launching TV5MONDEplus in Romanian is thus the next natural step in the digital expansion of the broadcaster with the objective of enabling francophones and francophiles from Romania to discover, via one single interface, the very best of French-language programs," reads the statement.
The Romanian launch of TV5MONDEplus takes place in the context of the 30th-anniversary celebration of Romania joining the International Organization of Francophonie, an organization that brings together 88 francophone states and where Romania has been a full member since 1993.
On this occasion, Yves Bigot, the CEO of TV5MONDE, is on an official visit to Romania, where he stated: "Our role as a public service is to allow access to as many francophones as possible, but also francophiles, thanks to local language subtitling, to share the values, creativity and talents of Francophonie, whose operator is TV5MONDE. We are glad to offer a new service to Romanians, which comes in complement to the TV channel, mirroring the diversity and wealth of French-speaking productions."
TV5MONDEplus is meant as a complementary offer to the channel. The platform's catalogue comprises general entertainment, ranging from cinema (collections, arthouse and short films), series, documentaries, magazines, animation, web creations or kids programs from across the francophone world.
TV5MONDE was founded 40 years ago by the governments of France, Belgium, Switzerland, Canada and Quebec to promote Francophonie. Today TV5MONDE represents eight general entertainment channels worldwide in 213 countries (including China, North Korea, Cuba, or South Sudan). There are also two themed channels: a children's channel in the US, Africa and the Middle East - North Africa and a lifestyle channel available in Asia, the US and the Middle East - North Africa.
At the moment, more than 421 million households around the world have access to one or more TV5MONDE channels, and in the 24 countries where the TV station measures the ratings, the television is watched by 62 million viewers every week. TV5MONDE programs are subtitled in 13 languages, including Romanian since 2008.
irina.marica@romania-insider.com
(Photo source: the company)
Normal