RO developer invests EUR 120 mln in Bucharest's first "Lagoon City", plans to scale the project in Budapest, Prague and Warsaw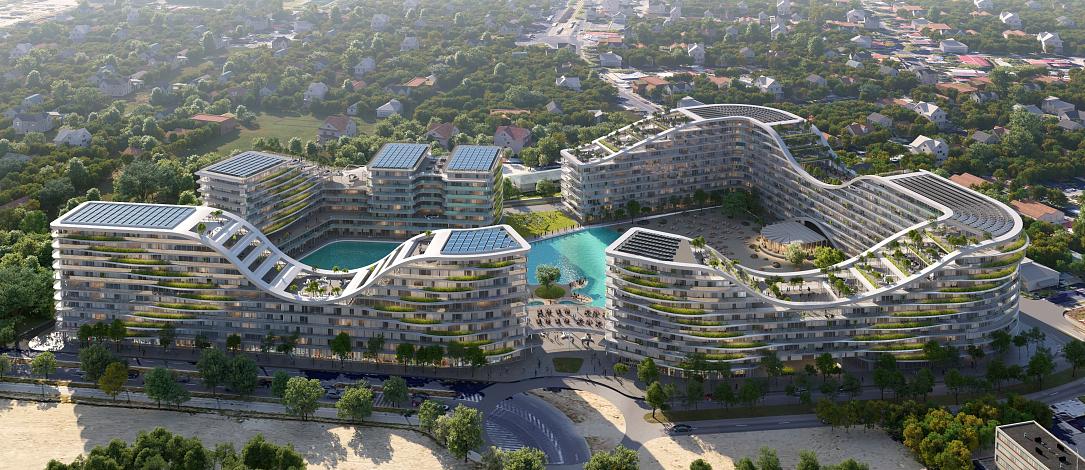 Romanian development company Forty Management has started work on Central District Lagoon City Bucharest, an innovative, self-sustainable, mixed-use urban redevelopment project, unique in the region.
The value of the investment in Romania exceeds EUR 120 mln, and will implement for the first time in Central Eastern Europe the patented Crystal Lagoons technology developed by Chilean biochemist and real estate developer Fernando Fischmann. The technology allows for the construction and maintenance of cost and energy-efficient large pools, named lagoons. Around 1,100 projects in various stages of execution in over 60 countries have made use of the Crystal Lagoons technology.
The Romanian developer has also obtained the rights to scale the project in Budapest, Prague, and Warsaw, with investments estimated to be between EUR 140-190 mln for each location, depending on the mix and the needs identified in these markets.
The lagoon in Central District Lagoon City Bucharest, set to be built in one year, will have over 10,000 sqm, a maximum depth of 2 meters, two large beaches, and other facilities. In the winter, the lagoon partly transforms into an ice rink. The complex around the lagoon will include a 5-star hotel with 323 rooms, 401 apartments exclusively for rent, 9,200 sqm of commercial and service spaces, a class A, 8,500 sqm office building, as well as countless other facilities. Central District Lagoon City Bucharest is designed so that its 2,500 residents do not have to leave, being a miniature city in itself. Residents will pay practically no maintenance costs, as the complex is projected to be fully carbon-neutral and self-sustainable.
The rent for one of the 2 to 7-room apartments in the complex will be comparable to those in similar locations. Long-time renting contracts, for 5-7-15 years, will fill a gap in the renting market in Bucharest, the developer says. The complex also expects to welcome embassies looking to fulfill ESG tenets. Forty Management estimates see it recoup the investment in around 17 years. It also expects the first wave of residents to be mostly expats, while the latter ones will be Romanians. Colliers UK is set to act as property manager of the Central District Lagoon City Bucharest.
"With this extraordinary project, we aim to redefine the notions of lifestyle and entertainment, bringing all these high-end amenities right into the city center and transforming Bucharest into a holiday destination with turquoise waters and idyllic beaches. Moreover, Lagoon City implements the highest standard of sustainable development, as it is the first mixed green real estate project in Central Europe, self-sustainable, where all utilities are produced in-house," said Lucian Azoiței, CEO of Forty Management. He also noted that the Crystal Lagoons technology makes location unimportant, as it brings water like that in the Maldives practically anywhere.
Located at no.18, Coralilor Street, Central District Lagoon City capitalizes on the developer's experience in sustainability. The amenities of Central District Lagoon City will include a heliport, concierge services for all apartments, 3 restaurants, 2 beach bars, a 430 sqm bistro that will also serve the beach area, a sky bar, cafes, a private cinema, kindergarten, 2 SPA centers, a beauty clinic, and electric car co-sharing services. The complex will also create 840 new jobs.
(Photo source: Forty Management)
Normal