News from Companies
Empowering Change: Romanian Accessibility Awareness Day Conference advocates for inclusivity for persons with disabilities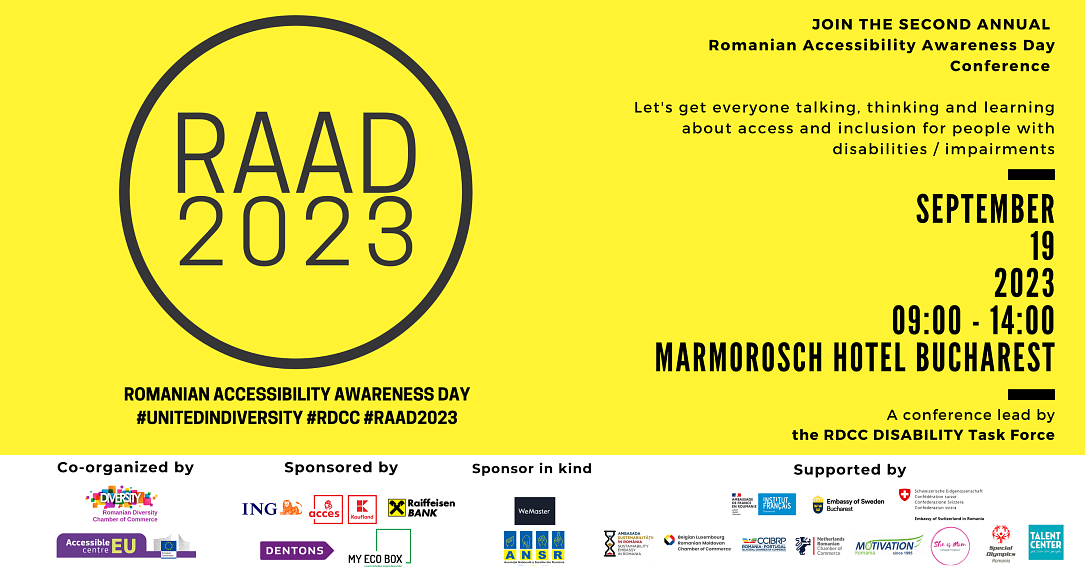 The Romanian Diversity Chamber of Commerce is delighted to announce its upcoming Romanian Accessibility Awareness Day Conference 2023. The flagship event will be held at the Marmorosch Hotel in Bucharest, on 19th of September, at 9:00 am. Registrations will open at 8:30 am.
Committed to the promotion of inclusivity and accessibility within the Romanian business landscape, the Romanian Accessibility Awareness Day Conference 2023 is poised to become a pivotal event for professionals, thought leaders, and advocates alike. With noteworthy speakers and a comprehensive array of subjects, this event endeavors to cultivate awareness and catalyse proactive measures in the pursuit of establishing a more accessible and inclusive society.
Among the topics to be discussed during this year's conference are as follows:
Comprehensive consideration of disability: An exploration of the significance of every individual
Policy and legislative initiatives: Advancing the rights and protections of persons with disabilities
Empowering disabled job seekers: Strategies for facilitating employment opportunities
Fostering an Open and Trustworthy Organizational Culture
Promoting health and wellbeing: Holistic support for individuals with disabilities
The Romanian Accessibility Awareness Day Conference 2023 aims to provide a platform for dialogue and action, paving the way for positive change in the realm of accessibility and inclusivity within the Romanian business environment.
In a significant stride towards fostering a broader international collaboration, this year's conference is co-organised with AccessibleEU Centre, an initiative by the European Commission that focuses on providing resources in key areas such as environment, transport, information, communication technologies, and policies. By ensuring the equal participation of persons with disabilities across all aspects of life, this partnership adds a profound dimension to the conference's mission.
The conference is proud to receive the generous support of its sponsors Dentons Romania, ING Bank, Kaufland Romania & Moldova, Raiffeisen Bank and My Eco Box. Their commitment to driving positive change and fostering a culture of inclusivity in the business community is integral to the event's success. The event is also kindly supported by the French Embassy, the Swedish Embassy and the Embassy of Switzerland in Romania, the French Institute, the Sustainability Embassy, the Belgian-Romanian Chamber of Commerce, the Netherlands-Romanian Chamber of Commerce, Motivation, Special Olympics, She is Mom and Talent Center.
A highlight of the conference will be the lineup of accomplished speakers, representing a spectrum of industries. Renowned companies such as Kaufland, ING, Raiffeisen Bank, Google Romania, Deloitte, Yves Rocher, HERVIS Sport, Code 4 Romania, and the National Expert Romania from the European Accessibility Resource Center AccessibleEU will share insights, experiences, and best practices in promoting accessibility and inclusivity. In the opening of the conference, H.E. Israel Ambassador in Romania will deliver a message of support towards accessibility efforts in Romania and will continue with a short presentation of "Eyes wide Open" – a workshop created by Irina Crocker and Silvia Stelea on how to welcome, accommodate and include persons with sight disabilities into the workplace.
The Romanian Diversity Chamber of Commerce (RDCC) extends an open invitation to all businesses, organisations, and individuals who share a commitment to accessibility and inclusivity to join us in this impactful event. Let's collectively take strides towards a more equitable and accessible future. The Conference will have sign language interpretation delivered by professionals from the Romanian National Association of the Deaf. Interested companies and individuals are encouraged to secure their spot at this transformative event by registering online HERE.
* This is a press release.
Normal