Paintings by 21-year-old Romanian included in NASA's Lunar Codex project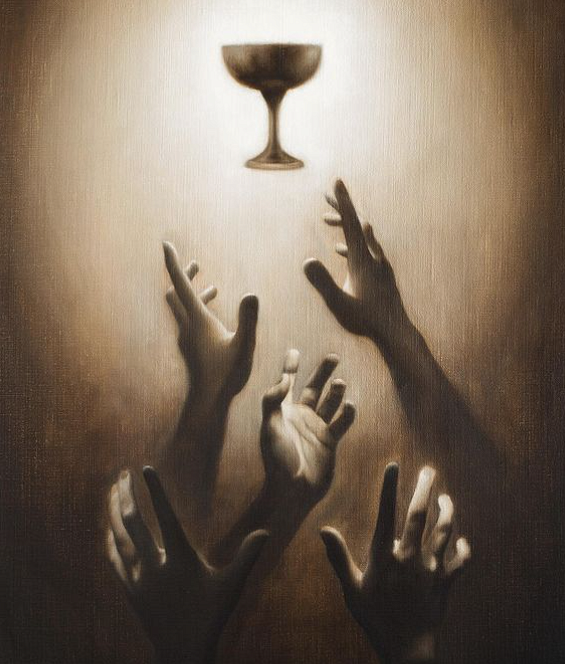 Two paintings by 21-year-old Iași-based artist Khaled Mater have been chosen for the NASA "Lunar Codex" project. Tens of thousands of works of art will be sent to the Moon as part of the initiative. 
Matar is the only Romanian artist chosen for this NASA project which will send four time capsules filled with tens of thousands of works of art sent to the Moon in 2024. Half-Palestinian on his father's side, he has amazed NASA experts with his talent and his paintings received honorable mentions in an international competition.
"It still seems unreal to me that two of my works, two of the images I created, will reach the moon. I never expected to go so far with what I create, literally," Matar told Euronews.
The works included in the Lunar Codex "Polaris Collection" are called "Fire Keeper" and "Reaching for the Holy Grail." The young painter says he created the latter by basing it on the legend of King Arthur and his knights who set out in search of the Holy Grail. "They don't know where the Holy Grail is, or what it looks like, the only thing they know is that it exists," Matar says.
The first painting, in turn, represents the moment when the fallen hero is helped by a natural force, the protector of fire. "It helps him get back on his feet and continue his mission, his journey," the painter added.
Khaled Matar studied at the National College of Art "Octav Băncilă" in Iași, and is currently a student at the Academy of Art in Florence. He has had four exhibitions in Barcelona, New York, Copenhagen, and Bucharest.
"We will extend the Khaled Matar exhibition, which is a great success because this young man of only 21 years old has an absolutely special technique," said Eduard Uzunov, art gallery representative.
"I see painting as a kind of meditation, as a prayer. It is something truly special. I think painting should guide people toward contemplation. My ambition, as a painter, is to reach a higher level so that I can create works that are technically and thematically similar to those of the old masters," Matar says.
"The Lunar Codex" is an art archive, and contains contemporary books, stories, poetry, music, and movies. The work of 30,000 artists from 139 countries will be launched to the Moon in four NASA missions. The works of art will be engraved with a laser on a nickel microfiber or digitized on memory cards and then included in a time capsule. The launch of the Polaris Collection is scheduled for November 2024.
(Photo source: Khaled Matar on Instagram)
Normal