(P) The American International School of Bucharest breaks ground for campus expansion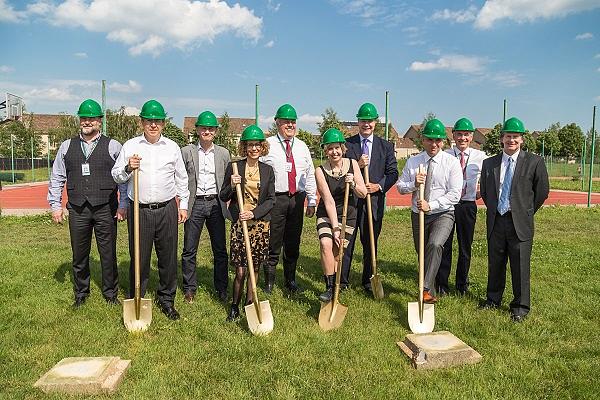 On May 11, 2016 the American International School of Bucharest (AISB)'s Board of Trustees broke ground for the building of a new Early Childhood Center, the first step in the development of the 10 hectares' state of the art campus on Pipera Bd. that will extend over the course of the next few years.
"The AISB Early Childhood Center will be a purpose-built space, designed for very young children whose educational needs, within an inspiring and engaging environment, are recognized to be essential for their later development.   Students from 2 to 5 years old, will benefit from their own library, cafeteria, gym and play area.  It will be open to up to 180 children as of October 2017 and will incorporate most up to date facilities and technologies that help set early learners on the right path for a successful future." Dr. Robert Brindley, AISB Director
"We are very excited that this project, long in the planning, has finally taken off. Early learning is key to the future of intelligent, emotionally attuned and independent minded individuals and we have looked to the best schools in the world for guidance on how we can best support them in their learning.  We look forward to creating wonderful memories in the new building." Rosella Diliberto, Early Childhood Principal
The Early Childhood Center is only the first level of campus enhancement at the American International School of Bucharest.  Following are the expansion and modernization of the school Library to better tend to the needs of each and every one of the school's students, an extension of the High School building which will provide an opportunity to build classrooms and laboratories that more closely meet curriculum requirements, provide faculty spaces for collaborative planning and study areas for students.  Last but not least, a Science, Technology and Design Center will be built.  This will serve all students from the age of 8 years old to encourage an innovative curriculum that links the traditional academic subjects of technology and science with the modern, creative design process. These spaces will feature advanced technological equipment that affords teaching practices and student learning opportunities that are significantly more hands-on and experiential.
The American International School of Bucharest educates 820 students from 56 countries and is an IB World school, offering the International Baccalaureate Program at all levels.  The AISB is accredited by the New England Association of Schools and Colleges, Council of International Schools, it is authorized by the International Baccalaureate Organization and recognized by the Romanian Ministry of Education.
(p) - this article is an advertorial
Normal