RO president reiterates support for Moldova, condemns any attempts at destabilizing the country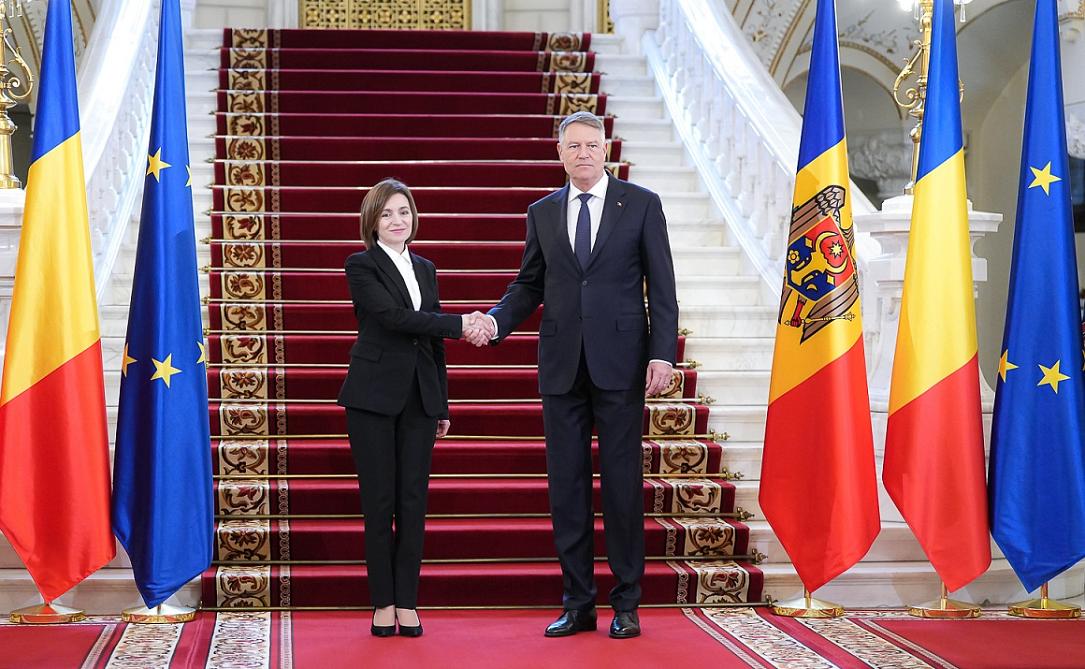 Romania firmly condemns any attempts at destabilizing Moldova and will continue to support the respect for the country's sovereignty and territorial integrity, president Klaus Iohannis said at a joint press conference with Moldova's president Maia Sandu.
Iohannis welcomed Sandu for an official visit to Bucharest on February 23.
The "external threats to the constitutional, democratic order of Moldova, to which you repeatedly drew attention, are extremely worrying," Romania's president said.
He reiterated Romania's condemnation of any Russian attempts at destabilizing the country. "At the same time, Romania remains vigilant concerning Russia's hybrid actions, which are intensifying one year since the war [e.n. in Ukraine] started," the president said.
"The destabilization attempts are supported by intensified pro-Russian propaganda to fuel narratives useful to Russia and to diminish our unity and solidarity. But we will not give in! I can assure you Moldova is not alone in the face of these challenges. It is our permanent, clear, and firm position," he said.
Iohannis also said the country would continue to support EU sanctions against those who want to destabilize Moldova and undermine the constitutional order and the rule of law.
This is the first meeting between the two after the Moldovan president warned in mid-February of a Russian plot to bring down the country's pro-EU leadership using activities masked as opposition protests.
At the Bucharest Nine summit in Warsaw on February 22, president Klaus Iohannis said Romania would support Moldova with whatever is necessary "under any scenario".
Moldova's PM Dorin Recean is expected to visit Bucharest next week.
The Romanian Presidential Administration announced before the meeting that the talks would focus on shared projects of strategic interest in the areas of energy, transport, health, education, and IT, with a focus on "initiatives meant to connect Moldova to the area of the European Union."
The two presidents were also expected to discuss the security challenges in the region and ways to manage the economic, social, and humanitarian effects of Russia's aggression in Ukraine.
(Photo: Presidency.ro)
simona@romania-insider.com
Normal