Promoting Romania!
Mihai Lehene, president Romanian United Fund: Via Transilvanica allows us to link and weave the Romanian story into what we tell our kids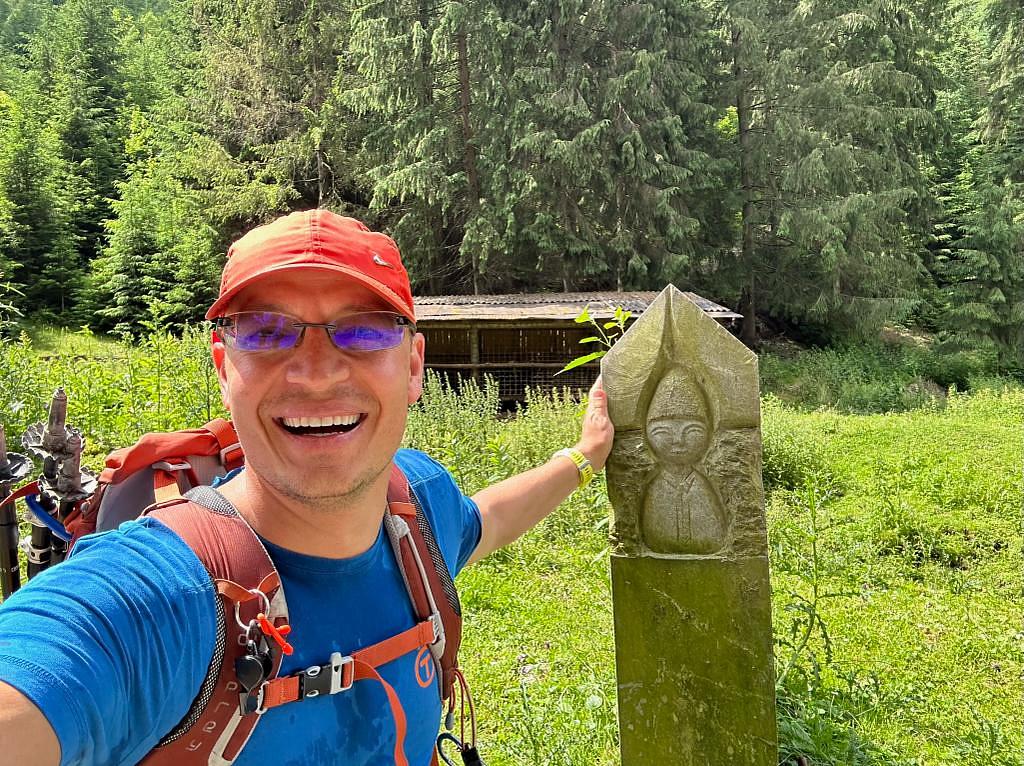 Romanian United Fund, the organization that works to create a strong and connected community of Romanians living abroad, has long been a supporter of Via Transilvanica, the hiking trail crossing 20 different ethnic and cultural regions of Romania. The trail, inaugurated last year after four years of work involving local communities and volunteers, is known as "Dumul care uneste / The Road That Unites." It unites communities across the country, but also Romanian communities abroad in a "project that people have been waiting for a long time," Mihai Lehene, the President of Romanian United Fund (RUF), says. More on how RUF supported Via Transilvanica since its launch, in its recent bid to win the Public Choice Award at this year's European Heritage Awards, and how the project speaks to the communities of Romanians living abroad in the interview below.
The Romanian version of this interview is available here. Varianta în limba română a acestui interviu este disponibilă aici.
Launched in 2018, the year Romania celebrated 100 years since the Great Union of 1918, Via Transilvanica is a project of Tășuleasa Social, an NGO established by Alin Ușeriu. The trail, which spans more than 1,400 kilometers across the country and showcases 12 UNESCO World Heritage Sites, was one of this year's Europa Nostra Heritage Awards winners in the Citizens' Engagement and Awareness-raising category. At the end of September, the project of the trail also won Europa Nostra's Public Choice Award after gathering a record number of votes, cast via an online poll that saw some 27,000 people participating.
Romanian United Fund played its part in backing the project to win this award, but this is only a recent show of support. In 2019, RUF organized a fundraiser for Via Transilvanica, gathering USD 100,000 to fund the construction of the trail, and has toured with the project founder across the United States. In the meantime, the sum raised by RUF for the project went up to more than USD 200,000. "The Road That Unites" has proven more than a slogan as it galvanized the communities of Romanians living abroad with the opportunities it opens up for people to learn about and (re)connect to the country's history, nature and traditions as shown on the trail that also aims to offer opportunities for economic development to communities that were previously isolated and close to extinction.
For the young generation of Romanians born and living abroad, it offers an immersive experience into the country's past and customs, beyond the stories that their parents might have told them about the places they left behind. "The simple existence of Via Transilvanica allows us to link and weave the Romanian story into what we tell our kids," Lehene says. RUF has been organizing trips and camps to Via Transilvanica for adults and children alike. For the latter, the experience of the trail offers a deeper understanding of Romania's culture, he explains.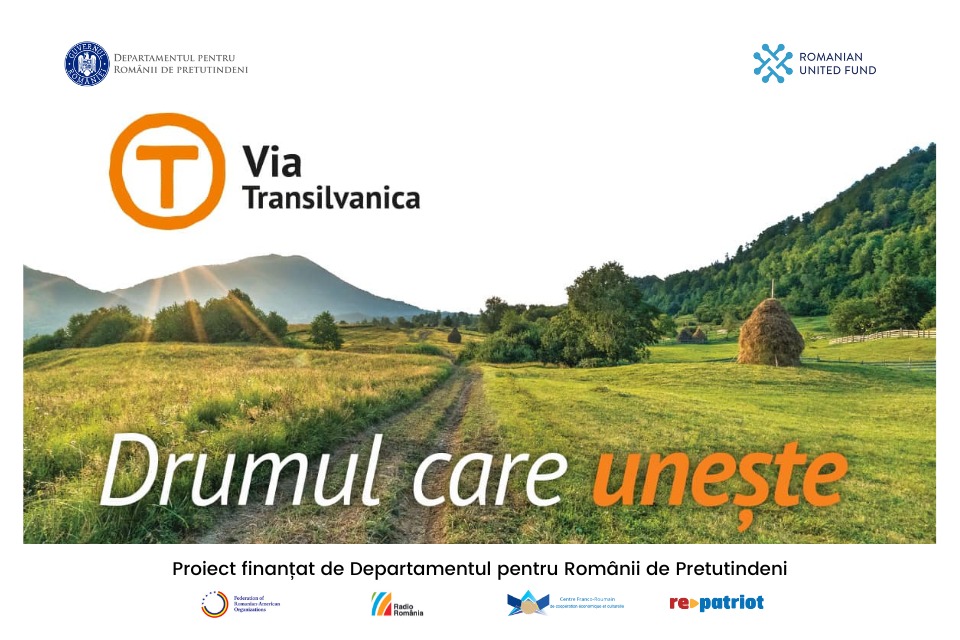 The campaign to support Via Transilvanica at the Europa Nostra Awards is only the beginning as the organization is now rolling out another phase of this project around it, the RUF President says. The organization is currently working to identify partners that it can work with in the long term to showcase the beauties of Romania, as seen from Via Transilvanica. A Kit of materials is available for this purpose, ranging from guides to a presentation tent, all meant to take the story of the trail and of the regions and cultures it unites further. It will allow those interested to present the country at various events held abroad, and the interest it has generated so far only underlined the need for such an instrument. As it unites Romanians to support it and tell the stories of their homeland with its help, there is another, far-reaching goal, namely to turn Via Transilvanica into a global brand for Romania. More on RUF's long-standing partnership with Via Transilvanica and why the long-distance trail is an unequaled ambassador for the country below.
How did the partnership with Via Transilvanica start? Why did you decide to support the project?
Mihai Lehene: Our history with Via Transilvanica is very interesting. In 2019, we were a group of volunteers here in Chicago looking at ways to contribute to Romania and get ourselves involved. We decided to bring a number of organizations from Romania to the United States. We worked for almost six months on a large event that was supposed to bring three organizations together; they had a certain format, and it was very special. Just weeks before the event, we decided to cancel everything and bring only Via Transilvanica.
What happened was we connected with Via Transilvanica three or four times over Zoom, and every time we connected with them, the volunteers were just so excited about working on this project. So we realized that there is such a big difference between Via Transilvanica and everything else we were looking at. We said "this is one project that gets everyone excited, one project that unites us all, one project that we believe could truly make an impact in Romania for the long term."
Everybody believed in it, and we simply decided to do a big event for Via Transilvanica. We managed to bring in the same room 340 people one evening, and raise over USD 100,000 for them. That really put us on the map in terms of how the Romanians living abroad can actually make a huge difference, especially when it comes to philanthropy and organizing high-quality events that uncover the most impactful projects in Romania.
What we showed that night is that when you have a great project and when you put a lot of effort into organizing a major event, the results will show up.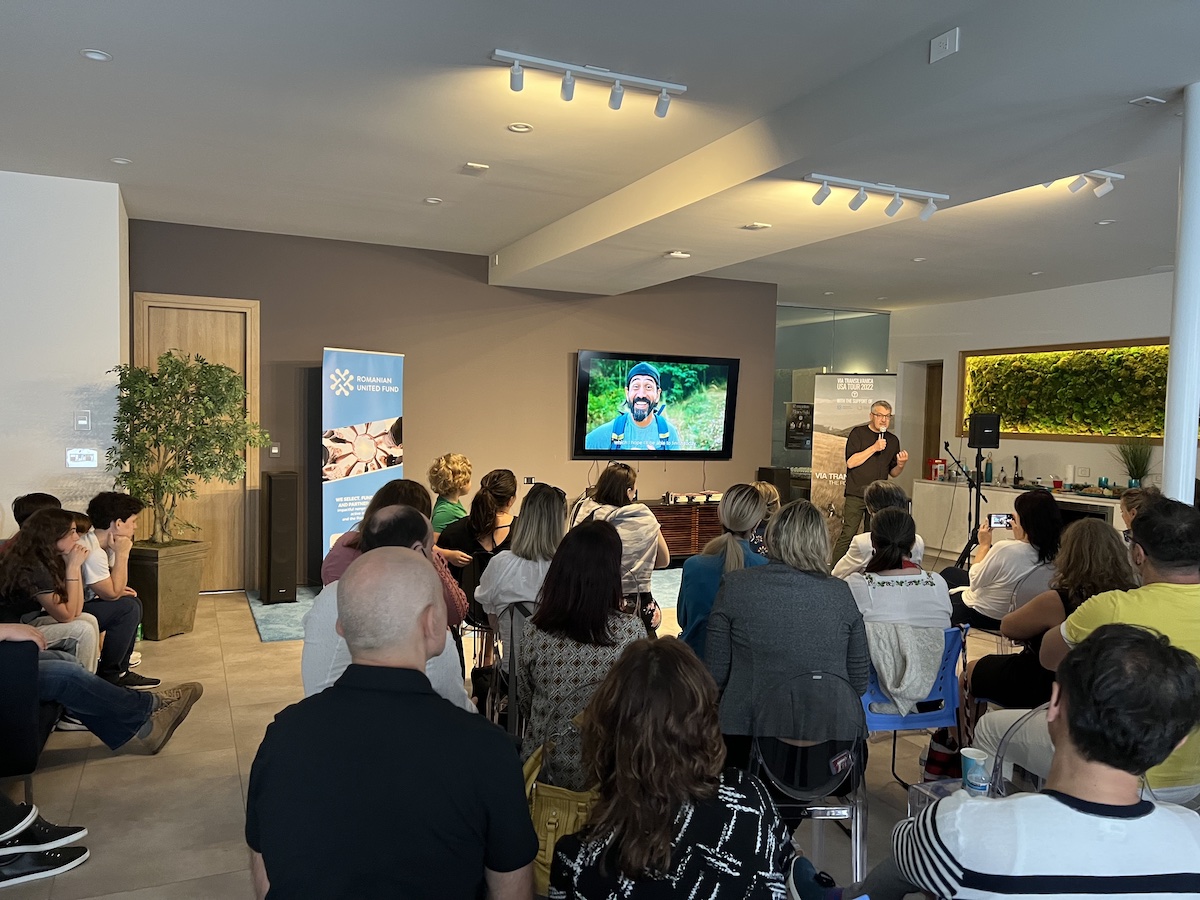 I understand you also presented the project in nine cities in the U.S.
Mihai Lehene: That was just the beginning of our beautiful friendship and our strategic partnership. We continued to work with Via Transilvanica over the last four years. In 2021, towards the end of the pandemic, Alin [Ușeriu] reached out to us and told us they were able to continue building the trail with the money we invested in Via Transilvanica and that they filmed a documentary, The Making of Via Transilvanica. He wanted to show it to us.
We realized then that it was time for us to broadcast this project to the entire world and to bring it up with other communities. Together with Alin, we presented the project to communities across the United States and then we went and we visited them. We did a two-week tour. We went all the way to New York, then we went through the East Coast, we traveled to the Midwest, we went to Colorado, and then we went to the West Coast. We went to LA, we went to Reno. We did nine cities. We started to accomplish what we had been hoping to accomplish for a long time, which was to start creating a global brand for Via Transilvanica.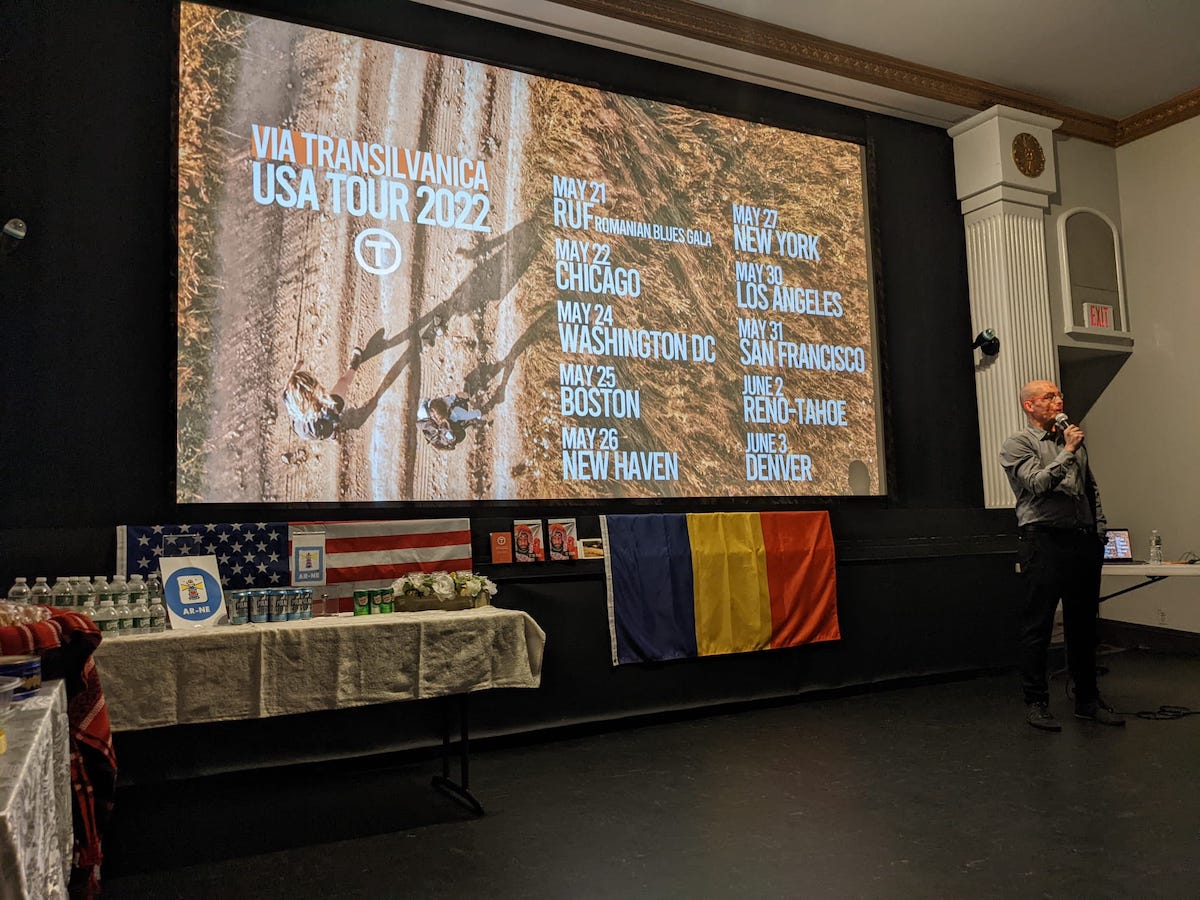 Can you tell us what the feedback from the Romanian communities was when you presented the project across the U.S.?
Mihai Lehene: It was a shock for many people. It was big. When Alin presented the project, it was a very emotional moment. He is a very good speaker, and he had a lot of photos showing the beauties of the Romanian countryside, the people who live in those communities. There were many people in the first rows who were shedding tears - tears of happiness, tears of joy, tears of just feeling emotionally connected with the country and with this particular project.
It was very emotional for us to see that something as beautiful as this is being built and feeling that we are part of something that is bigger than ourselves, that is going to contribute to the development of Romania for decades to come. Feeling like you are part of a historic project can be quite empowering.
Do you think this is why it resonated with the communities abroad? Are there other reasons?
Mihai Lehene: I think it resonates extremely well because there is nothing contentious about it. It is a positive project that builds for the long run. It talks about sustainability, it talks about nature, and it talks about the forest and the trees and preserving the natural beauties of Romania. None of that is contentious, none of that is divisive; all of that is uniting us - the 'Road That Unites', Via Transilvanica, is truly something that can bring us all together. People have been waiting for something like this for a long time. 

Via Transilvanica recently won the Europa Nostra Public Choice Award with a record number of votes. What can you tell us about the campaign you had in this respect?
Mihai Lehene: This was somewhat of a non-traditional campaign for Romania United Fund.
In the past, most of our projects were philanthropy projects. We were raising funding for specific causes. At the beginning of 2023, Romanian United Fund's strategy entailed connecting with as many communities abroad as possible and creating bridges, getting to know them better, learning how many people are there, what they are working on, and what their main interests are.
In the summer, every year, we go to visit Via Transilvanica. We have been organizing trips to Via Transilvanica with Americans and Romanians and people from all over the world, children. Last year, we had 30, but two years ago, we had 48 kids in two camps.
With the trips for adults, we do sections of Via Transilvanica every year; we are trying to organize multiple groups in 2024. This is an opportunity for people who live abroad to reconnect with Romania in a way that was not possible before - having a set trip, where you can go hiking in an organized fashion. We have been doing this for the past three years. I have personally completed over 300 kilometers of Via Transilvanica. It is a 15-year project for me to walk the entire Via Transilvanica.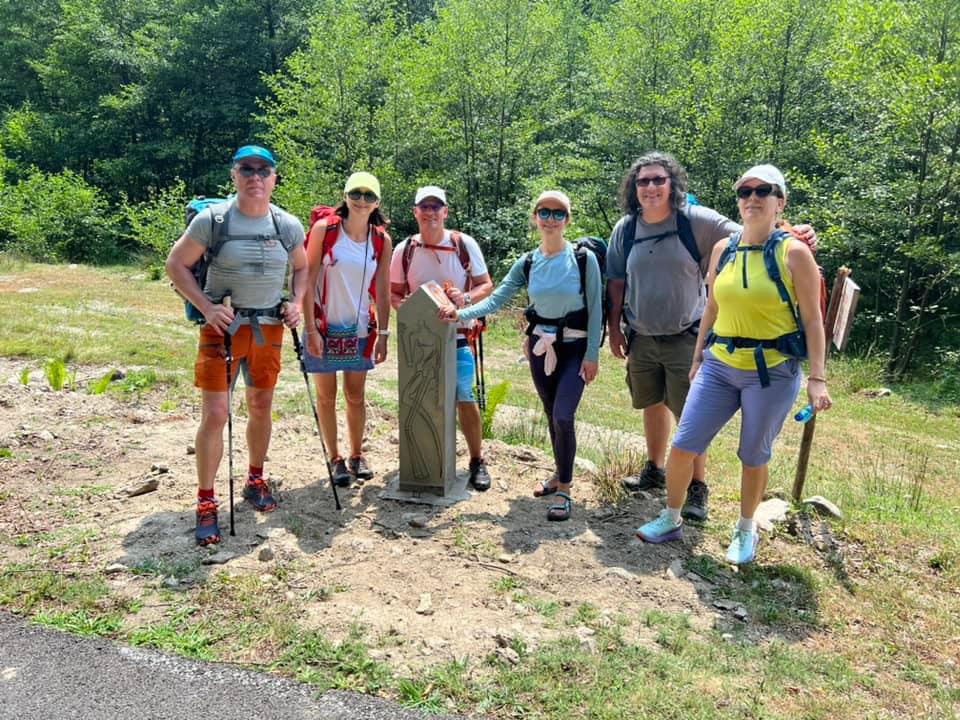 When we visited Tășuleasa this summer, we already knew about the project and the award, but we never realized how big it is. Alin sat me down, and he said "imagine how amazing it would be if we won the big prize." He was telling me how important it is to have this award for the global awareness of Via Transilvanica and for Romania generally. So, we picked it up as a project.
We were sitting there, talking about it, and we thought "You know what? This is actually doable. Not only is this doable, but it gives us, Romanian United Fund, a reason to connect with these communities and go to them with a project."
Because one thing we realized is that you cannot unite the Romanians living abroad simply by going out there and saying "hey, let's unite." There is no reason in uniting for the purpose of uniting. They can be united through action, through projects, through emotion. This project checks all of them. There is a lot of emotion in connecting with the backcountry of Transylvania and of Moldova and crossing the mountains. The entire story is a very beautiful one, so it is a very emotional connection. You ask people to go out and vote, so there's the action around it.
And they felt they could actually make a difference with a very simple piece of action - just by sharing this with friends and asking them to vote. So, the project was a perfect fit for us, and it became an awareness campaign.
We asked people: "How much do you care? Let's create a global brand together. Let's put Via Transilvanica on the map." We wanted the world to know that Romania exists and that it has something important and valuable to offer. A lot of people genuinely identified with that message, and they responded. We had 56 partners in this campaign - we had regional partners and partners in the Romanian communities around the world. More than 100 community leaders currently support the project.
If you go to our website, and you go to campaigns, and to the Europa Nostra campaign, you will see a map of the applicants. They are spread across Europe and North America, but we also have people in Tenerife, in Iceland and in Australia. People from all over the world responded; it was actually two months of simply connecting with people and asking them to get involved, bringing them up to speed with what Via Transilvanica is, sending them photos and videos, and just creating awareness around this campaign.
Almost every other person we went to, they looked at us not very convinced and told us it was not going to work because Romanians do not work together on things like this. Our standard reply was: "Listen, we are very excited about this project. Do you like this project?" "Oh, I love this project, I'm going to vote," the answer was. "Then, there's at least two of us." In the end, only two organizations we spoke with didn't end up signing and joining us in the campaign out of almost 60 communities we connected with.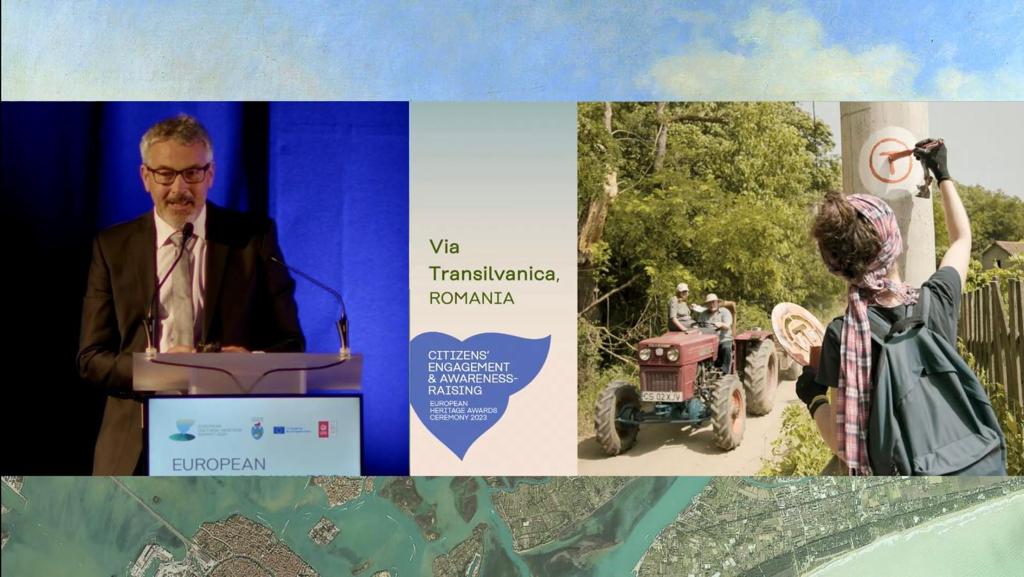 In general, we try to identify and connect with community leaders, non-profit founders, consulates, community centers, and Romanian language schools abroad, small communities or small community organizers all over the world, business networks. We created a small Facebook group where they can get together and talk to each other; it is a very filtered kind of little world with about 50 or 60 people.
The idea was to make everyone understand that we are not stopping, this is not the end of the road, this is just the beginning, and there are many projects that we can work on together. In fact, we do have future projects, and we are currently in the second part of this project.
What does this second part entail?
Mihai Lehene: The second piece of this awareness campaign is building on the foundation we created with Europa Nostra. We are connecting now with the same communities and other communities as well, and we are trying to identify partners that are a good fit to work with us long-term in presenting the beauty of Romania to the world through the eyes of a Via Transilvanica supporter, somebody who talks about this wonderful trail.
We created a package of branded materials for outdoor events. Due to financial limitations, not all of these items will be part of every Kit. For example, we have this beautiful, big tent – we hope to have some in the United States and some in Europe. Then we have pop-up displays - the main idea is that you can see the map of Romania, you see the trail of Via Transilvanica, and you can stand in front of it and take pictures. At the same time, we have these beautifully printed guides that talk about the beauty of our country. Some of these kits also include a traditional, authentic Romanian costume – that can transport somebody who has never heard about Romania into the heart of the country.
Via Transilvanica does a great job of showcasing not only the beauty of the Romanian countryside but also how Romania is actually a melting pot of cultures. Switzerland is very, very beautiful, but it tells you one story. In Romania, you have the intersection of Western Europe with the Russian Empire and the Turkish Empire, and you can simply walk through history and get a taste of every one of these influences. You have the German influence, you have the Hungarian influence but also the Russian influence towards Moldova, and then you have the Turkish Empire influence in the south. You can feel this in the way people dress, you can feel this in their music, and you can taste it in their food, so it's a true melting pot of Europe.
Where can those who apply to get this Kit use these items?
Mihai Lehene: Our partners will become hosts; they will be hosting the Kit. The idea is that the Kit is something that is shareable; it can be transported left and right. We are definitely considering having a few kits in each large country, but let's say that there's a Kit in Munich and there a tourism fair in Nuremberg. You have an organization in Nuremberg that wants to show a Kit. They will be able to go pick up the Kit and share it anywhere they want in that area by connecting with either the local embassy or consulate or the Kit host in their country. We are talking to some consulates and embassies as well to host the Kit. In general, we are looking at people who have some sort of history of organizing events, bringing people together, having a community behind them - these are definitely important criteria when we are going to select the Kit host. The Kit is high quality enough that you can go to any tourism exhibition with it, but, in a similar fashion, there might be an event like a festival at your local church.
We have the experience of constructing smaller kits and then having booths at local events here in the United States. We have had several so far: we had two here in Chicago, one in D.C., one in Colorado and Denver. There are actually lots of organizations that have reached out to ask for a Kit. So, we were responding to a need. There are people right now who are anxiously waiting to receive this Kit because they already have festivals that are coming up, and they want to showcase Romania.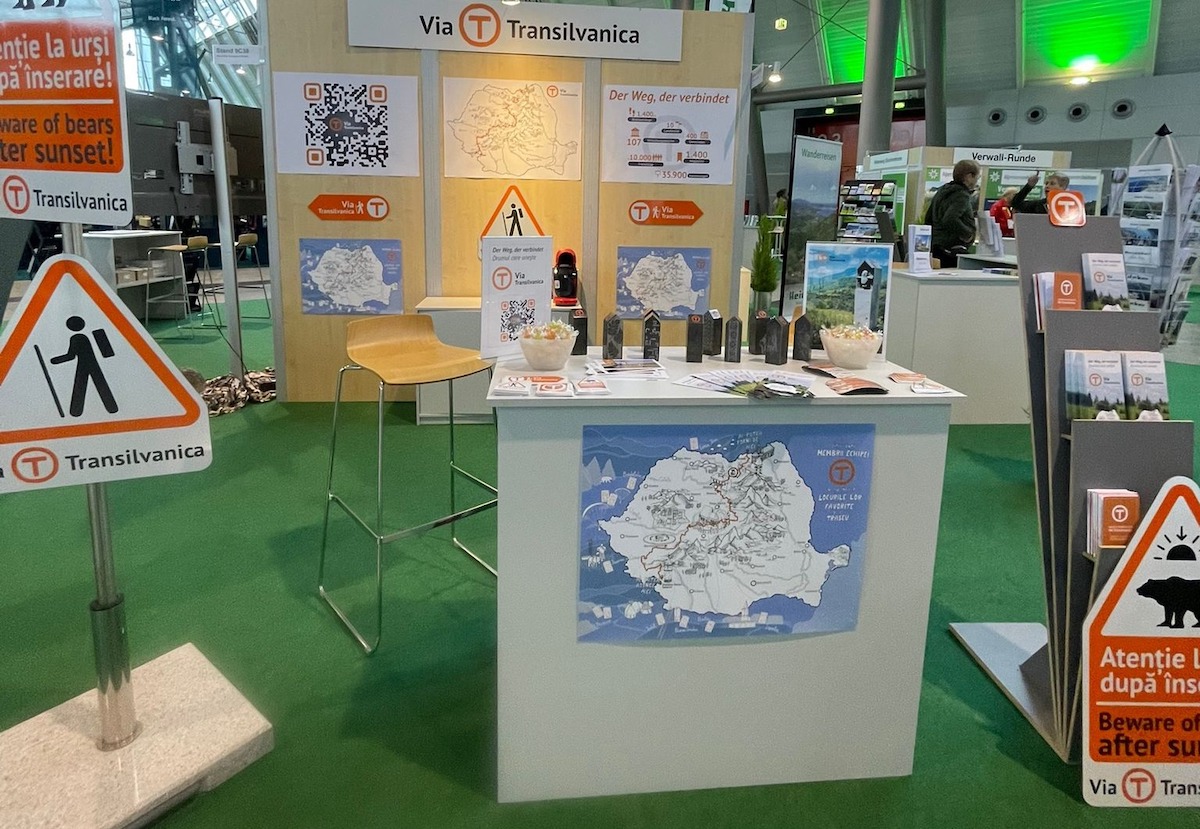 We focused on something that might be needed after doing four of these already and after seeing the interest. A thousand people walked through the festival, and they were asking about it; they were interested in it. Americans were stopping, and they wanted to learn about Romania. For example, that map came in as a need. Everybody was asking where this was; we really could have used all of these materials in our prior festivals. Now we have one coming up in Las Vegas, one in Connecticut, and they are anxiously waiting to receive it.
We are starting to work with student groups and local high schools. We are creating white papers that talk about the importance of preserving your culture and how you can self-organize into a student group. Pretty much every high school has a small number of Romanian students - especially in the United States, where there is such a diverse community – and they have an "international night" event. At my daughter's school, there are 20-30 Romanian kids out of the 3,000. It's 1%, but there are 30 kids that are Romanian. They have an Eastern European club; my daughter is actually the founder and she's one of the presidents. They are going to have an international night, and they can't wait to take this Kit and showcase it. We have another high school here in Chicago where there is a group of Romanian students who have a Romanian dance club; they do Romanian folk dances and they dress up; they are going to be able to use some of the items of this Kit to showcase Romania at the events they are organizing. They prep at our local community center so everything sort of weaves together. This all becomes part of a story, and you can use it in so many ways. It also helps us bring together the community; it helps us tell our kids about Romania. […]
This Kit is the beginning of a story; it actually gives you a high-quality element that allows you to tell your kids: 'Romania is 6,000 miles away, but look how beautiful it is; this is where your grandparents grew up; this is how they lived.'
We have been organizing camping trips to Romania for the past eight years; the simple existence of Via Transilvanica allows us to link and weave the Romanian story into what we tell our kids. My daughter grew up not listening to the story of Capra cu Trei Iezi (The Goat and Her Three Kids); she grew up listening to my stories of the idyllic grandparents' village where I used to go every summer. For her, these were the stories about me going to pick flowers and coming home with a big bouquet for my parents or my grandparents or of me constructing a bow and an arrow; but it is one thing for her to simply hear these stories. Now, with Via Transilvanica, I can say "listen, if you want to, you can go visit Via Transilvanica and actually get to know the countryside, stop and meet the people who live there, and get a feel for how your grandparents lived."
In these camps, kids can do an experiential, immersive experience where they go and they stay in the countryside; they live there, they sleep there, they clean there; they wash the dishes and help out - they chop wood, and they help with restoring old wooden churches in Romania.
We try to help them understand not only that Romania exists as a geographic place but they need to start learning what Romania is all about. And Romania is not about Bucharest and Cluj only. A lot of Romania is that beautiful and idyllic countryside; it's a different way of life. I think we need to identify Romania as not only a place, but we need to identify Romania as the cultural setting. […]
Some of the kids want to go to two camps every summer because they enjoy it so much. Their experience of Via Transilvanica was by far the one that they loved the most. I believe that is because they start seeing something at a deeper level. It's a deeper connection than simply going to a camp and doing some activities. It connects them to nature. They went on a 24-kilometer hike on a single day. The more immersive you make the experience, the more difficult in a way, and the deeper you make this, the stronger their memories will be. I really believe that Via Transilvanica allows us to get to this deeper level of understanding the Romanian story.
The Romanian version of this interview is available here. Varianta în limba română a acestui interviu este disponibilă aici.
---
Visit the RUF website to find extensive information about Via Transilvanica, winner of the most popular heritage project in Europe - the Europa Nostra Public Choice award - by a record number of votes worldwide. There, Romanians living in the US or abroad can choose how to get involved in this project – by getting and sharing information, booking a trip to Romania to immerse themselves in the story of Via Transilvanica, asking for promotional materials for their local events in US or simply chatting about it to same-minded Romanian cultural and natural heritage lovers in the US. The possibilities are endless.
---
This interview was written by the Romania Insider team for the Romanian United Fund as part of the project "Drumul Care Unește", with the support of the Romanian State Department for Romanians Abroad.
Acest interviu a fost realizat de către echipa Romania Insider pentru Romanian United Fund în cadrul proiectului "Drumul Care Unește", realizat cu sprijinul Departamentului pentru Românii de Pretutindeni.

Normal