Discovering Northern Romania in search of Jewish roots
Many years ago, her father asked Peninah Zilberman why did she want to get the Romanian citizenship. "I want it back because it was taken away from you and mom."
Peninah Zilberman first visited Romania in 1998. She was living in Canada at the time and applied for a 60-day open visa. She didn't know how long she would stay in Romania.
"My purpose was to understand the country and the people because I was brought up by my grandmother who lived in Bucharest from 1920 to 1945," says Peninah.
We meet in the lobby of a hotel in downtown Bucharest on a hot July day. Peninah speaks Romanian fluently.  Although she has never lived in Romania's capital, she is also familiar with many of Bucharest's trademark places. Capsa Cafeteria, Calea Victoriei, Cismigiu Park, they were all part of her grandmother's stories.
"Wherever I went, it was a memory from home," she recalls her first trip to Romania.
Peninah Zilberman created the "Tarbut Sighet" foundation in 2014, which organizes trips to Maramures, a region in Northern Romania which hosted a large Jewish community before World War II. It was also home to Peninah's maternal grandparents. The foundation also educates about Judaism, Holocaust, and Israel.
Peninah grew up in Israel, but her first language was Romanian, as she spent her childhood in her paternal grandparents' company, who were nostalgic about their years in pre-war Romania.
"My grandparents did not leave Bucharest because they wanted, it was because of the war," Peninah says.
The grandparents from her father's side were from Bucharest whereas those from her mother's side were from Sighet, in the Maramures area.
These are the places where Peninah's family story started, including her mother and father meeting on a boat traveling to Israel after World War II ended.
Mother's side: Maramures
Peninah Zilberman, who was the director of the Toronto Holocaust Museum for ten years, is a meticulous storyteller, always paying attention to the background information.
Most of the Jews living in Maramures before the war came either from Galitzia, a province in the former Austro-Hungarian Empire, either from Hungary, or from Germany, she explains. Her grandparents' ancestors were from the Austrian- Hungarian part, and her grandfather even fought in World War I, in Italy, as part of the Austrian-Hungarian army.
While telling the story, her meticulousness gets loaded very fast with tragedy. An unexpected punch in the stomach.
"My grandmother got married to my grandfather, had eight children, two girls, and six boys. After the war, the two girls and one boy survived," Peninah says.
Her mother was one of the survivors, after being deported to Auschwitz and  Bergen - Belsen camps. When the Brits arrived at the Bergenhausen concentration camp in April 1945, they took Peninah's mother and her sister on stretchers because they were too sick to move. All the other family members were dead, except for a brother who was in Cyprus.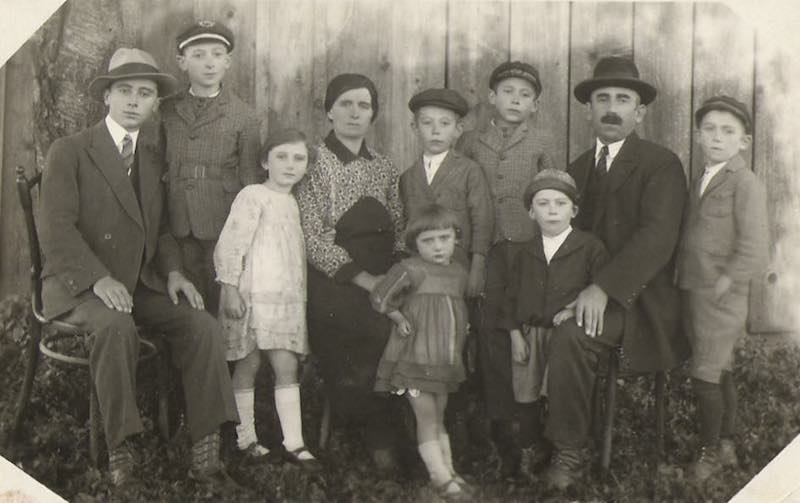 Peninah's grandparents from Maramures and their family.
Father's side: Bucharest
Peninah's grandparents from her father's side got married and moved to Bucharest in 1920.
"Grandpa was a tailor, one of the tailors that supplied clothes to the king," says Peninah. "Grandma did not work. They had two sons, one of them was my father. She did philanthropic work, supporting artists, important causes. She spent a lot of time at the Capsa, where the cultural life was in the '30s and '40s."
They were assimilated Jews. They went to the synagogue, but they were also open-minded, had a Christmas tree in their house.  Generally speaking, the Romanian Jews were an assimilated community, not a religious one, especially around Bucharest, explains Peninah. However, this didn't apply to Maramures, which was extremely Hasidic, extremely religious.
Her family in Bucharest was well-connected to the capital's rich people, and right before the Bucharest pogrom in January 1941, Peninah's grandfather Iancu received a call from a man working in the police.
"Iancu, there will be a little noise in the streets tomorrow night. Go and sleep in the basement. If you hear knocks on the windows or broken windows, don't go up. We've ordered to leave your house untouched. But if something happens, don't worry, we'll fix it," the man said. Their house wasn't destroyed, but others were. Moreover, the Iron Guard killed 125 Jews.
Jews in Bucharest were not sent to concentration camps, Peninah goes on. The people that were sent there were the Maramures Jews. In Sighet, the deportations took place for six days in mid-May 1944, six months before the liberation of Auschwitz. The Jews in the Bucovina area, Vatra Dornei, Radauti were deported to Transnistria. Iasi witnessed pogroms and mass murdering.
After the war ended, lots of Jewish people from Bucharest changed identities, took on Romanian names and went to other cities like Oradea, Timisoara. Nowadays people find out that they have Jewish roots, says Peninah.
Her grandparents left the capital, moving to the countryside first. Then they tried to cross the border to Hungary. And from Hungary, everybody wanted to go to the displaced persons (DP) camps in Germany and Austria, where the Americans took care of most of the immigrants. But crossing borders wasn't an easy thing. The guides, who'd help people cross the borders, would take the money. "Tomorrow at 6 o'clock we are crossing," they'd say. Sometimes they'd come, but sometimes they wouldn't.
The grandparents stayed in the DP camps for a few months, then they got on a boat and went to Israel. It was on that boat that Peninah's parents met.
The second generation
Survivors are of two kinds, says Peninah. There are the ones who speak all day only about the horrors of the wars.
They were so badly wounded that their big question in life is 'Why did I survive?' It's a constant guilt feeling for staying alive.
And there are the ones who don't say anything, but if there's a holiday, for example, they go all of a sudden 'Oh yeah, we used to bake this cake'.
"What's the difference? They speak about the good life before. This is what's missing in the study of Holocaust. It is very important that people went through hell. However, we are missing the whole beautiful life that they had before the war. The Nazis did not want us to be portrayed as real human beings. The people were depicted only in terrible pictures," says Peninah.
Her mother spoke very little about concentration camps and deportations.
The only thing she shared was that the whole family had to pack a small package before they moved into the ghetto in Sighet.
Peninah didn't ask. Like many of the survivors' children, she didn't want to open a wound. 'Why should I ask?'
"The second generation knew that it was very painful to the survivors so they automatically stayed away from asking," the woman explains.
However, Peninah's three children would ask questions, especially her daughter, who had a very close relationship with her grandmother.
"She would ask her and my mother would answer because it was easier.
There is a certain amount of distance," Peninah says, with her eyes filled with tears.
"The closer you are to the event, the harder it is. The further you go, the easier it is," she adds.
Both of her parents are now gone.
"I am a very unusual second generation. Because I am not depressed, I don't take any pills. If you live with somebody in the house who is like this from the minute you remember yourself, it's hard. But what I did, I twisted it, I did a trick. I can cry all day if I want, but I don't. I look at this as a triumph," Peninah says.
When she was invited to Germany to speak at a conference during her ten years as the director of the Toronto Holocaust Museum, she used to tell herself that Hitler is turning over in his grave.
"He wanted to murder my parents, he wanted to murder everyone in the family, but my mother survived, and my father survived, and here I am," she says.
I'll be 67 next month, but I still have my mission.
Living in the past but on a new territory
Peninah was born in Israel in 1950. It was a new country that had to be built from scratch. Her parents were among the young Jewish pioneering settlers, busy with building new communities, so she lived with her grandparents in her first six years.
In those early days of Israel, the elder survivors from Austria, Germany, Romania, Belgium or French would gather in parks or in cafes, sharing stories about the past. Peninah was a little girl, growing up among nostalgic people in their 50s and 60s, who had left everything behind.
"They would sit and they would reminiscent around tables or around benches. She would remember Vienna, Budapest, all of them were talking about nostalgic stories," Peninah says.
They would have parties on Friday nights and they would play cards or they would dance. Every time the party would be in a different house. The music was the music of the '30s and the '40.
"In a way, they were living in the past, but on a new territory," says Peninah.
She learned Romanian from her grandparents but really improved her language in the last five-six years, when she started to come to Romania on a regular basis.
One month prior to her first trip to Romania, while Peninah was still the director of the Toronto Holocaust Museum, she was driving with her mother in Canada. Peninah told her that she was going to visit Romania. Her mom replied: "What a waste of time." "It's possible," Peninah answered. They continued driving, and after a while, her mother asked if she was planning to go to Sighet. "Definitely," replied Peninah. After another pause, the mother said that if Peninah was going to go to Sighet, she should visit her old house. The conversation ended there.
Her mother and the rest of the family hadn't visited Romania after the war, and weren't planning to do so. But Peninah insisted. In 2000, she told her family that they should all meet in Sighet for her 50th birthday. The mother, who had been through Auschwitz and  Bergenhausen, didn't want to come, but Peninah told her father: Just go and buy two tickets.
They all met in Sighet in August 2000, then went to Oradea for a few days. Peninah wasn't close to her mother at all, but she felt that they got closer during the two weeks in Romania.
"That was a good time," says Peninah. "We spoke a lot. About life, about childhood, about Sighet, about everything; a salad of discussion."
She felt that her mother needed to close a circle. It was important to go to the cemetery to visit her grandfather, it was important to see Goldie, a relative who was still living in Sighet. Three months later, her mother died.
The foundation
Afterward, Peninah Zilberman was invited a couple of times to speak about Holocaust education at the university in Cluj. She started to come to Romania more often. In the summer of 2013, she decided to organize a big event in Sighet commemorating the Jewish deportations. She was planning to organize a walk from the house of Elie Wiesel to the train station, where they were deported. Wiesel is a Romanian-born American Jewish writer and activist and Holocaust survivor, who was born in Sighet.

It took Peninah a couple of months to get the approval from local authorities, but she was able to organize the event in May 2014. 120 people from around the world attended the four-day event. They were people whose grandparents or parents were born in Sighet, or people who were born themselves in Maramures. After the conference, Peninah decided that she wanted to open a foundation. In October 2014, she inaugurated the "Tarbut Sighet" foundation.

"It had two major objectives," says Peninah. "To service all the following generations of the survivors by promoting trips to the region, visiting the region, learning about the region. The other objective in which I put much more work is the education through culture about Judaism, Holocaust ,and Israel as well."

It's targeted at high-school students in the region, universities, and people at large. The foundation organizes book launches, plays, lectures, exhibits.

With a deep regret in her voice, Peninah says that when she leaves to God, no one else will speak Romanian in her family. Her kids visited Sighet, but for them, it's just a place where their grandmother was born.

"What I do, this is all," says Peninah.

But for now, she still has her mission.

By Diana Mesesan, features writer, [email protected]

(photos courtesy of Peninah Zilberman)

-->

Normal

-->