Bucharest Stock Exchange, Investors' Association launch capital market NFTs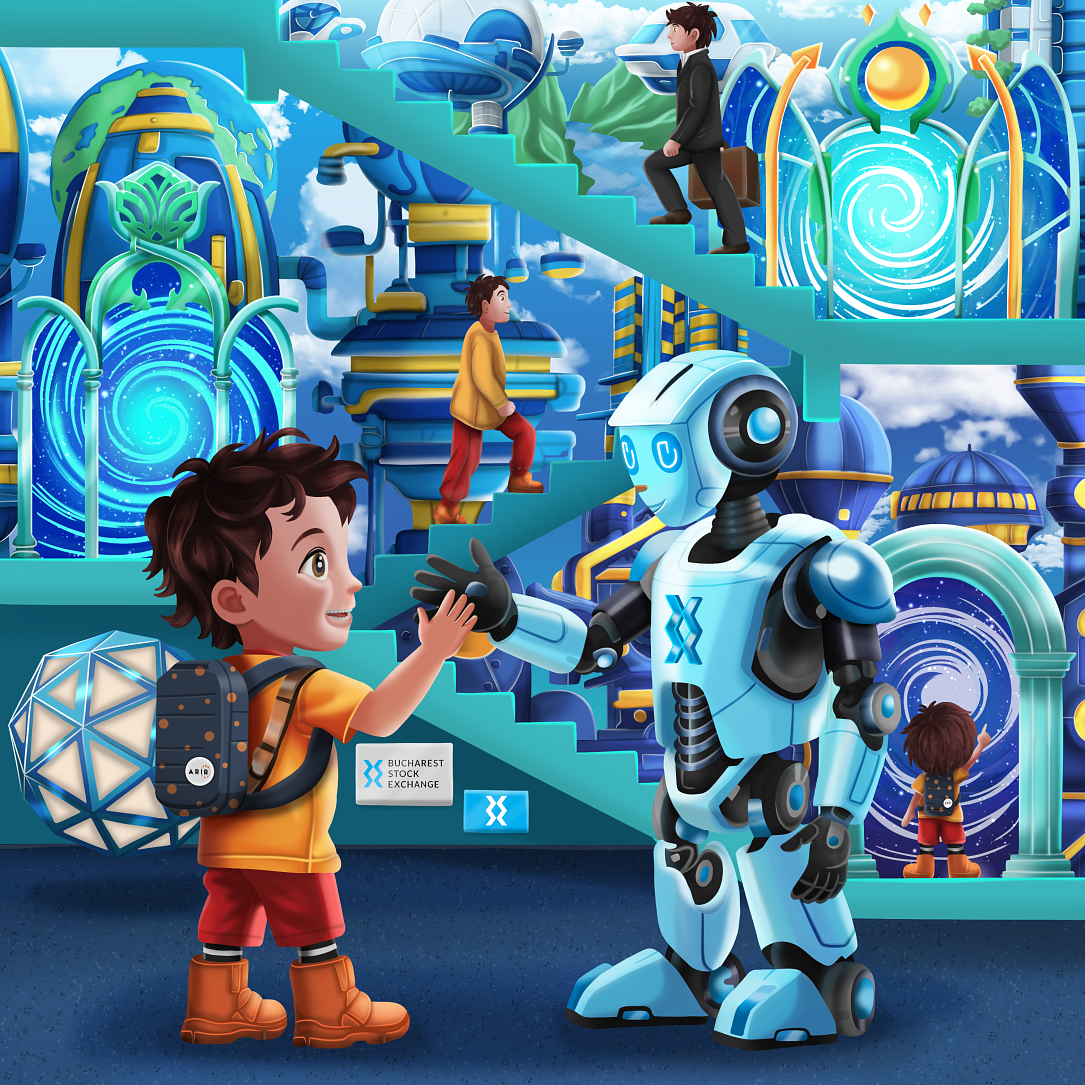 The Bucharest Stock Exchange (BVB) and the Romanian Investor Relations Association (ARIR) announced the launch of the first Non-Fungible Tokens - NFTs - in the Romanian capital market in the form of digital art, marking the fifth anniversary of the Association's establishment as a promoter of best practices in investor communication. 
"Bucharest Stock Exchange, as a founding member of ARIR, joins ARIR's initiative to celebrate the 5th anniversary by launching the collection of commemorative NFTs. [...] The digital art NFT created by BVB and ARIR translates the image and slogan of the stock exchange into the digital environment using blockchain technology," said Adrian Tanase, CEO of the Bucharest Stock Exchange in the press release. 
The first NFT launched features two central characters: a future robot personifying BVB and a young individual at the beginning of their journey, full of aspirations for a successful future. The stairs in the background illustrate the ascent of the young person in their evolution. With each step taken, the young individual progresses and matures, getting closer to a successful future.
The BVB & ARIR digital art NFT is created by Upcrafty, founded by entrepreneur Andrei David and artist Szilagyi Valentina. 
"We believe that once listed, any company aims for growth, development, and innovation, using high standards of transparency. We support the performance of listed companies through concrete projects dedicated to them and our members," stated Daniela Serban, president and co-founder of ARIR. 
The BVB & ARIR NFT was created in partnership with Webit Labs, a company active in the blockchain field.
To mark the launch of this project, shareholders and investors of BVB are invited to participate in a dedicated raffle until November 20 on Ir-romania.ro/ro/NFT/ to win a BVB & ARIR NFT and to attend the anniversary GALA organized by ARIR on November 23. 
At the end of October, over 350 companies with a market capitalization of EUR 58 billion were listed on BVB markets. In the last 5 years, over 170 funding rounds totaling over EUR 10.8 billion were conducted.
The efforts of BVB and its stakeholders to modernize and develop the Romanian capital market were recognized by the promotion to the status of Emerging Market by global index provider FTSE Russell in 2020. At the end of October 2023, 13 Romanian companies were included in FTSE Russell indices dedicated to emerging markets. 
(Photo source: Bvb.ro)
Normal