Bucharest Christmas Market 2023: crafts, traditional products, carols, and concerts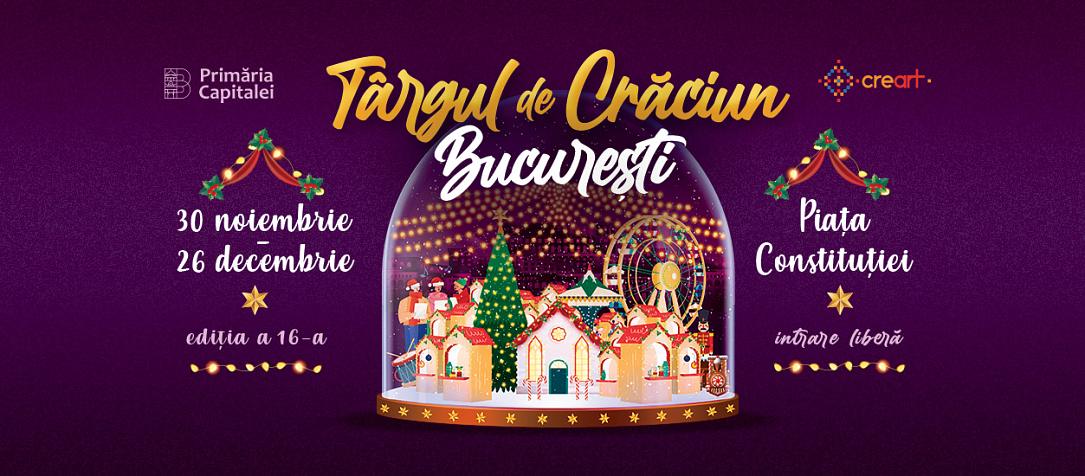 Bucharest Christmas Market, the largest fair of its kind in Romania with a tradition of over 15 years, opens on Thursday, November 30, with a variety of events and goodies for visitors of all ages. The market will stay open in Constitutiei Square until December 26, and the entry is free of charge.
On the opening night, at 6:00 PM, the festive lights in the capital will be lit from the Bucharest Christmas Market. The event will then await locals and tourists for an authentic Christmas experience until December 26, with activities and attractions for the whole family. The 30-meter tall Christmas tree, adorned with fir branches, festive decorations, beautifully decorated stalls, traditional and international delights, activities for all visitors, carol concerts, and holiday music will create the magical atmosphere of the festive season right in the heart of the city. 
The over 130 Christmas stalls will host artisans from all over the country, authentic creators, and local producers who will showcase their art and traditions passed down through generations. Visitors will find daily inspiration for seasonal gifts, from hand-painted baubles, ceramic bells, woven wreaths, and other specific decorations and ornaments, to icons and wooden items, traditional costumes, toys, accessories, jewelry, decorations, and natural cosmetics. 
The market also offers the aromas and recipes of traditional Romanian products, such as sweetbreads, pies, homemade cakes and chocolate, traditional sweets, but also gingerbread, lollipops, candies, and jellies. Christmas table essentials can be tasted in specially arranged gastronomic areas, along with seasonal hot drinks. From Romanian delights to international specialties, the market promises a flavorful culinary journey. 
The 16th edition of the Bucharest Christmas Market will also have two areas dedicated to holiday music. In the traditional area, the audience can listen to Romanian carols and customs, choirs, and children's groups, recitals by instrumental artists, as well as ensembles of minorities and national communities. The second area will be animated by the DJ's mixes of the international rhythms of the most famous winter songs. 
The official opening on November 30, Romania's National Day - December 1, St. Nicholas Day, Christmas Eve, and the two Christmas days, as well as the weekends, will be celebrated with concerts by ensembles, renowned artists, beloved bands, as well as special activities organized with the partners of the Bucharest Christmas Market.
Weekends will be reserved for magic and joy, with a selection of plays created for children, performed on the event's stage, starting at 12:00 PM. From classic stories to adventures and beloved characters, the performances will take children into enchanted worlds full of surprises. 
Children will also be able to visit Santa's House, a magical area of over 100 square meters, decorated and hand-painted to faithfully recreate Santa's magical world. From Friday, December 15, Santa Claus himself will arrive at the fair to meet them daily. He will depart on Christmas Eve afternoon.
In the first weeks, children will also be welcomed with creative workshops to make their decorations and ornaments.
The panoramic wheel will offer visitors a unique perspective of the event and the city, allowing them to admire from above the festive lights, stalls, and the spectacular Christmas tree, decorated with golden stars, garlands, and thousands of baubles. In addition, positioned right in the center of the Christmas Market, the themed train will also provide a captivating view during a fairytale journey. Mascots and walking performers, dressed in fascinating costumes, will interact and take photos with the public, bringing joy specific to the holiday to everyone. 
The Bucharest Christmas Market will be open daily, from Monday to Friday, between 12:00 PM and 10:00 PM, and on Saturdays and Sundays, between 10:00 AM and 10:00 PM.
On Romania's National Day - December 1, the market is open from 10:00 AM, and on Christmas Days, the schedule is as follows: on December 25, starting at 12:00 PM, and on December 26, starting at 10:00 AM.
(Photo source: Targul de Craciun Bucuresti on Facebook)
Normal