Partner Content
Urban regeneration is changing the face of Romanian cities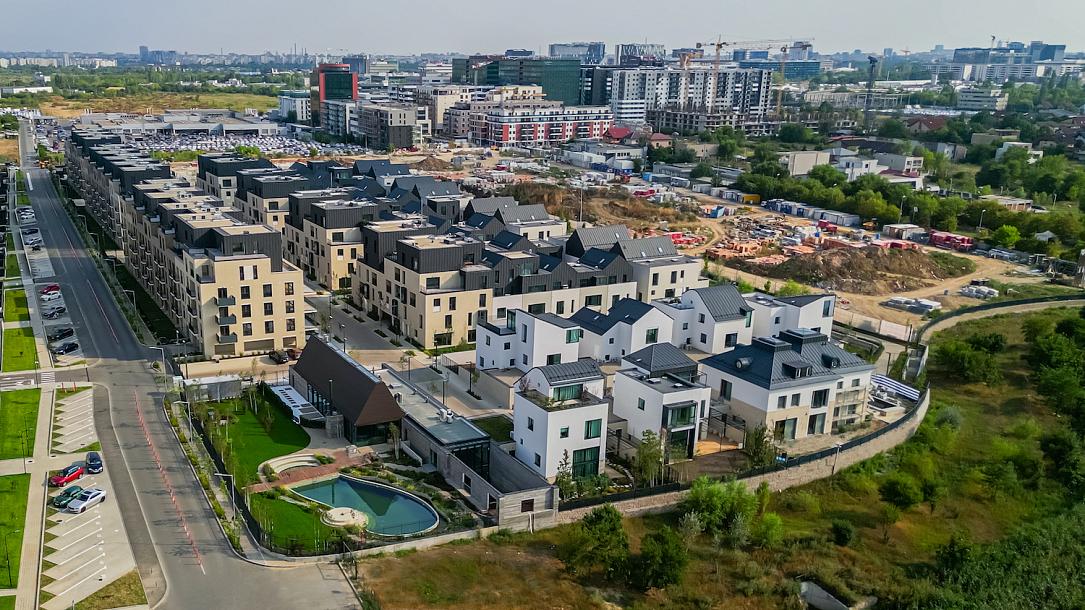 Romanian cities and their dwellers have started to benefit from urban regeneration, a trend that involves investments in redeveloping areas of cities that are either former industrial sites or just underutilized spaces, to prevent their decay.
Very often, real estate developers contribute to urban regeneration by developing residential, office or mixed-use properties at the outskirts of cities.
This is backed by demand from home buyers who prefer to give up living in unsafe apartment blocks with facilities that are obsolete, unmodernised and that offer low urban comfort levels, in favour of dwellings located outside the large cities.
Such urban areas that have been given a new life are the North–West -and the North–East of Bucharest. In the North-East, in the Pipera area, a former industrial location of the capital city, residential and office buildings now mix together after massive private investments in the past 20 years.
The Chitila area, in North–West, is also a former industrial part of the city, known decades ago for its factories and the railway station in the area. Both of these areas are now renewed, with plenty of amenities, new functions, and re-developed green spaces.
Prime Kapital Development is building residential projects in both of these areas in the capital city, contributing to their regeneration. Buyers have already moved to both compounds. Avalon Estate in the Pipera area welcomed its first dwellers and its central park is now completed. Marmura Residence in Bucureștii Noi is already brimming with life, and only a few apartments are still available.
The developer is contributing to the regeneration of other cities as well, such as Ploiești, a 1-hour drive from capital Bucharest, and Iași in Northern Romania. The developer's site works on Pleiades Residence in Southern Ploiești is progressing and the first phase of the compound is due to be ready this year.
Meanwhile, the Silk District mixed-use neighbourhood in Iași, a large project developed on 100,000 sqm situated on Calea Chisinaului, already sold over 500 apartments. This region of the city was known in the 1960s for its textile factory, and it is now re-developed as a mix of offices, retail and residential.
Mixed-use projects have become an increasingly common solution in the context of expanding the concept of "15 minutes neighborhood" - an urban planning approach that promotes the idea that most of the daily needs of residents should be able to be satisfied in a time of about 15 minutes' walk or with bicycle from home. This concept involves the creation of an urban environment that provides easy access to housing, jobs, services, recreation, thus reducing dependence on automobiles and promoting sustainability.
At the moment, the construction is ongoing for two residential phases comprising 661 apartments and an office phase of over 20,000 sqm, to which are added spaces dedicated to convenience stores that will offer a wide range of essential products and services, just a few steps away.
"Our efforts into re-developing parts of cities that have been decaying shows our commitment to urban regeneration. We believe in ecological neighbourhoods, with sustainable housing, with plenty of green areas and good infrastructure, well connected to the city's public transport. And this is what people want from the places they live and work in. That's why we see so much success with our projects", said Prime Kapital's representatives.
A good illustration of the developer's attention to green spaces and pedestrian areas is the development of Avalon Estate. The project is built around a large private park and has lots of car-free areas. The project has exclusive common areas for residents, such as the Gatehouse, a perfect place for private events, the Clubhouse, the plant-filtered pool and the park that includes areas to fulfil the specific needs of different types of residents.
There are three types of urban regeneration. Economic regeneration supports business growth in a community. By improving the economic climate in an underprivileged part of a city, economic regeneration helps attract private investment, encourage business relocation and residential development. Social and cultural regeneration focuses on arts and culture, on health and wellbeing, education, skills, and families. The aim is to help create and support communities.
Finally, environmental regeneration puts the focus on land renewal by recovering derelict land. This includes the creation of green areas, brownfield investments, and environmentally – focused projects that promote healthy behaviours like walking, bike riding, recycling, using the public transport.
"We're happy to be contributing to all of these with our projects across Romania. Urban regeneration helps preventing cities from deteriorating, it enhances access to public transport, generates jobs, increases the value of properties, generates energy savings and offers a nicer environment to everyone", added Prime Kapital representatives.
This is native content supported by Prime Kapital.
Normal