Teachers' unions protest in Bucharest for increased salaries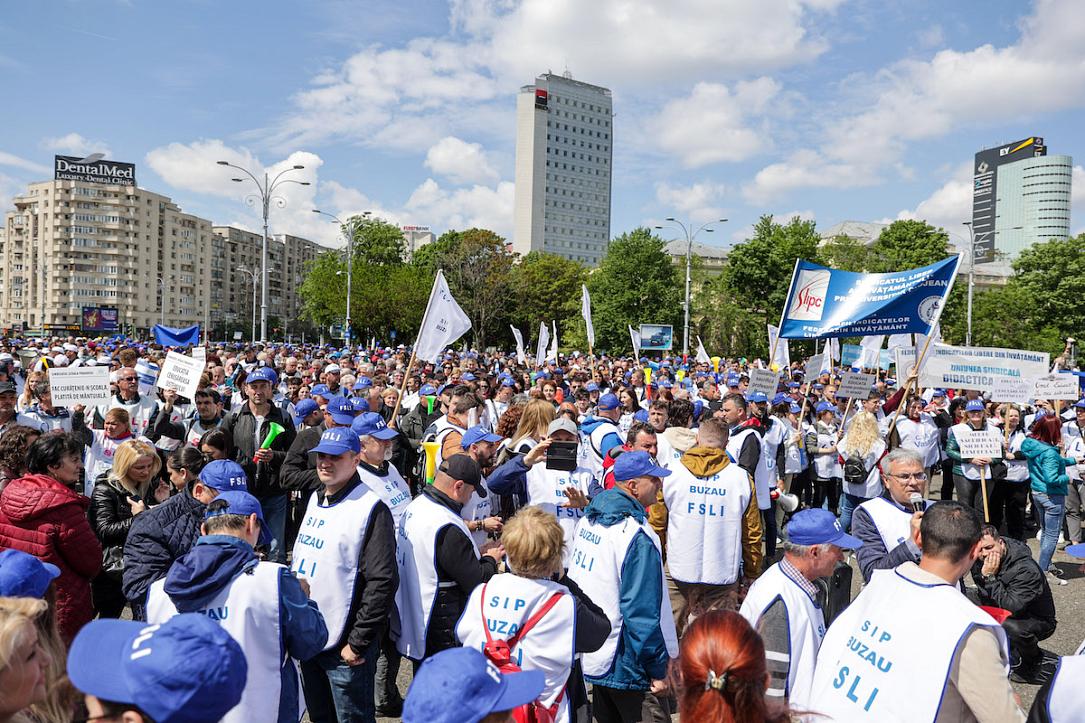 Members of the three largest education unions in Romania staged a protest march in Bucharest on Wednesday, May 10, asking for higher wages for teachers, among other things. The demonstration was organized by the Federation of Free Education Unions, the Spiru Haret Education Union Federation, and the Alma Mater National Union Federation.
"[The protest march] aims to draw attention to the problems faced by the Romanian education system, especially its employees - teaching staff, non-teaching staff, and auxiliary teaching staff," the union federations announced, cited by G4Media.
The Federation of Free Education Unions (FSLI) said on Wednesday that more than 15,000 employees from the education system joined the protest march.
The demands of the education unions include: increasing the salaries of education workers, starting from the principle that the salary of a beginner teacher should be at least equal to the gross average salary in the economy, with the salary of all teaching staff to be gradually adjusted according to their position, education, seniority, and teaching degree; creating a rule of annually indexing salaries for public sector employees with the inflation rate; and paying for the overtime of auxiliary and non-teaching staff.
Unions also demand bonuses and changes in terms of working conditions, such as the covering of commuting expenses, installation allowances, additional vacation, cash compensation for unused vacation days, and more. Moreover, they ask for annual increases in investments in education and the abandonment of EduSal and replacing it with a salary management and administration software program managed by the Ministry of Education.
Union leaders emphasized that a general strike in education, starting on May 22, 2023, is possible if the problems highlighted are not resolved. Teachers' unions have started protests since April, when they picketed the government headquarters for two days.
(Photo source: Inquam Photos / Bogdan-Ioan Buda)
Normal