An idea to boost Romania's tourism: Lure tourists with Pokemon Dracula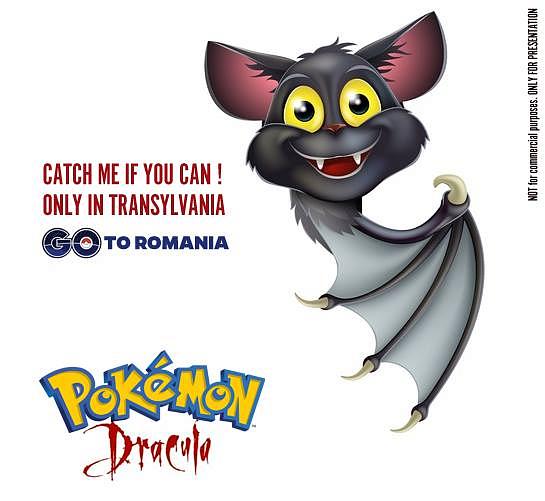 A creative Romanian advertising specialist is trying to convince the Government to use the popular augmented reality game Pokemon Go to promote Romania abroad and lure in tourists.
His idea is simple: create Pokemon Dracula and hide him in all the nice places in Romania that have tourism potential. Then just spread the word and let the Pokemon hunters all over the world flock to Romania to catch it.
"Mister Dacian Ciolos, if you read about this, you should consider it. It's a thing that can become serious, and I'm not kidding," Calin Coman, a well-known ad creator from Arad, wrote on his Facebook page.
"We develop a Pokemon Dracula concept (see a rendering I made only for presentation purposes), you talk to the game's creators Nintendo/Niantic, you allot some money from the budget, and we hide these Pokemons in all the nice and picturesque places in Romania: from the Bran Castle to the beautiful Romanian forests. And we make this public in international media. The rest is history," Coman detailed on his plan.
He also urges the Prime Minister to move fast because the phenomenon is growing rapidly.
Pokemon Go is a free-to-play location-based augmented reality mobile game developed by American software development company Niantic in partnership with Japanese group Nintendo. Making use of GPS and the camera of compatible devices, the game allows players to capture, battle, and train virtual creatures, called Pokémon, who appear on device screens as though in the real world.
The game was launched on July 6 in the US and subsequently has been released in other countries, including Romania. The Pokemon Go app has already been downloaded by more than 30 million users. It has more daily users than the famous social network Twitter.
World craze Pokemon Go now also available in Romania
editor@romania-insider.com
(Photo source: Calin Coman on Facebook)
Normal