Partner Content
(P) How several students from the British School of Bucharest managed to build a car and test drive it on ice in Lapland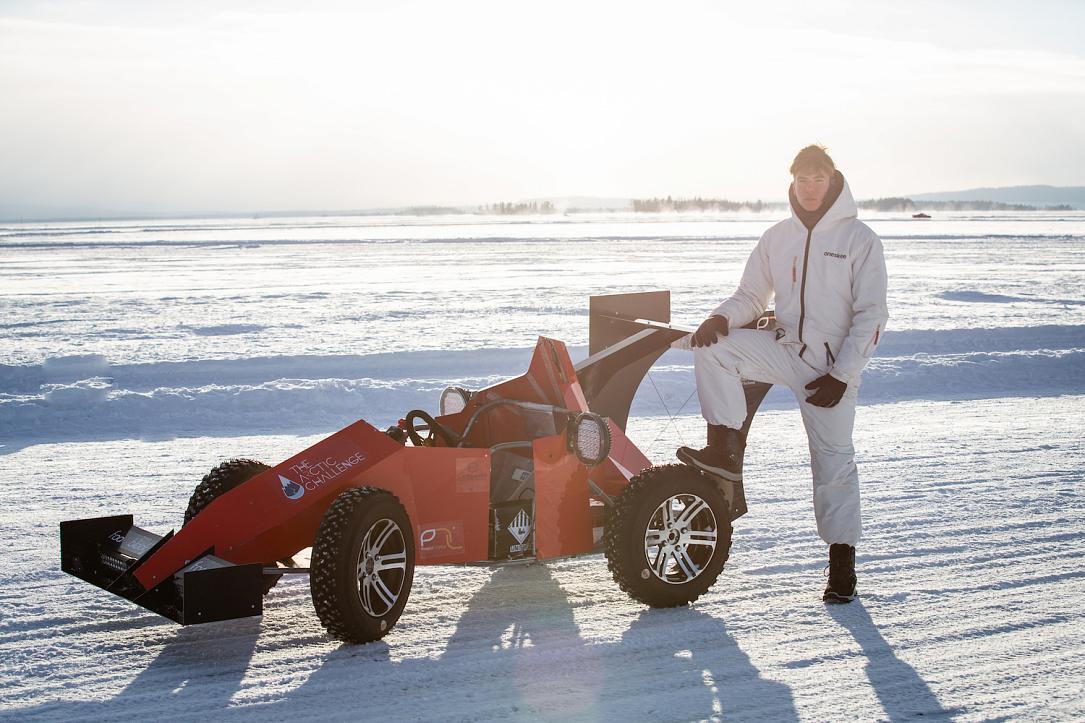 It is said that children are like sponges, which absorb instantly whatever information they receive in their early years. If their curiosities are satisfied, their desire for knowledge grows from year to year. However, if these curiosities remain unanswered, the passion gradually dies out in most cases. It is one of the guiding principles of the British School of Bucharest (BSB) to offer students a wide range of activities to help them discover and nurture their passions so their training for the future is natural and assumed.
This year, after much hard work, several of our school students managed to test drive a car they built from scratch, on an extremely challenging circuit, on a frozen lake in Lapland. It was Tudor Atanasiu who conceived and created the Project Zephyr educational programme as a project for students over 12 years old.
I have always been passionate about the hard sciences and how knowledge takes on new dimensions when you apply what you learnt in the classroom. You test, you make mistakes, you start over, and things end up taking on forms you might never have imagined otherwise.
That is how I ended up creating Project Zephyr and then putting it into practice at the Innovation Hub at BSB. The aim was to create a link between multiple disciplines - Maths, Physics, Design, Art and Chemistry - in a project that would mean a lot to children but also has meaning and impact in real life. The gap between what they achieve and real life is extremely small, and in this way, they learn that school is not hard, but doing something you don't like is hard. - Tudor Atanasiu, Project Zephyr coordinator.
Within this programme, students built an electric car from scratch, and besides the technical side, they learnt important lessons about teamwork, management, marketing, legislation and business.
It is a great way to get children excited about science. Their creativity takes flight when they start building a real electric car from scratch. Things get even more advanced when they take it out on the track to test drive it, but even then, I felt that there was something essential missing, that more than this was needed. - Tudor Atanasiu, Project Zephyr coordinator.
This is how The Arctic Challenge came about, an event organised near The Arctic Circle specifically to draw attention to dramatic climate change and to implement sustainable technology. Where we want to involve teams of students from around the world to come with their own electric cars and test them on an atypical circuit on a frozen lake. Therefore, we wanted to take the project to a place that would teach students about sustainable technology and innovation, all the challenges of today's world, such as climate change, that we need to look at carefully for a better future. - Tudor Atanasiu, Project Zephyr coordinator
Albert is 16 years old, is in Year 11 at the British School of Bucharest and was part of this year's team that had to test drive the car he worked on in Lapland. He wants to become an engineer in the automotive industry, and he is convinced that what he has learned over the past few years in Project Zephyr will help him a lot.
Building a car is a big challenge, but I quickly learned that teamwork makes things a little easier. We have worked on this project for two years, and the moment we had to test the car in extreme conditions was extremely rewarding. It is incredible to go from working in the workshop to driving your own car on a frozen lake.
The journey to Northern Sweden took quite a long time, but it was definitely worth it because it was a unique experience. We had no worries about the car. As we built it especially for this challenge, we thought through every step so that the car was extremely safe, even during the ice tests. - Albert, a student in Year 11 at BSB.
For Andrei R., a student in Year 12, the project developed by the British School of Bucharest has meant more than a challenge and also a rethinking of his career plans. If a few years ago, he imagined he would go to architecture or the engineering side of construction, once he started working with Project Zephyr, he realised that automotive engineering was his great passion. He is 17 now and knows exactly what he wants to be: an engineer at McLaren or Aston Martin.
"I did not know anything about mechanics, anything about building a car. It was a bit difficult at first when we had to build the chassis. Then we had to build a platform strong enough to support a man's weight and then the car body. We also had to make sure it was safe enough in case it was involved in an accident."
"We thought that it would be simple, that it would be explained to us what to do and that our teachers would do most of the work. In reality, we had to do a lot of hard work and a lot of thinking about each step. Tudor was always there to guide us and make sure nothing bad happened while we were working on the car, but we were the ones who had to think through every step." Andrei, a student in Year 12 at BSB.
Andrei B. is a student in Year 10, and he is the youngest member of the team that went to Lapland this year. He is 15 years old, and after graduation, he wants to continue his studies at the London School of Economics. The Project Zephyr experience has already given him an idea for a future business he wants to develop, which is in the sustainable spirit of the project he was involved in.
"It was a memorable experience. I would recommend it to any student of my age. Besides the project, I had the opportunity to meet the local people, the Sami, to see how they live and learn more about their history. I learned about how the animals live there and the difficulties they face because the ice is melting more and more every year, a wake-up call to society about climate change. Also impressive was the Aurora Borealis, which we 'hunted' every night to fully enjoy the Northern Lights." - Andrei, a student in Year 10 at BSB.
This year was the second time BSB students went to Lapland for The Arctic Challenge, and for the school, the results are undeniable. Jason Porter, the Head of Secondary School, believes that the applied side of study is the key to a bright future for students.
For us, education in the classroom is just as important as education outside it, and the Innovation Hub offers the perfect combination of classroom education and practical experience outside it.
It all starts with the design that they draw themselves. They then go on to build the chassis and engine, but the key pieces in this project are teamwork and a sustainable approach. Many parts of the car are made by the students themselves in our workshop, and many are used year after year by other groups of students who go on the road. Students learn to collaborate, lead a project, and use and apply the things they learn in class - Math, Physics, elements of Mechanics, Art - a unique approach to STEAM - Jason Porter, Head of Secondary School at British School of Bucharest
Project Zephyr was started six years ago and has so far involved more than 100 students building ten fully functional electric cars. Around 65% of a car's components can be reused for at least five years, and 90% of the vehicle can be recycled. Compared to last year, the top speed of the car built by the students has increased from 48 km/h to 62 km/h. Still, performance has also increased in terms of internal battery temperature, battery resistance, engine temperature and performance on the ice.
The Arctic Challenge is an educational project developed by the British School of Bucharest in collaboration with Foamblock.
British School of Bucharest has opened its doors in 2000 and is one of the elite international private schools in Romania. It offers an education programme based exclusively on the National Curriculum for England (British curriculum) and its teachers are native English speakers. The British School of Bucharest has been consistently rated as "excellent" in all areas, in two consecutive inspections, in 2018 and 2022, by UK's International Schools Inspectorate (ISI), both in terms of the quality of learning and the students' academic results and the high level of their personal development. The "excellent" qualification is the highest possible rating that can be achieved after a School has been inspected by ISI.
Find out more about the experience on the Arctic Challenge and Foamblock websites and discover this unique learning programme for students.
(p) - This article is an advertorial.
Normal