Outline StreetArt: New Bucharest mural dedicated to swimming star David Popovici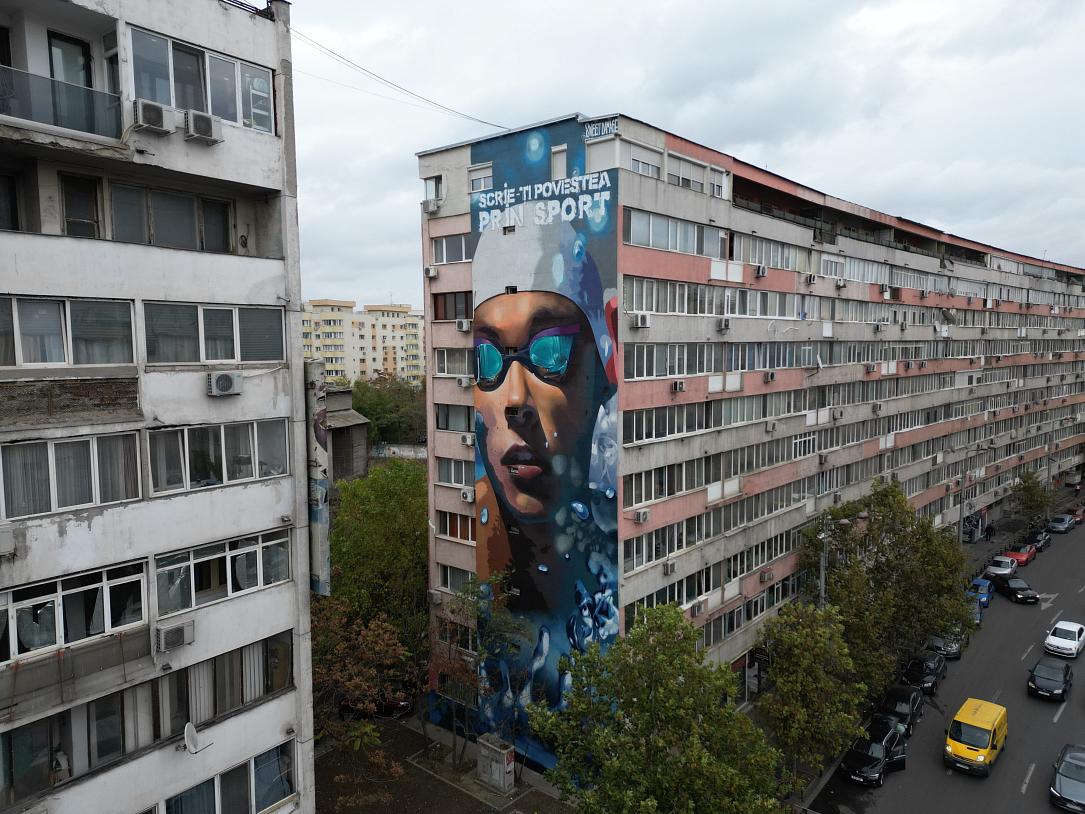 A 300-square-meter mural of Romanian swimming star David Popovici was unveiled on a 9-story building located on Ștefan cel Mare Road in Bucharest. The wall painting illustrates the athlete and conveys his message to young people: "Write your story through sports!"
Throughout October and November, nine local artists transformed five locations in Bucharest's District 2 into true works of street art, intended to revitalize the areas where they were placed. The largest was dedicated to swimmer David Popovici. It was created by Sweet Damage Crew artists Shatran and Biex, with the support of the District 2 City Hall and will undoubtedly become a landmark for the capital. 
As part of the Outline StreetArt Festival 2023, over 1,000 square meters of gray walls in the capital have been transformed into street art pieces, bringing a splash of color and inspiration to the residents of Bucharest. The street art festival, now in its 3rd edition, is organized by the EDIT Association and Sweet Damage Crew.
The festival kicked off in early October with a three-day event in Lacul Tei Park, attended by over 9,000 people. During the three days dedicated to urban culture, free workshops on graffiti, stencil, linocut, or comic strips were organized. A skateboard ramp was specially created for the event, attracting many teenagers eager to learn and watch professional demonstrations. The evenings concluded with a series of Hip Hop, Rap, or R&B concerts. 
"Through this event, already in its 3rd edition, we bring art closer to the community and support the urban revitalization of the city, following the model of other Western European capitals. We provide local artists with a legal platform to express their talent, and they, through the art they create, bring an additional source of inspiration, optimism, and color to the lives of people who pass by these works every day. The festival has grown from year to year, people are enthusiastic about our initiatives, and they want the gray walls that dominate our city to be rehabilitated. We hope that in the future, the event will develop and appear on the map of the most important festivals of this kind in Europe," said Liviu Zorilă, director of the EDIT Association, the festival organizer.
On Mihai Bravu Road, at no. 57, another large-scale drawing can be admired, this time on an 8-story building, inviting viewers to take a relaxation break. The work is created by the artist LUX, covering over 200 square meters, and was made with the support of Sprite. 
As part of this edition of the Outline StreetArt festival, three heating points from Termoenergetica were also rehabilitated with the support of Mega Mall Bucharest (NEPI Rockcastle), so that residents in the area can be inspired by vibrant colors and lively images when they return home or go for a walk in the neighborhood. The artworks can be admired and photographed at the following addresses: Cernăuți Street no. 11 (Artist: Boeme), Chișinău Boulevard no. 11 (Artist: John S.), and Pantelimon Road no. 237 (Artists: KAPS CREW). 
(Photo source: the organizers)
Normal