Over 400 new stork nests spotted in Romania this year with the help of dedicated app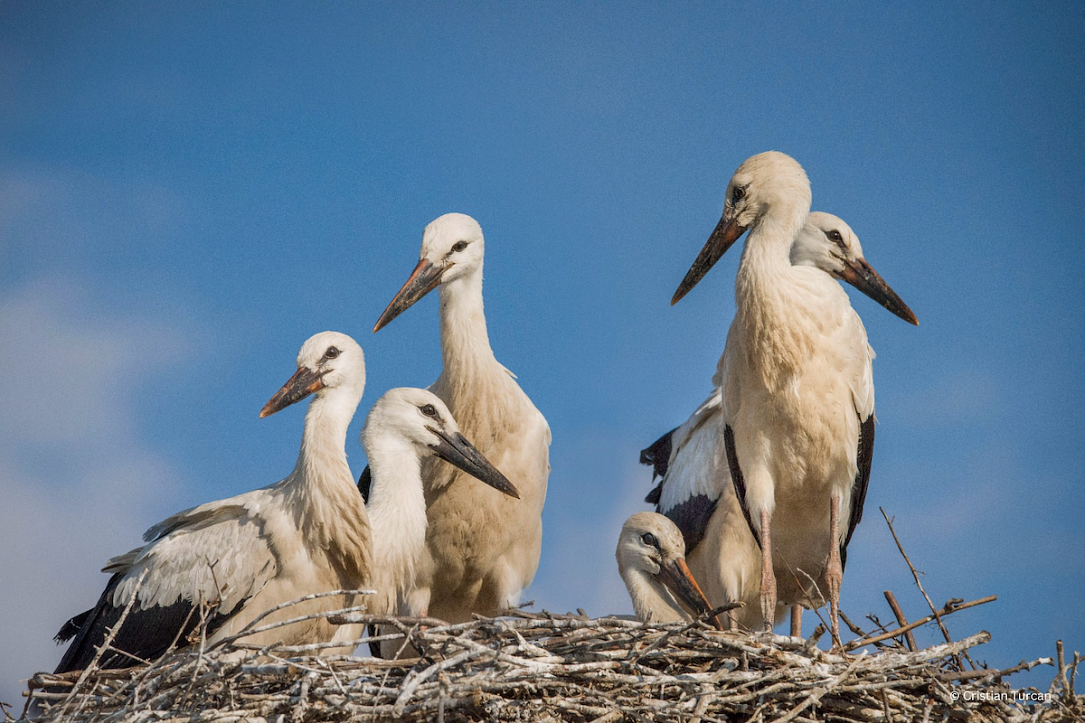 More than 400 new white stork nests were discovered in Romania during this year's edition of the Uite barza! (Look, a stork!) project of the Romanian Ornithological Society (SOR). The census data is collected with the help of volunteers using the dedicated Uite barza! mobile app.
This year, 5,446 white storks were registered, 2,882 adults and 2,564 chicks, SOR said. After reviewing the data, 1,706 nests were confirmed, of which 426 were new nests added to the SOR database for the first time.
Of the total of 1,706 stork nests reviewed, 997 are on electricity poles and have no support, 686 are on electricity poles and have metal support, and the remaining 23 are located on chimneys, roofs, and trees.
As every year, all data collected through the application will reach all electricity distributors in Romania. SOR hopes that they will all get involved in protecting the white storks.
"We are happy to see that after seven years of the project, volunteers passionate about birds and nature are crossing the country to help us with the white stork census. Uite barza! is a citizen science project, and the data is collected with the help of all the volunteers who want to participate in this count," said Andreea Oprea, communication manager at the Romanian Ornithological Society.
"All the data gathered during these seven years are all the more important, as the European census of white storks will take place in 2024, and Romania will also participate. Afterwards, SOR biologists will calculate the population trend to see if the stork population is stable, increasing or not," she added.
This year's census revealed changes in the top of counties and localities where the most stork nests were reported through the Uite barza! application. If last year Constanța county was in the lead with 245 nests, this year, Suceava county took the first spot with 422 nests. Meanwhile, the commune of Părău (Brașov) was in first place with 51 nests in 2022, but this year, Cornu Luncii (Suceava) ranked first with 43 nests.
The northernmost white stork nest was reported this year in Manoleasa commune, in Botoșani county, while the southernmost was recorded in Islaz, a commune in Teleorman county. At the same time, the westernmost nest was spotted in Cenad commune, Timiș county, and the easternmost one in Sfântu Gheorghe, Tulcea county.
The nest located at the highest altitude, 980 meters, is in the commune of Moldova-Sulița, in Suceava county. On the other hand, a nest in Sfântu Gheorghe was spotted at only 1 meter above sea level.
In 2023, the largest number of chicks counted in a nest was six in the localities of Bod and Homorod, Brașov county.
irina.marica@romania-insider.com
(Photo source: Cristian Turcan/SOR)
Normal