Juranda's Homemade Romanian Food: Carpathian Truffle & Mushroom Macchiato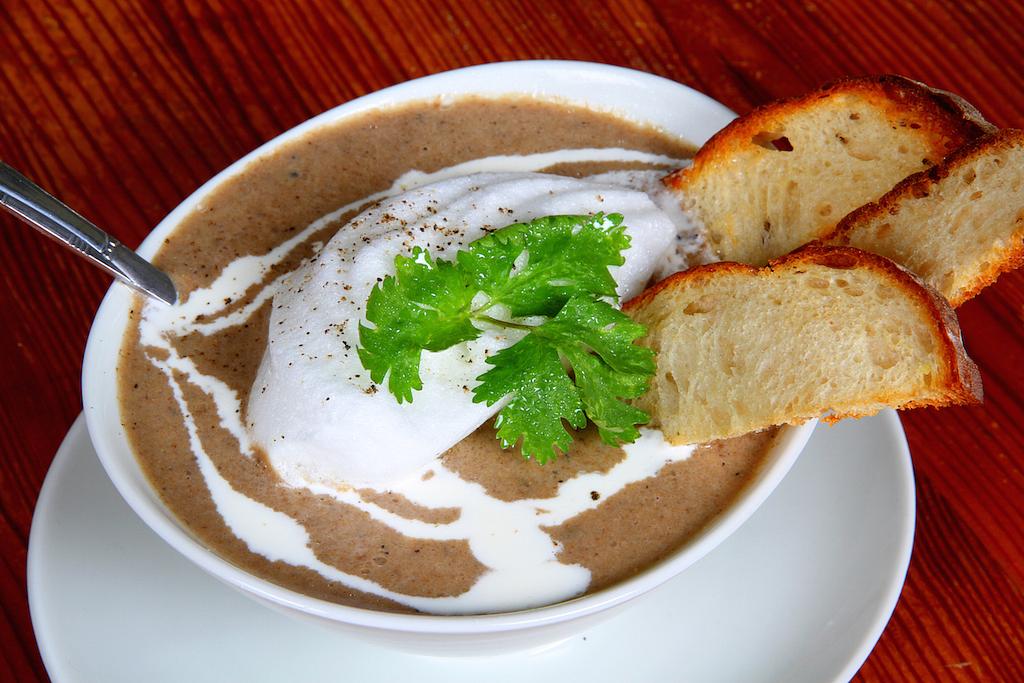 This is a dish for all those tired of Romanian barbecues, sarmale and mamaliga after Christmas and New Year's Eve. Invite your friends for this Carpathian Truffle & Mushroom Macchiato and they will talk even months later about this creamy soup.
Only a few people know that truffles can be found in the Carpathian Mountains. I am really lucky. We have just to leave our house in Buzau Valley to find fresh truffles in the nearby forests. Even better: "Pongo" will do the job, our truffle dog. Buzau County is an ideal place for truffle hunting. Being on the same latitude as Piedmont in Italy, having favorable climate conditions and abundant forests, Buzau County has excellent conditions for truffles.
But you can buy fresh Carpathian truffles also at Obor Market in Bucharest or in some specialized fine food shops. Try this Truffle & Mushroom Macchiato because it will be creamier than your morning coffee. Here we go:
Ingredients
500 g chanterelle mushrooms
200 g dried boletus
2 onions
200 g sweet cream
100 g butter 85%
one fresh truffle
salt
pepper
egg white
How to prepare it
Clean the chanterelle mushrooms with a brush and cut. Put dry boletus mushrooms in a bowl, then add hot water to rehydrate them. Cut the onions julienne and fry in butter over medium heat. Add the chanterelle and boletus mushrooms and fry. The water in which the boletus mushrooms were rehydrated must be added when all the mushrooms have a brown color. Allow to boil over medium heat. Add water if necessary. The cream soup should remain quite thick. Let it boil for 10-15 minutes.
Pull off the heat and blend until creamy. Add heavy cream, salt and pepper.
Cut the truffle into thin slices. Add to the soup then blend again.
Beat one egg white at bain-marie until it becomes shiny and retains its shape.
Place the cream soup in a cup, add a tablespoon of egg white on top and drizzle with truffle oil and a slice of the truffle.
Serve hot with croutons or toasted bread slices.
My advice: If you want a very fine cream soup, before serving you must put all through a sieve. In this case you will lose a part of the amount cooked.
For extra flavor, you can produce the truffle oil yourself, adding slices of fresh truffle in sunflower oil that you can keep in the refrigerator and use in many other dishes (pasta, sauces, meat and vegetable stew, etc).
Cook with pleasure! Pofta buna!
By Juranda Kirschner, Guest writer
More information: www.terracarpatica.com
www.facebook.com/terracarpatica
Photo credits: Terra Carpatica
Normal