Promoting Romania!
Dana Bucin, Honorary Consul of Romania to Connecticut: Successful strategy to support Via Transilvanica can be used to raise awareness on the Visa Waiver program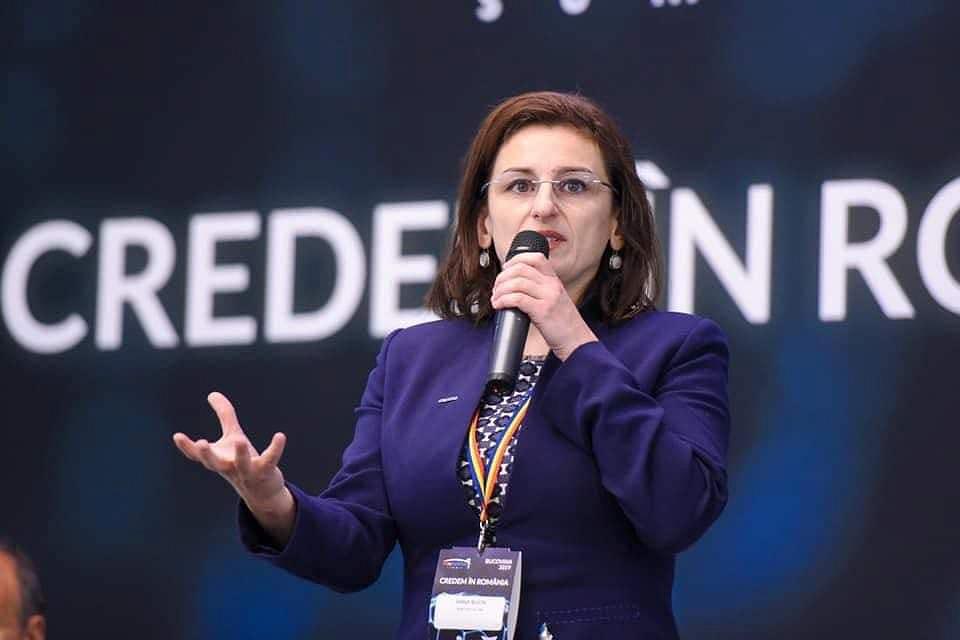 It takes leadership and organizing work to build strong communities of Romanians abroad, Dana Bucin, the Honorary Consul of Romania to Connecticut, believes. In the U.S. state where she resides, a community of some 7,000 Romanians is coming together around various events, culture, and charitable projects or initiatives like the long-distance trail Via Transilvanica. More on the projects of the Honorary Consulate of Romania in Connecticut and some of the pillars upon which its community building rests in the interview below.
The Romanian version of this interview is available here. Varianta în limba română a acestui interviu este disponibilă aici.
A project that manages to move people can prove how Romanian communities can mobilize and "smash records," Dana Bucin argues, while insisting that there are "so many good things about us Romanians." Bucin, who hails from Reghin, a city in Transylvania, studied law in the United States and is a partner and chair of the Immigration practice of the New England law firm Murtha Cullina. She represents businesses and individual clients on a wide range of immigration matters and, among other distinctions, has been named Attorney of the Year at the Connecticut Law Tribune Professional Excellence Awards in 2019.
A believer in the power of volunteering, she has been leading the Honorary Consulate of Romania in Connecticut since 2018. There, alongside a team of some ten volunteers, they develop projects aimed at creating a tighter community of Romanians in the state she resides in, but also to keep the connection with Romania alive and strong.
One project that showed how the community of Romanians living abroad can mobilize was that of Via Transilvanica, the long-distance trail crossing Romania and its bid to win the Public Choice Award at this year's European Heritage Awards.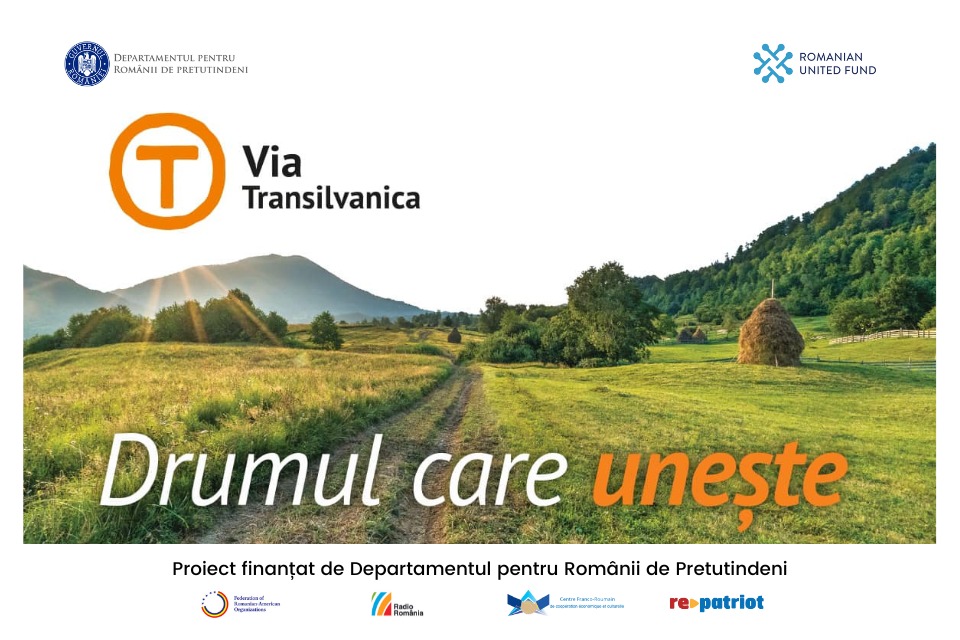 A similar effort could be thrown behind a campaign to educate about Romania entering the US Visa Waiver program and what it would entail in order to lower the rejection rate, she explains.
Meanwhile, the Honorary Consulate has been running several initiatives aimed at promoting Romania in Connecticut, from making Romanian wine brands available to the U.S. public to showcasing the country's arts and culture. More on these and the community of Romanians in Connecticut, below.
What was your first contact with the project of Via Transilvanica and what were your first impressions? 
Dana Bucin: My first encounter with the project was through Mihai Lehene [e.n. the President of the Romanian United Fund in Chicago]. I am one of the founding members of the Federation of Romanian-American Organizations (FORA), and that is where I met Mihai Lehene.
He brought the project to my attention two years ago, and then he came to Connecticut. We were one of the stops on his itinerary to raise awareness and engage Romanian-Americans into the project. He came here, we opened the doors for him, our local community showed up at a presentation for Via Transilvanica. We watched the documentary about it. Some folks from the community donated money for the sculpted milestones on Via Transilvania. So, we have been familiar with the project for two years.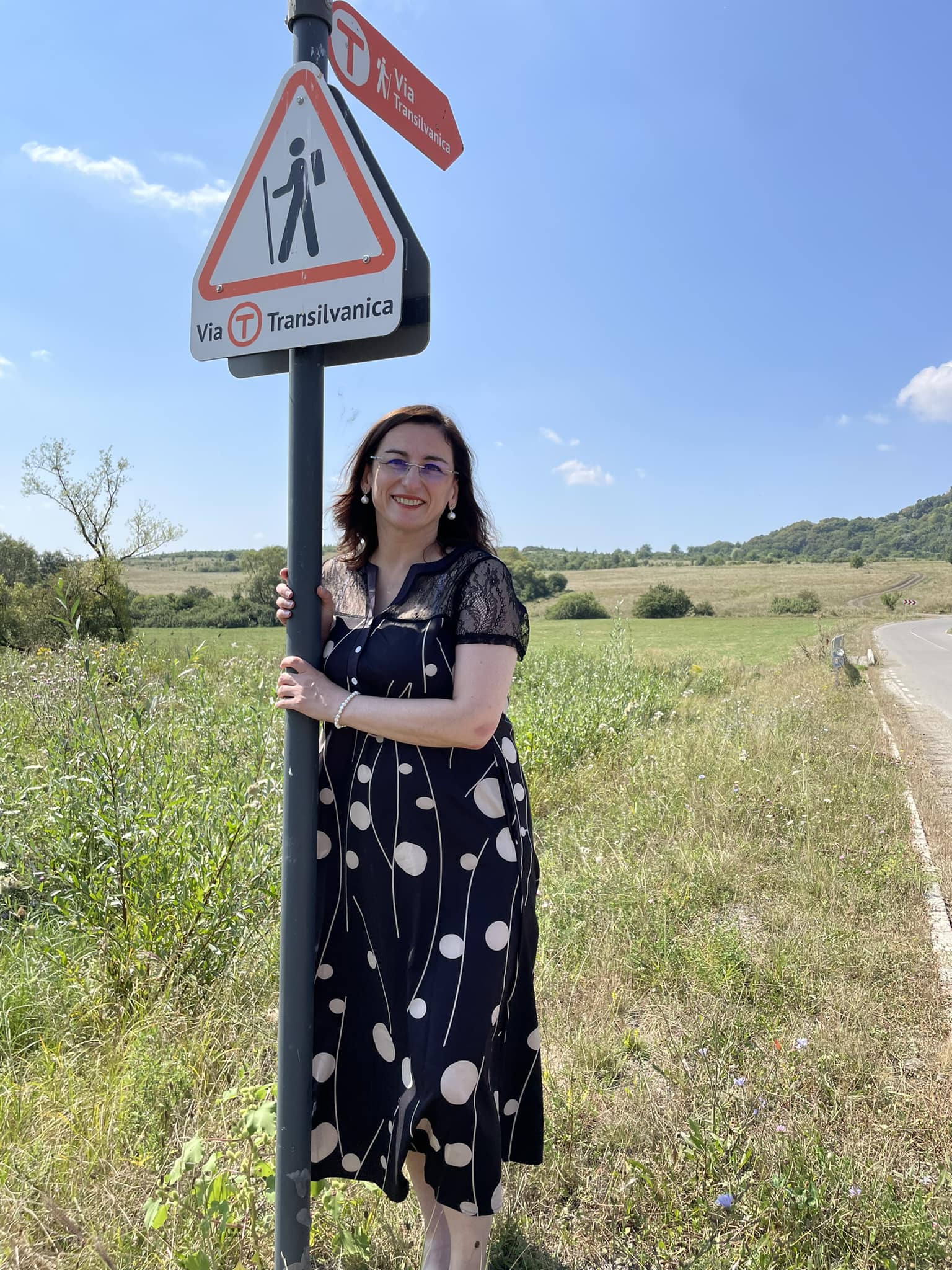 I went to Via Transilvanica this summer. Near Sighisoara is where I connected with the route. And I look forward to further advertising the project during the National Day of Romania in Connecticut event, which will take place December 6, 2023. I want to ideally receive the kit by then [e.n. developed by Romania United Fund to showcase the project of the trail], because I intend to put that tent in the center of the room so that nobody misses it. When people walk by it, they will immediately understand the context because it's a tent. You don't need to explain it's a hiking trail.  You don't have to flip through any books to figure out what it is. So, I want that tent here.
If we won't be able to get it here in time, we will make good use of it in our tourism program. So far, the coordinator for the project, Răzvan Alexe – who worked as a guide in Romania but now lives here in Connecticut - has been presenting it to Connecticut libraries and gathering quite the audiences on everything regarding Romanian culture, Romanian history, Romanian geography, proposals for tourism packages. Now, he could add Via Transilvanica to the presentation, and we are willing to take some parts of the kit with us to a library.
That is my connection with the project. I am from Transylvania, so I love the name. It resonates with me. And I do appreciate the brand, the national brand that is being built here. I will do whatever it takes to promote it here in Connecticut, which is my jurisdiction.
Besides this project, how are you promoting Romania? 
Dana Bucin: The first and most important aspect of promoting Romania in Connecticut is commercial. Why? Because even the cultural side ties into the commercial, otherwise you cannot sell culture here. In vain do we sit here and talk about Romania if you cannot sell its food, if you cannot sell its wines, if you cannot bring artists from Romania, if you cannot bring Romania here. So, I call that the commercial aspect, and that's my number one priority.
I am very proud to announce that, finally, noble Romanian wines that are internationally acclaimed and awarded have made it into Connecticut. It only took me six years to get this to happen.  It is very, very difficult to sell Romanian wines anywhere in the United States. Why? Because Americans are used to Italian, Spanish, Chilean, Argentinian wines, but nobody has heard of Romanian wines. In order to convince the Americans to try something new, you have to educate them. You have to sell them on the brand of the country. This year, Romanian wines such as Caii de la Letea and Prince Matei have finally made it to liquor stores in Connecticut, and they are starting to get into restaurants and catering services. That is the commercial meets culture aspect.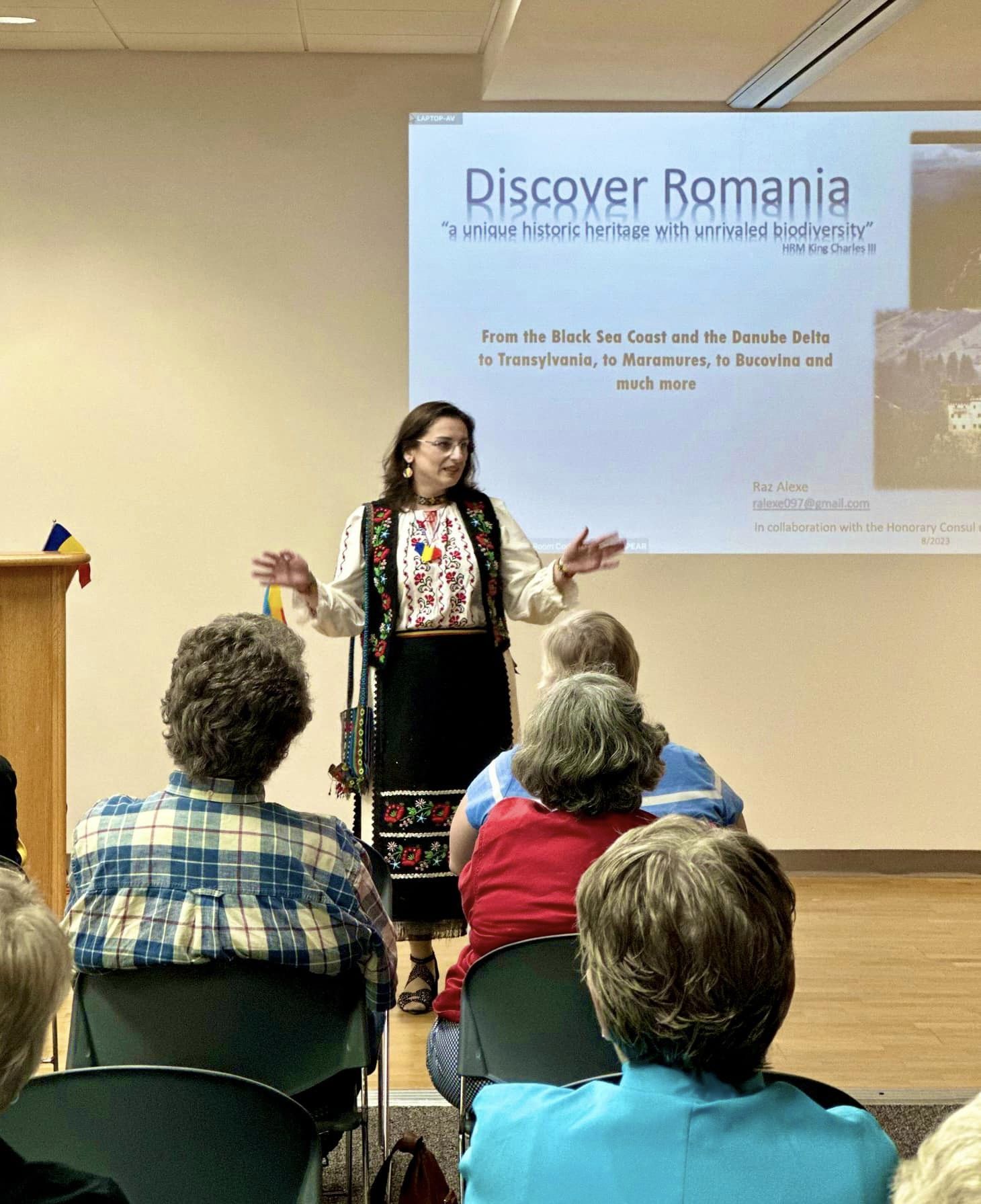 Early on, as I became honorary consul, I struck a deal with a local distributorship chain that sells European food, European deli, more specifically from the Balkan area. We do not have a store dedicated only to Romanian food - give us time - but I managed to introduce Romanian food through them. Right now, major brands from Romania could find their way to Connecticut through that chain.
Then, we have local, Romanian-American-owned restaurants. I have to make sure that these restaurants are surviving, they are alive and well, and they are supported by the Romanian-American community, and by as many people from the general public as possible. So, I intensified campaigns to advertise the three major Romanian restaurants that we have in Connecticut. Now, just to give you a sense of perspective, we are only around 7,000 Romanians in Connecticut by the latest census, and yet, in the state of Connecticut, we have the highest density of Romanian restaurants per capita […] We have been successful here in Connecticut brewing Romanian culture by intensifying support in the Romanian community for these three restaurants. I make a point of encouraging people to bring Americans to our parties. Our Eastern European friends are coming to Romanian parties. Americans are begging me to bring them to Romanian parties, because they are very well known to be good - good food, good music, good artists.
We try to promote Romanian culture that way, and we have been demonstrably very successful at that.  I do not take credit for that. It's the restaurants who are doing this, but if there wasn't support from Romanians and the general public, they would not have been able to survive, because, I told you, they cannot survive with just 7,000 Romanians. The fact that they have survived and are thriving means that they expanded, the brand expanded from just Romanian-Americans to the general public.
We are also launching educational brands. We are expanding, for the first time in the United States, a Romanian-based educational institution (K-12) from Romania to Connecticut. They are just right now negotiating commercial space, and I believe they intend to open in January 2025.
We are also expanding commercial products. We are working with the furniture industry from Romania, particularly Transylvania, to expand into Connecticut. And also, the musical instruments from Reghin. They are already here, being used.  Not just the violin - the guitar, the ukulele, the pan flute, the pipe. We are trying to get a few other wooden instruments made in Reghin, over here, specifically by Hora Instruments. At the National Day of Romania, we are going to have an ensemble of children from the Romanian community playing the pan flute and the pipe, trained by a Romanian-American music instructor. This is another small business we can encourage. […]
Besides Romanian United Fund and FORA, Românul is a nonprofit with whom I closely cooperate as an honorary consul. They are based in Connecticut, and they are offering Romanian language classes online. My three kids are enrolled in it. The classes are also open to adults, to Americans, who know nothing about Romania, but would love to learn the language. […]
Since I became an honorary consul in 2018, we have been putting the Romanian flag on top of the Connecticut State Capitol, between the U.S. flag and the Connecticut flag, on each December 1st. I got the Governor to issue a proclamation declaring December 1st Romania Day in Connecticut. […]
On the medical side, we have a partnership with Biomentorhub, which is a biomedical hub that Romanian United Fund also has a partnership with. It encourages biomedical research and connections for know-how transfer between medical researchers living abroad and Romania.
On the legal side, I am building programs with the University of Connecticut School of Law to offer internships to Romanian students who are coming to Connecticut to study democracy, human rights, rule of law, and all sorts of anti-corruption practices.  They are coming here, and I offer them internships at my law firm, where I practice immigration law and international law. I have a focus on humanitarian issues, on human rights for immigrants specifically, immigrants and refugees, minorities, and I'm definitely very fond of democracy, rule of law concepts, and anti-corruption.  […] That way we try to transfer legal know-how about democracy, rule of law, human rights, anti-corruption from the United States to Romania.
Since you mentioned migration and the legal side, what work do you do in what concerns the US Visa Waiver program? Do you expect the entry to happen in 2025? What needs to be done further? 
Dana Bucin: Precisely because of my expertise in immigration law, the Ambassador and the Embassy have been working with me on this topic. Mihai [Lehene] and Romania United Fund are also familiar with this issue and we are trying to mobilize the Romanians living abroad to help us get the best strategy in place to help Romania.
The Government of Romania, with the Embassy, have done a lot of progress on the issue of ensuring more cooperation from the U.S. side when it comes to adjudicating the visa applications that the U.S. transfers in Bucharest. Now they have a tighter connection, we are going to streamline those applications. We are going to ensure that there is more accurate information being filled out, that we provide more assistance to the applicants, so there is no rejection based on having an incomplete application or not having enough proof of non-immigrant intent, etc.
December 2025 is a realistic date, but if and only if we are successful in a collective strategy to lower the rejection rate below 3%. How can we be successful collectively? Through strategies just like the Via Transilvanica platform.
There is a profile of the successful candidates. They will be first and foremost employed or owning their own business, because they have to show ties to property or employment ties. If the Consulate has a doubt about their intent, they are not going to grant the visa. One way is to target certain sectors such as Romanian entrepreneurs, business owners, and employees of large companies. Those are the people that need to apply in large numbers.  What we could also do is give them a preset for why to apply. Maybe we could facilitate a large-scale event here for them to come from Romania and solicit a visa based on that event. We prescreen that with the U.S. Embassy saying "listen, we have this event, a bunch of people are going to apply. Watch out. There's going to be hundreds if not thousands of applicants coming your way." Then, we assist those applicants to do the right thing, to apply and comply.  So, at the end of this, we expect to augment the numbers of eligible candidates that end up getting approved and therefore lower the rejection rate. That is the strategy. 
But it is not a given that we are going to enter.  We still have to work hard at this. With the help of that platform that was used for Europa Nostra, I think it's possible - with the use and the help of the Romanian-American diaspora, because we too could be getting our parents over here, getting our relatives to apply. Each of our non-profit organizations could be doing an event that would generate the need to apply for a legitimate visa.
Then, we have to raise awareness among the Romanian communities abroad about how the Visa Waiver program works because we want to make sure that everybody complies with the law. We would hate for the visa waiver program to be misused and for people who use it to overstay and violate the immigration laws. We want to make sure that people know what this is.  It's an opportunity to visit and stay no longer than 90 days per year. Many times, what spoils a very good B-1/B-2 visa application is the fact that the candidate has the wrong intent. They actually really want to work. They actually would rather immigrate. That is not a proper candidate for a B-1/B-2 visa. That is a candidate that should be contacting someone like me, and I would be explaining how to get that work visa, which covers 26 plus types. If that is what people really want, then they shouldn't be applying for a B-1/B-2 visa, because they're only going to be denied and count against us negatively.
I'm excited because it's a good exercise for us, just like it was with the Via Transilvanica. It is a great exercise for us in community, collective action, and mobilization. I think we can get it done, just like we were able to get Via Transilvanica done, by voting, by encouraging people to do their part and vote.
How can Via Transilvanica help in building a national brand? How do you think it can be an ambassador for Romania?
Dana Bucin: We want people to associate Romania with certain things, right? Via Transilvanica is as good as it gets. I like the symbolic part of it. I like everything that it represents. 
When I tried to introduce Romania to everyone in Connecticut, I remember being chased out of the room by some super rigid management at the largest distributor in Connecticut. […] These people cannot accept selling Romanian wines because they do not know if they are any good. So, let's give Americans some context. Let's give Americans something to know Romania by. We should control the narrative. We shouldn't allow the narrative to control us. We should give them other brands, other than the toxic ones - orphans and the orphanages. That's what they know about Romania. We have a duty to switch perceptions and throw better brands at them. I am all on board with educating Americans about Via Transilvanica, about high-quality Romanian wines and food.
Dracula is one of the brands, and for whatever it is worth, it is there. Let's take advantage of it. It is a national brand, or, at least, a regional brand for Transylvania. I'll take it and just work with it. When the Americans come and tell you Dracula is a vampire, you can tell them about the real historical figure who died in the 1470s and what he did. […] Even if the brand they throw at you associated with Romania is not exactly on point, take that project and transform it into an opportunity to educate the American public.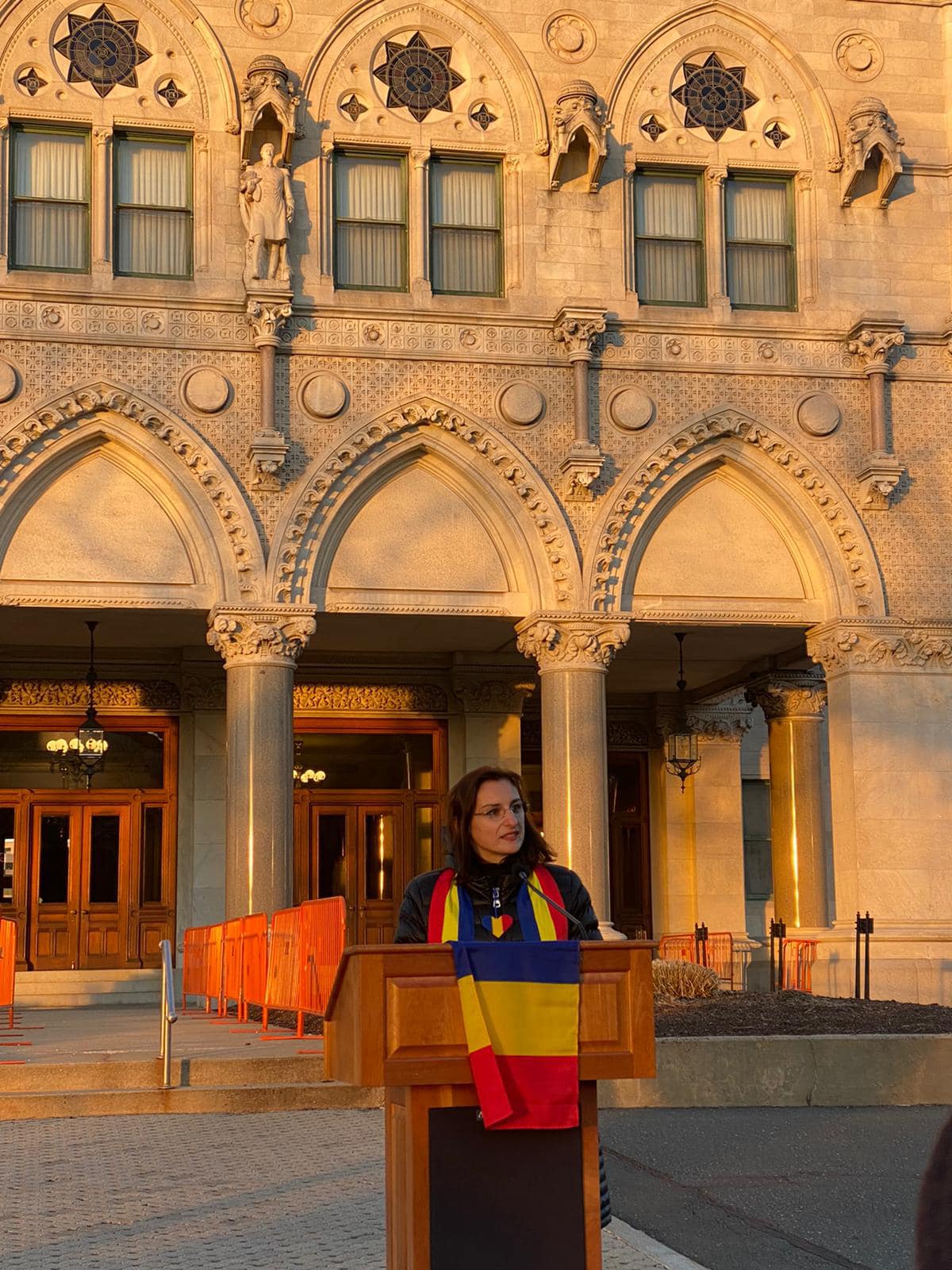 How would you compare the community of Romanians who live abroad to other ethnic ones in terms of the work to promote themselves? What else should they be doing?
Dana Bucin: I think it's a matter of organizing and leadership. There's nothing wrong with us as Romanians. There's absolutely nothing wrong with the Romanian soul. There are so many good things about us Romanians. If we actually have something that brings us together, then we could smash records.
Just the other day, among other efforts to promote Romania, I was at the Connecticut Technology Council's Women of Innovation award ceremony where Romanian women, I am glad to report, were overrepresented. Not only were there two finalists, but we bumped into past finalists. In a state that has no more than 7,000 Romanians, not like Chicago, where there are 200,000 plus. […]  One of the finalists [e.n. Paula Zimbrean] is head of Transplant Psychiatry Services at Yale New Haven Hospital. It just blows your mind. Peaks of their industry. […]
If you have someone who could build Romanian communities in every place, then we will overpass and surpass all the other ethnicities. […] The talent is there. The people are there. The passion is there.  You just need someone to put it all together.  And every place has someone like that. If you don't have someone who could rally up the troops, this is when we do not maximize our potential as a Romanian community. But if you have leadership, then the sky is the limit. As an immigration lawyer, I walk around to the Polish events, the Ukrainian events, the Peruvian events. I notice that the most successful ethnicities are the ones who have this glue and this leadership that puts people together. It's the quality of togetherness, of community. 
We build communities among Romanians here. But one central aspect of what we do is we maintain an ongoing connection with Romania. We're not just partying here on our own, forgetting about everybody back home.  We try to keep the connection alive. 
Every year, I nominate someone from the Connecticut-Romanian community to go to RePatriot - a movement that tries to attract Romanians back home, if not physically, at least in spirit and in collaboration opportunities. Every year since 2019, Connecticut has had a delegate that went there. I pick the people who have done something for the Romanian community. 
[…] I'm trying to encourage the diaspora to think about Romania and how to help.  Nowhere is it more important than with the doctors. A lot of them have gotten beautiful education at medical schools in Romania, and they became experts in their field. They know things that they should transfer, as know-how, back to Romania. I'm encouraging them to look at that relationship like that, because Romania helped them become who they are.
Another way of building community is charity. We have, at least twice a year, a charitable program that raises funds for a vulnerable Romanian family in the community - whether it's because they lost their job or because they lost their house or domestic violence concerns. If we hear that there's a vulnerability in the community, we fundraise for Christmas and Easter, and we give the money to that family. […] We help each other out, and we are better off for it together, and even individually. If we make it so that together our condition rises, individually, we are better off. That is the lesson that everybody needs to learn, and they have been learning. It creates positive energy, and it kind of feeds into further initiatives.
How does the community of Romanians in Connecticut look like?
Dana Bucin: We have a comprehensive, well-rounded community. We have elites, but we also have folks who are struggling, which is why our mission is very important because we are here to assist. […]
The vulnerable are people who are integrating here at an older age or they need help accommodating, adjusting, and they may or may not have the family support to give them that here. We try to mentor them, connect them with the resources, get them adjusted to American life, and get them to network with other Romanians because maybe someone has a job for them. […]
In the state of Connecticut, as far as I know, there are only three of us who are lawyers.  I would say the number one brain drain for Connecticut, from Romania, has been doctors. They are everywhere in all the hospitals here. Connecticut is top-notch in terms of hospital systems and healthcare, so I am not surprised that they are here. Connecticut is the richest state as GDP per capita in the entire United States, so it attracts high-level professionals there. We have a university professors, especially STEM - Mechanical Engineering, Math, Sciences, Chemistry. 
We have artists. They are so dear to my heart and I want to promote their art. Every National Day of Romania, they organize an artistic exhibition. Our long-term plan is to find a permanent exhibition space where their art could be there for a long time. The biggest project we are contemplating is doing a Romanian mural downtown Hartford.  We have a group of Romanian-American artists who are focusing on this project. […] George Enescu is going to be played here by Americans.  The best way to expand culture is to get Americans in the mood to play our culture. […]
The Romanian version of this interview is available here. Varianta în limba română a acestui interviu este disponibilă aici.
---
Visit the RUF website to find extensive information about Via Transilvanica - the winner of the most popular heritage project in Europe - the Europa Nostra Public Choice award - by a record number of votes worldwide. There, Romanians living in the US or abroad can choose how to get involved in this project – by getting and sharing information, booking a trip to Romania to immerse themselves in the story of Via Transilvanica, asking for promotional materials for their local events in US or simply chatting about it to same-minded Romanian cultural and natural heritage lovers in the US. The possibilities are endless.
---
This interview was written by the Romania Insider team for the Romanian United Fund as part of the project "Drumul Care Unește", with the support of the Romanian State Department for Romanians Abroad.
Acest interviu a fost realizat de către echipa Romania Insider pentru Romanian United Fund în cadrul proiectului "Drumul Care Unește", realizat cu sprijinul Departamentului pentru Românii de Pretutindeni.

Normal