Making a splash: Indoor water parks in Romania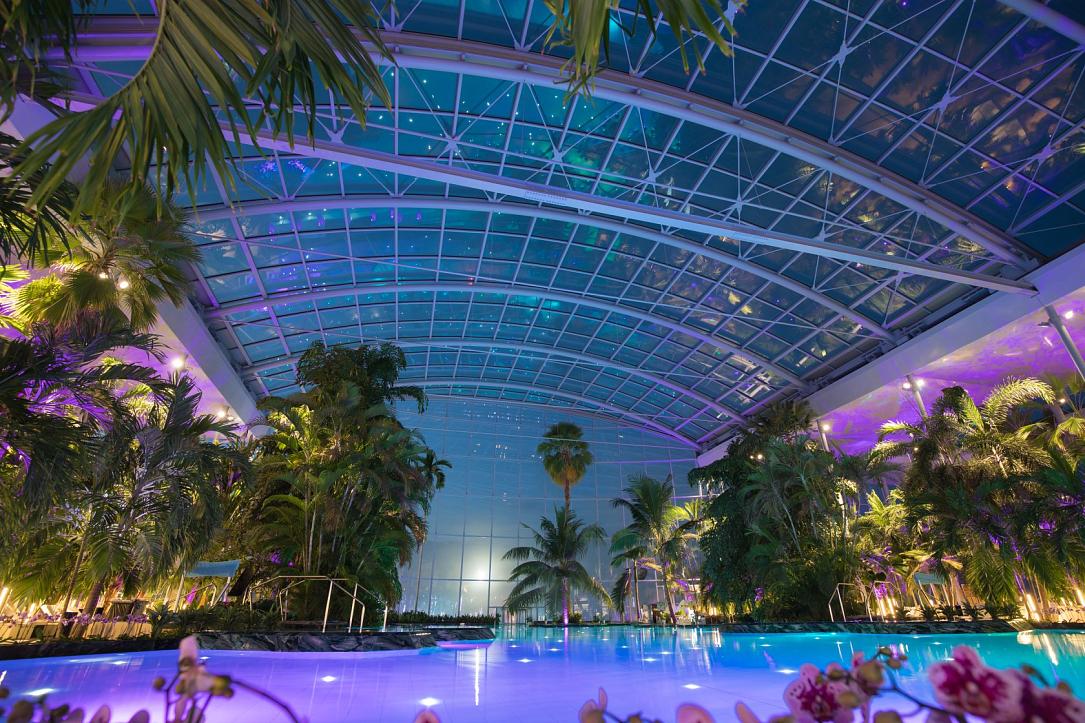 From the lush surroundings of the large thermal complex close to Bucharest to venues making use of thermal spring waters, there are many options available to those looking to take a dip and have some water fun during the cold season.
Therme Bucharest
Located north of Bucharest, Therme (opening photo) is the largest thermal spa center in Romania. Launched in 2016, it stands on a 250,000 sqm area, with an indoor area of 35,000 sqm, hosting a large botanical garden, with over 800,000 plants, of which over 1,500 palm trees. Last year, the complex expanded with two thematic urban parks, with over 10,000 sqm of green space. This January, it added a "fusion restaurant" following an investment of EUR 3.5 million. Visitors will find here 9 pools, both outdoor and indoor, 6 saunas, 4 wet saunas, and 16 water slides. The indoor temperature stays at 29 – 30 degrees Celsius year round, while the water has a temperature of 33 degrees Celsius. More here.
Paradisul Acvatic, Brașov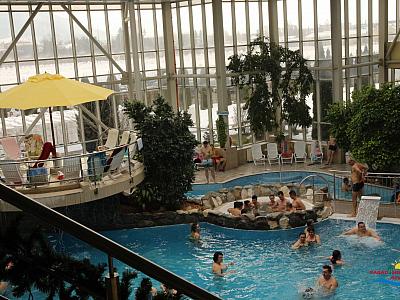 Opened in 2007, this complex spreads on 12,000 sqm representing the indoor part, and another 12,000 sqm for facilities open during the summer season. It offers visitors 6 indoor pools and 2 outdoor pools, various slides, Finnish, bio and wet saunas, a relaxation cave, a fitness room, an indoor football court, a volleyball court as well as a restaurant and terraces. Children will find here a dedicated pool, slides and a playground. More about the venue here.
Aqua Park Arsenal, Orăştie
This water park is part of the larger Arsenal Park project started in Orăştie, in Hunedoara county, on a land that used to belong to a former ammunition plant. The adventure park was inaugurated in 2009 and the aqua park followed in 2016. It has both outdoor and indoor areas, the latter called Inner Bliss. Here, visitors can find several pools, including one for children and one for relaxation, with a lazy river and a hydro-massage area. Several saunas are open, including a dry sauna, an infrared sauna and a wet sauna, each addressing different needs. Various slides and a snack & slide bar round up the indoor offer. More about it here.
Aqua Park President, Băile Felix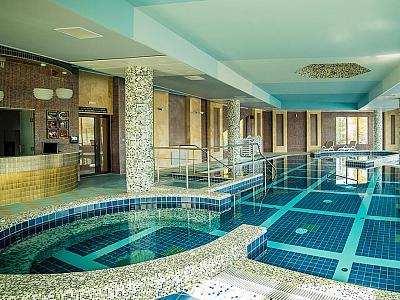 Some 12 km south of Oradea, in Bihor County, the thermal spa resort of Băile Felix is home to Aqua Park President, featuring 14 indoor pools and 6 outdoor pools. The park makes use of the thermal waters of the resort. The park has, among other facilities, an area for children, two massage centers, Turkish and Finish saunas, a Mediterranean cave, and an indoor restaurant. More here.
Nymphaea, Oradea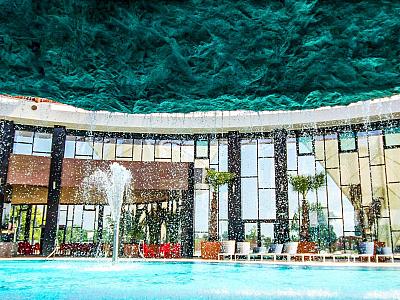 In Oradea, Nymphaea is an aqua park spreading on a green area of 7 hectares, with both indoor and outdoor sections. Inside, visitors can try four slides, leading them into the thermal waters of the park, four indoor pools, several saunas, a Turkish Bath, or the relaxation room. Children have dedicated spaces, including two pools and a playground. More about it here.
Aqua Star, Satu Mare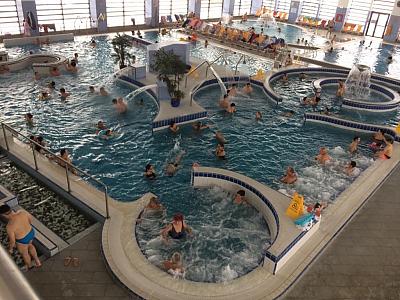 Also in northern Romania, Aqua Star is located 5 km away from downtown Satu Mare, and some 10 km away from the border with Hungary. The aqua park spreads on a surface of almost 3.5 hectares and welcomes visitors to the inside area with a relaxation and entertainment pool, where the water has a temperature of 30 – 32 degrees Celsius, a pool for beginner swimmers, and a pool for children. Several saunas are available, as well as two pools with thermal water, one semi-covered and the other in open air. The aqua park also hosts several spots where children can play, a fitness hall, a balneal treatments facility, and weekly swimming courses are available for babies, children, and adults. More here.
Cozia Aqua Park, Vâlcea
In the resort of Călimăneşti-Căciulata, Cozia Aqua Park awaits visitors with 11 indoor and outdoor pools, eight outdoor slides and 2 indoor slides, a restaurant, Jacuzzi, sauna, and hydrotherapy facilities. The pools are filled with thermal water, at a temperature ranging between 28 and 37 degrees Celsius. More about it here.

(Photo source: the operators' Facebook pages)

-->

Normal

-->