Quiet yet viral protest against Romania's politicians starts on Facebook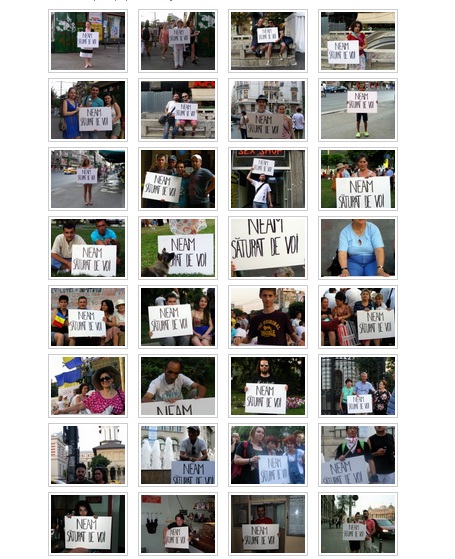 An interesting movement has started on the internet and it fits the moment of political turbulence. People from various walks of life took pictures of themselves carrying a white board with the text 'Neam saturat de voi' (in rough translation – we're sick of you). The protest movement text has a dual meaning and a subtext to it, giving it a slightly cultural spin. The word 'neam' in this context was intentionally written without a hyphen (ne-am) as the following verb would have required, giving it the meaning of 'people'- who are tired of the country rulers.
The board has gone viral on the Internet via Facebook, where the movement initiators- art director Robert Sopârlache and artist Cosmina Ivanov posted it along with pictures of those who have chosen to express their protest in this peaceful way. Organizers ask users to download and print the board, take pictures of themselves carrying it and post it on their Facebook wall. They also carry the board on the street and take snapshots of passers by.
The teaser campaign has so far stirred both sympathy, with almost 300 pictures posted so far and counting, as well as plenty of criticism, mostly about the intentional grammar mistake.
The two initiators send the idea of the campaign to journalist Liviu Mihaiu and radio host Vlad Craioveanu, who liked it and joined it and then started walking the streets of Bucharest to ask others to join the campaign.
Romania is on a rough path these days. The years of economic decline and the years of unhappiness with the country's politicians, coupled with the recent events and the upcoming referendum for presidential impeachment seem to have triggered a great deal of hidden anger. Some of it spilled over earlier this year during the street protests, but most Romanians seem to prefer to keep their worries and disapproval to themselves.
Corina Chirileasa, [email protected]
(photo source: Neam saturat Facebook page; in picture below: the author of this text)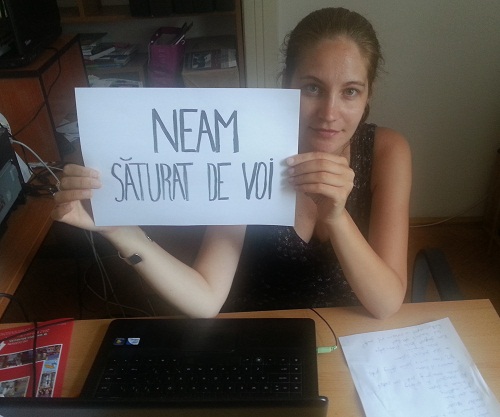 -->

Normal

-->