Gadget review: Evolio X8 Fusion, the tablet that becomes a mini-notebook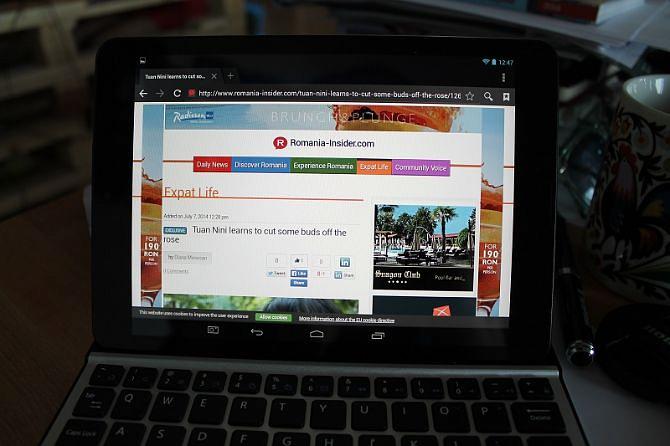 Everyone seems to have a tablet these days, and there are so many options that it's sometimes difficult to choose between all sizes, functions and so on. If you're on a budget, however, Evolio's X8 Fusion tablet is a good choice, especially for its keyboard. Evolio, a Romanian company, launched the Xtreme series of tablets in December 2013, and this X8 is one of them, so it's quite new to the market.
The tablet and I have been together for about a week now, and we got used to each other quickly. It runs on Android (Android 4.2 Jelly Bean), which I was familiar with, so I tailored it to my needs quickly, logged in to my Gmail account and via the WiFi connection downloaded the apps I use most, and deleted some of the apps which come pre-installed.
The fact that you can turn it into a mini laptop when needed, thanks to its keyboard, caught my eye at first with this tablet. The same keyboard can be used as a cover. When covered up, the tablet becomes an easy to carry item, quite solid with its aluminium back. It attracted quite a lot of questions about what it was, so it was a good ice breaker. No need for an extra cover for this one, at least not for me.
The tablet itself is easy to carry, just 300 grams, and with its 7.85 – inch diagonal, it is also easy to handle. The screen is HD and the image is vivid. Suffice to say much of the time the tablet was my office companion when I wanted to watch news, some YouTube videos, and sometimes a sitcom in my lunch break; I placed it nicely nested onto its keyboard, next to my laptop.
I also tried to use it instead of my laptop; of course I regularly checked e-mail and social media, either with its on-screen keyboard, or using the attached keyboard. The connection between the keyboard and the tablet itself is done via Bluetooth. The keyboard needs to be charged separately, but I only did this once in seven days and it lasted for the whole period. For the tablet, charging it in the evening for moderate to heavy use the next day turned out to be enough.
While overall the tablet/mini-notebook worked just fine, there were some glitches: a few seconds of delay for some apps (also probably because memory was close to full, and I had not used the extra SD card), and that after a while, the Bluetooth connection would turn off automatically, and it won't let the user turn it on again, unless the tablet was re-started.
Other than that, the mini-keyboard needs some adjustment, but once you get used to the size of the keys, it's easy to write. But I don't think it's destined for heavy writers such as journalists, who need to write fast and correctly, and who write vast amounts of stories during the day; probably better suited for average users, who write e-mails here and there, and maybe a text here and another one there.
For better usability when turned into a mini-notebook, a mouse that connects via Bluetooth is also needed. The tablet has a mini-USB and an HDMI port, and a jack for the headphones, so a Bluetooth connection would be needed to connect a mouse. However, as I haven't tried this one out, I don't know whether you can connect both the mouse and the keyboard via Bluetooth at the same time – this needs to be investigated further.
In terms of memory, the tablet itself has 8 GM flash memory, and a I GB RAM memory, but it can be extended by 32GB via an SD card (which I did not use). I almost did not use the 2 MP camera, but it's good that it has one. What I often used however was the easily placed print screen button within the home menu. Quite ingenious!
I think I will miss this little tablet, I got used to it, and I might even buy it to use it now and then, when I am on the run and I don't need to write that much, or when I'm on holiday and I really don't want to carry my laptop around, but still be up to speed with my stuff.
Evolio now sells it for a promotional price of RON 549, discounted from RON 749 (in EUR that would be EUR 124 instead of EUR 170), so I believe it is good value for money.
By Corina Chirileasa, [email protected]
(photos by Corina Chirileasa for Romania-Insider.com)
Normal