French President Francois Hollande during visit to Romania: I feel like home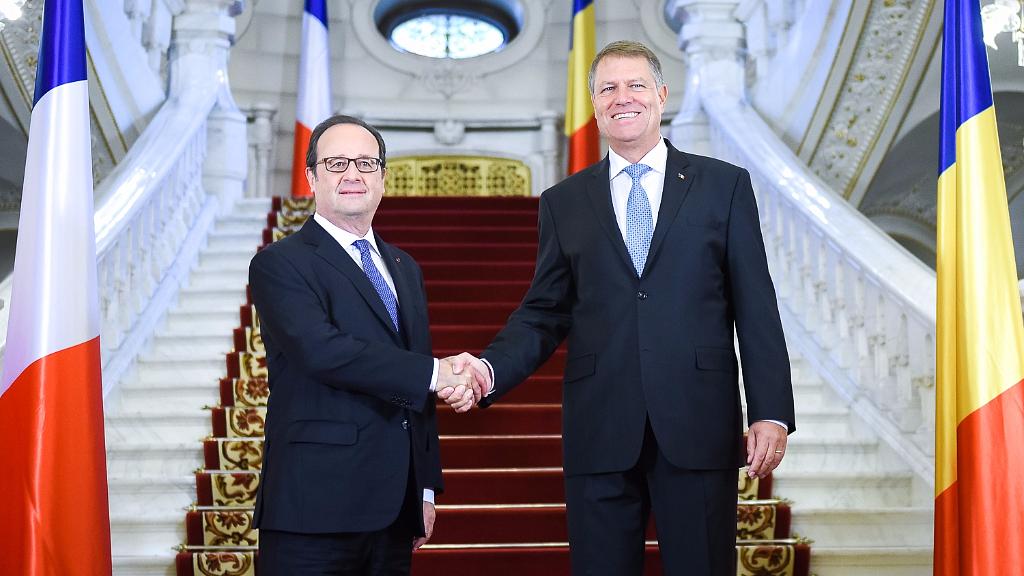 Romanian President Klaus Iohannis welcomed French President Francois Hollande at the Cotroceni Palace in Bucharest on Tuesday morning.
At the end of the meeting, which lasted about an hour, the two heads of state made a joint press statement during which Francois Hollande said that he feels like home in Romania.
"Romania is not a country like any other. We have common roots, we have a culture, we share many things, and we have many connections. Here in Romania, I feel like I'm home, and I thank you for that," Francois Hollande said.
The two Presidents also talked about the Schengen area during their meeting, and the French President hinted that Paris could change its attitude towards Romania's accession to the Schengen zone, starting with the airports.
"Discussions should be held in Brussels to see how Romanian airports can make a contribution to the Schengen Area, through their effectiveness," Hollande said.
He noted that Romania had implemented the Passenger Name Record (PNR) Program for controlling the movement of people transiting through airports, a program that is essential in the context of terrorist threats.
The French President also talked in his speech about the economic relations between the two countries, saying that there are nearly 450 French companies in Romania that have created more than 100,000 jobs.
"We want France to be able to provide solutions for the Romanian economy, in new technologies, for start-ups, in the field of energy transition, in environmental, transport, land transport, and railway areas," Francois Hollande said.
He also talked about the cooperation in the education area, the Roma people, and international subjects such as Ukraine and the Middle East.
Romanian President Klaus Iohannis also said that the country's relation with France represents a priority for Romania.
"In the EU context, Mr. President Hollande and I had several talks on sensitive cases. We addressed together, in a constructive manner, Romania's accession to Schengen. We also had very constructive discussions, and we believe that together we can find solutions for the posting of workers Directive," Iohannis said.
Francois Hollande made a visit to Romania on Tuesday, September 13, this being the first time since 1997 when a French head of state visits the country. After the meeting with Klaus Iohannis at the Cotroceni Palace, Francois Hollande went to the Research Center in Magurele, and the new Airbus Helicopters plant in Brasov.
Klaus Iohannis and Francois Hollande previously met in February 2015, when the Romanian President visited France.
Romania's President decorates French counterpart Francois Hollande
Irina Popescu, [email protected]
(Photo source: Presidency.ro)
Normal