Partner Content
Embracing nature in your home: Garden Living, the latest residential trend in Romania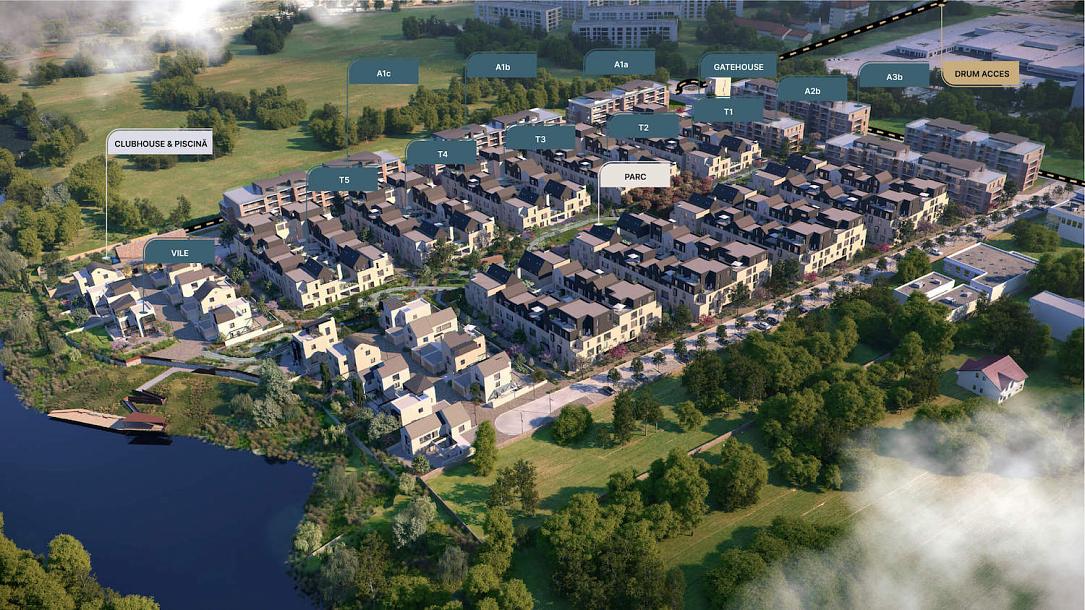 Leaving city life in favour of being close to nature, spending more time outdoors, while connecting with others and keeping all modern life benefits is slowly catching on in Romania as well in the form of the garden living trend.
People want to leave their city flats to feel more connected to the earth and surrounded by green areas, to reconnect with themselves. More and more they also feel the need to connect with neighbours, to be part of a community, which is, ironically, in fact not easily available while living in a crowded city.
Some people choose to move to villages outside big cities and change their lives completely, while others opt for residential projects that value the green areas and offer a car-free concept, where they can get the best of both worlds. It is the case of Bucharest, where neighbourhoods promoting garden living and community participation are an option within reach.
Exposure to nature lowers stress, improves mood, improves one's attention span, and has been linked by studies to a reduced risk of mental disorders and even increases in empathy and cooperation. One can boost their mood just by walking in nature, even in urban nature, according to psychologists.
So the new garden living trend is a "back to nature and back to our humanity" movement, where people can still have those things that are useful from their city life, which is now integrated with house and villas neighbourhoods.
Such a project is Avalon Estate, developed by Prime Kapital in the northern side of Bucharest, where low rise buildings offer terraces that open to the park and to the lake, buildings that are surrounded by walking areas where people can exercise or connect to and spend time with friends, family, and neighbours.
The compound has a low density and favours walking and interaction, leaving behind the discomfort created by cars. Cars are parked in masked areas close to the houses, keeping the inside alleys for pedestrian walkways and green areas. Quiet, less traffic and less noise pollution help increase the quality of life and promote better physical and mental health as well.
To encourage community life, which so many city residents long for these days, such neighbourhoods have dedicated places for private events and meetings for everyone living there. The residential project also includes shopping facilities, kindergarten, restaurant, sports centre, and a natural plant-filtered pool.
Studies show that social involvement and neighbourhood social cohesion promote health and wellbeing and that people who are socially involved in their neighbourhoods tends to spend more time with other people rather than on their devices or on social media, for example.
How the houses and the entire neighbourhood looks like plays an important part: many studies show that neighbourhood aesthetics influence the feeling of safety and social cohesion. People feel more secure, less stressed, and engage more with others when they live in houses and neighbourhoods that look nice.
"We made detailed studies of the architecture and the way it can be integrated so that each alley is surprising yet keeping a unitary look and feel. We studied the relationship between each type of house and the green areas around, so that all residents can be connected to the park right outside their homes while keeping their privacy," said Maggie Kitshoff, Partner, Prime Kapital.
This garden living compound developed by Prime Kapital is located near the Pipera boulevard, in the Northern part of Bucharest, close to the Pipera lake. The location allows its residents easy access to the city's business district, the airport, highways exiting Bucharest, as well as to the high-profile schools in North Bucharest. The compound will host 746 homes, from detached villas to townhouses, penthouses, and large apartments, with diverse and efficient layouts.
"Nature heals, soothes and restores while social connection promotes better health, so we put them together for our residents to get all these benefits while being close to the amenities and the economic advantages of a large city," added Maggie Kitshoff of Prime Kapital, the developers of Avalon Estate.
The residential project is built around a large central park. The entire project will have 28,000 sqm of green area and pedestrian alleys, creating a large green space that is completely car-free.
Some of the benefits that make Avalon Estate a unique project are the Gatehouse, the Clubhouse with the pool and restaurant, the kindergarten, and, of course, the large green area.
Garden living in a neighbourhood with low-rise houses and plenty of green areas offers a range of benefits for people's physical, mental, and emotional health. It's an excellent way to stay active, reduce stress and anxiety, boost creativity, and connect with the community – and now all that is possible inside big cities as well.
This is native content supported by Prime Kapital.
Normal