News from Companies
The Economist Impact Events presents the 3rd edition of the Romanian Business & Investment Roundtable, in Bucharest, on the 15th & 16th of March 2023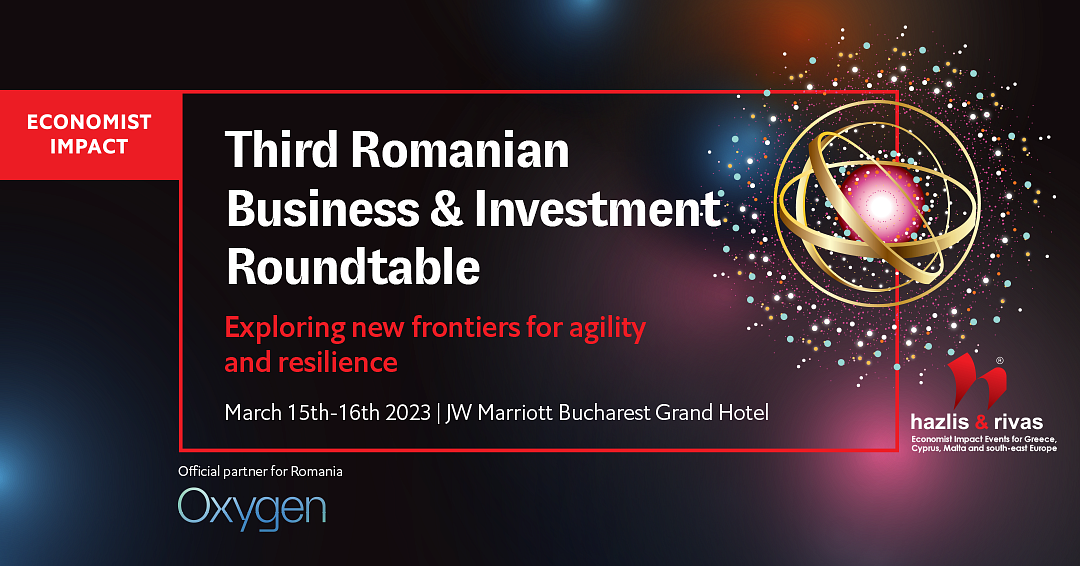 The Economist Impact Events and its exclusive representative for SE Europe, Hazlis & Rivas, in partnership with local partner Oxygen, announces the third edition of the ROMANIAN BUSINESS & INVESTMENT ROUNDTABLE Conference, entitled "Exploring new frontiers for agility and resilience".
Lord George Robertson, British politician of the Labour Party who was the 10th Secretary General of NATO from 1999 to 2003, will be a guest of honour and keynote speaker at the event. We are pleased to be hosting the Prime Minister of Moldova Natalia Gavrilița to address the Gala Dinner on March 15th 2023 while fmr. Prime Minister of Ukraine Yulia Timoshenko will give an update on the Ukraine war and its impact on the wider region.
This year's roundtable will take place on the 15th and 16th of March 2023, in Bucharest, at JW Marriott Bucharest Grand Hotel, and will tackle the geopolitical landscape on the first day, and the macroeconomic outlook in the second. Some of the hot topics that will be addressed are the energy crisis, the prospects for the local and European economy in the context of overlapping crises, digital acceleration, the health of financial markets and sustainability.
In addition, the Economist Romanian Business & Investment Roundtable will bring together high ranking Government officials, top executives from the Romanian and European business communities.
The event benefits from the support of the American Chamber of Commerce in Romania (AmCham) and the Netherlands Romanian Chamber of Commerce (NRCC), two solid organizations with highly reputable memberships.
The Economist Impact Events offer companies and entrepreneurs the chance to improve their knowledge in key areas to contribute to growth, while presenting relevant research and indepth analysis from prominent editors of The Economist Group.
Hazlis & Rivas is the official representative of The Economist Impact Events for Southeast Europe including Romania and is pleased to have a partnership with Oxygen as our Economist impact local partner for Romania.
For more details about the event and speakers, please visit the following link.
Vodafone Romania is the main partner of the event, for the second consecutive year. The media partners of the event are Radio Guerilla, Radio Romania Actualitati, G4Media, Economedia and Romania Insider.
- This is a press release.
Normal