Back into dinosaur era in Central Romania: Dino Parc Rasnov, where science meets amusement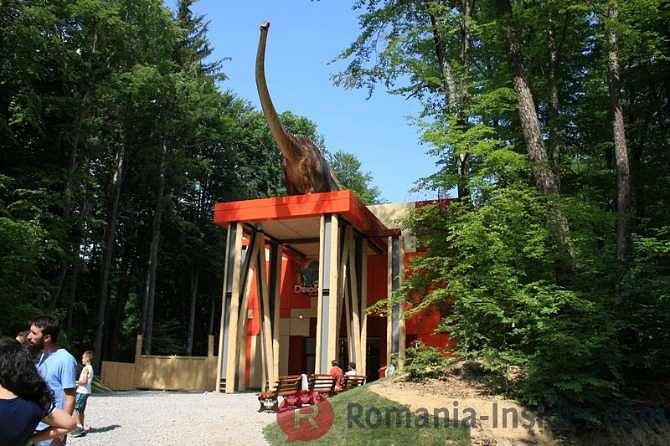 A big dinosaur has found its way near the Rasnov citadel, in central Romania. Some 45 others are roaming free in the nearby forest. It's not why some say that coming to Romania is like going back in time. There's a new amusement park in central Romania where visitors can indeed go back into the era of dinosaurs.
Seven years ago, three friends, all forestry engineers, had the idea of creating such a dinosaur park in Romania. With EU funds and a 1.4- hectare land plot leased for 49 years from the City Hall in Rasnov, in central Romania, Adrian Apostu, Sarkany Arpad and Gabriel Rozorea managed to see their project come to life earlier this month, when Dino Parc Rasnov opened for visitors.  More than 11,000 people went to see, touch and take pictures of the 45 scientifically built dinosaurs in the first weekend after opening.
Located just near the Rasnov Citadel - Cetatii street in Rasnov – with a big dinosaur standing at its entrance, Dino Parc is part of a cultural circuit in the area, which also includes Rasnov Citadel and Valea Cetatii Cave. "We've invested very much in the educational and scientific side of the park," Adrian Apostu, project manager Dino Parc Rasnov told Romania-insider.com.
This fall, the investors plan to promote the park among schools and universities in Romania. "We want to work with schools and universities, we want them to come and organize classes here."
An original skeleton of a dinosaur nicknamed Balaurul Bondoc, the only species of dinosaur found on Romanian territory, in Hateg area, welcomes visitors into Dino Parc. His skeleton is exhibited at the entrance of the park, close to the ticket office, a dino shop and a terrace.
The restaurant, called Papazaur, also close to the entrance – which is also the exit - can get crowded sometimes – expect waiting time – but the good, deserts and good prices are worth it.
Once you've passed these two locations, the adventure can start. There are dinosaurs to see, touch and photograph, tree houses, a tyrolian traverse and even a small volcano. You can find a map of the park after you pass the restaurant.
Don't worry about finding the dinosaurs in the woods – they will find you! The route takes you to each of them. Dinosaur replicas of different sizes and types are carefully placed in the woods, accompanied by short presentations in Romanian, English and German. Each of the exhibits has lights and sound, so they will make for an intense experience in July and August, when night tours will also be organized at Dino Parc.
Of dinosaurs…and money
Building the park was a lengthy process, Adrian Apostu tells Romania-Insider.com. After leasing the land in 2008 from the city hall, it took around two years and a half for the project to be approved. Then, a Spanish company bided for the contract and won, but it failed to pay the guarantees and so the auction had to be resumed. Romanian company ProConstruct Corporation won the second bid. Arranging the park lasted a year.
The investment amounted to EUR 4 million, without VAT, 70% of which (EUR 2.8 million) came from European funds. With VAT, the total value of the investment amounted to some EUR 5 million.
The three investors expect a turnover of around EUR 500,000 in the first year, and over 100,000 visitors, and want to expand the park every year.
Dino Parc Rasnov is open daily between 09:30 and 20:00. Tickets costs RON 28 for adults, and RON 22 for children, and kids under 3 enter for free.
Irina Popescu, irina.popescu@romania-insider.com
(photos: Irina Popescu, Romania-insider.com)
Normal