Bucharest National Opera opens new season with outdoor show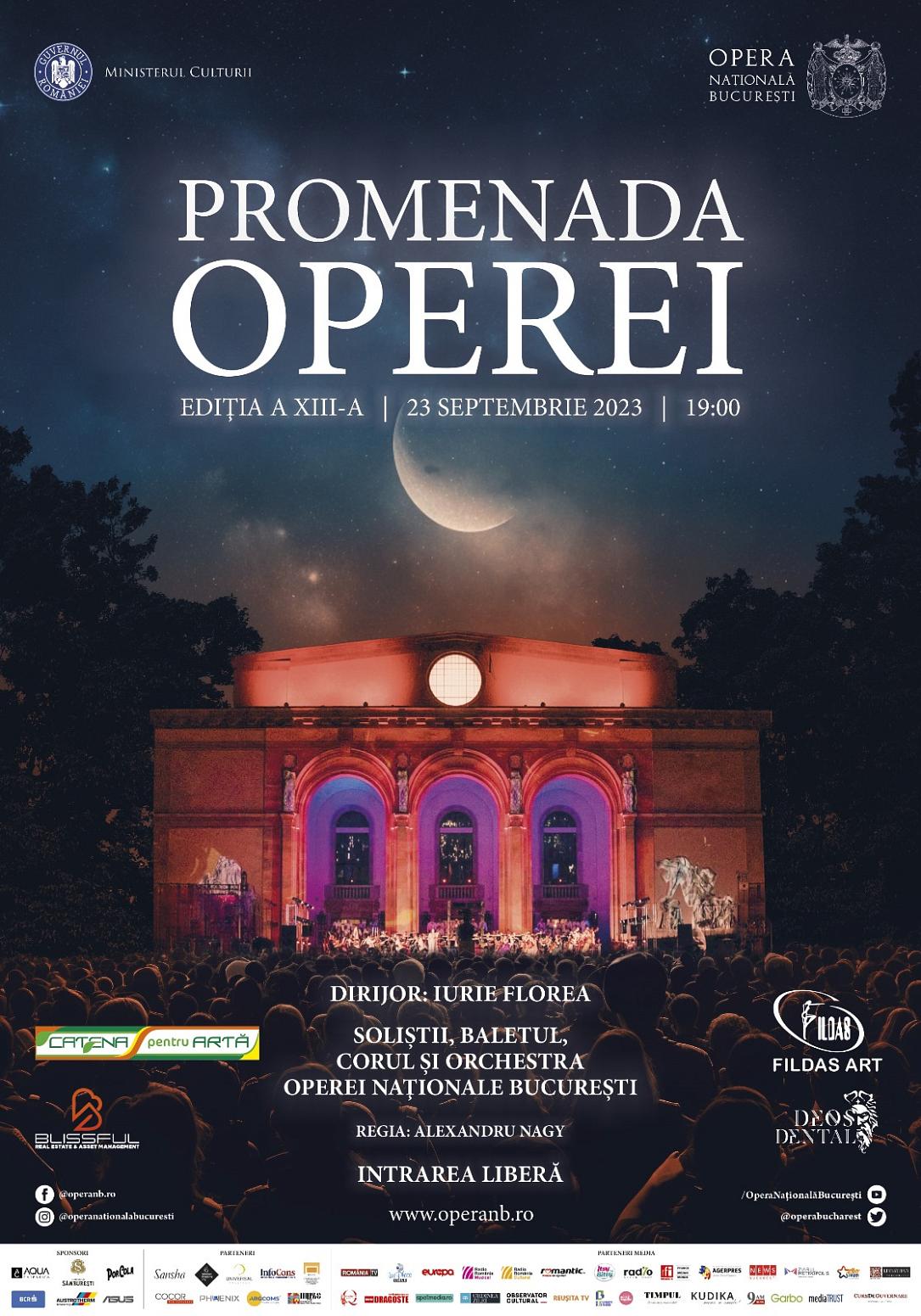 Bucharest's National Opera will open its new season with the traditional open-air show, now in its thirteenth edition. This year, the Opera Promenade will take place on Saturday, September 23, and will feature 12 hours of music, unique artistic activities, and outdoor relaxation. 
The main event of the opening is the Extraordinary Gala of the Opera Promenade, which will start at 7:00 PM. The gala will feature soloists, the orchestra, choir, and ballet of the National Opera of Bucharest conducted by Iurie Florea. 
The event will showcase sopranos Madeleine Pascu, Marta Sandu Ofrim, Mihaela Stanciu, Bianca Mărgean, Simona Neagu, Sorina Munteanu, Crina Zancu, and Mădălina Barbu, mezzo-sopranos Mihaela Ișpan, Oana Andra, and Sorana Negrea, tenors Daniel Magdal, Alin Stoica, Lucian Corchiș, Andrei Petre, and Liviu Indricău, baritones Cătălin Toropoc, Alexandru Constantin, Adrian Marcan, Iordache Basalic, Vicențiu Țăranu, and Ștefan Ignat, basses Marius Boloș, Leonard Bernad, Iustinian Zetea, and Filip Panait, and lead dancers Cristina Dijmaru, Rin Okuno, Bogdan Cănilă, and Robert Enache. 
The performance will also include an original lighting and videomapping concept, with direction by Alexandru Nagy. Some of the arias and duets to be performed include selections from Verdi's "La Traviata," "Rigoletto," and "Il Trovatore," Rossini's "The Barber of Seville," Puccini's "Tosca" and "Turandot," among others.
The emotion and passion of classical music will blend with dance performances by the Ballet of the National Opera of Bucharest and exceptional solo interpretations on the esplanade in front of the country's premier lyrical stage.
Access to the event is free and will begin at 12:00 PM. 
Opera Labyrinth is a sonic journey into the magical universe of the Opera, guided by the artists of the Experimental Studio in Musical Performing Arts "Ludovic Spiess." The journey is directed by Alexandru Nagy and will take place every hour in groups of up to 50 people between 12:00 PM and 5:00 PM on the esplanade of the National Opera of Bucharest. 
The Opera Labyrinth experience is part of the Opera Verde (Green Opera) project of the Experimental Studio in Musical Performing Arts "Ludovic Spiess," which aims to responsibly use and reuse resources for the benefit of the new generation of artists.
(Photo source: the organizers)
Normal