"Accept that you're going to be seen." A blind Romanian climber's tale of courage, determination and success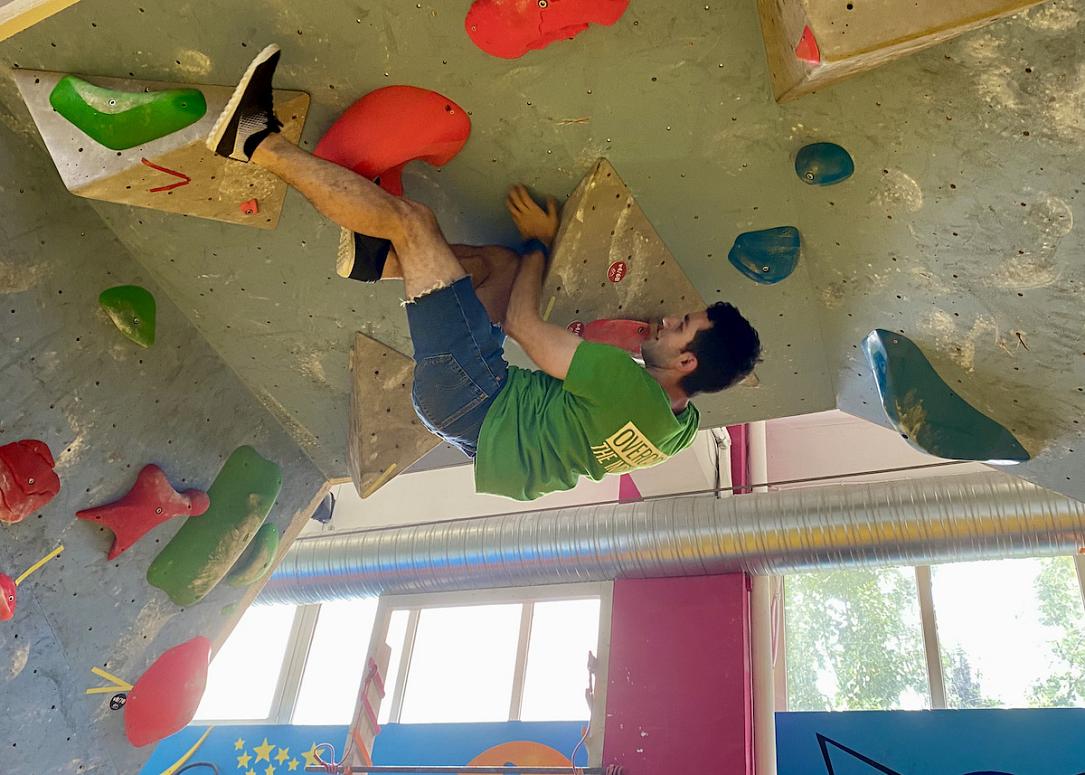 No visibility doesn't mean no possibility. That's one way to sum up the story of blind climber Răzvan Nedu, captain of Romania's national paraclimbing team, world silver medalist, trainer at the Climb Again sports & therapy club, and life enthusiast. In a society where people tend to see the disability before the person, Răzvan dared, embraced the challenges and found his way, one step at a time.
"If I walk around all day with a white cane in my hand that shows that I'm vulnerable, then I somehow get used to admitting that I'm vulnerable. You have to accept that you're going to be seen. Then you will start to accept that you will have difficulties, that you will get lost. It's all about acceptance and finding solutions." - Răzvan Nedu.
Răzvan Nedu, 26, never got to see the world as most of us do. He was born with severely impaired vision of roughly 2%, which decreased over the years to below 1%. This means he only sees the brightest and whitest lights at night and a mix of colours and blurry shapes during the day. But experiencing new things all the time translated over the years into new tools that help him navigate the world and, even more so, achieve performance in the sport he loves best - climbing. And he's always eager to try something else, setting sky-high limits.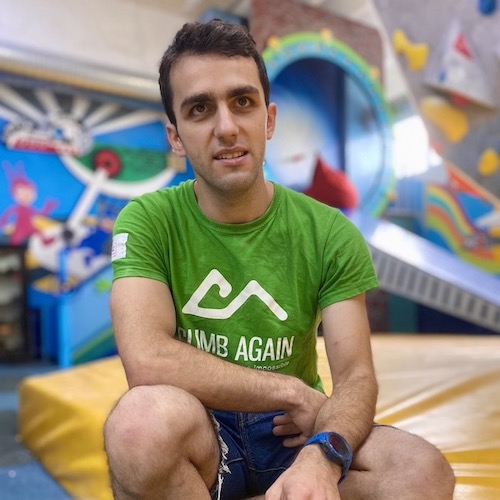 Răzvan was 16 when he used his first support cane. In fact, it was actually an umbrella that helped him avoid obstacles while trying to find his way from a hotel in Bistrița to the railway station and then all the way back home by train.
"I called a taxi. I also had an umbrella, so I used that umbrella, and I was fine. I asked the taxi driver to help me, I asked other people... The idea is that if we are open to asking, we get answers," he recalls, smiling. 
A true fact is that Răzvan smiles a lot, makes jokes, and is rather solution-oriented. He talks about his disability openly and honestly, with a touch of humour. 
"Being blind means that you don't get bored, there are always challenges," he says, smiling again. "For example, I went to a new gym recently, and everything was fine in the locker room until I noticed that the locker had a digital keypad lock. Not a key, a code on the touchscreen. I asked a guy there to help me, thinking that at the end, when I have to leave, I'll find someone else to enter my code again."
And as a current resident of Bucharest, he has many, many more stories like that. He got lost times and times again, including in front of his new apartment building, missed buses and took wrong turns, not to mention the countless times he collided with other people on the street. But then, he says, all the frustration and sadness are balanced by the kindness of people offering assistance or the immense joy of overcoming the fear and doing things on your own.
A sports enthusiast, Răzvan never says no to a new challenge. That's how he got to try many sporting activities such as swimming, rowing, kayaking, skating, snowboarding, and skydiving. Or even darts or pool. He also likes to cook once in a while and is a fan of chess, which he says helped him learn how to see the bigger picture and better plan a route in his mind when he's in the climbing gym or at a paraclimbing competition.
Răzvan Nedu was first introduced to climbing at the age of 19 when a caravan of the Climb Again sports & therapy club came to his school. He kept climbing since then, both walls and some of the world's tallest mountains, taking Romania to the podium in international paraclimbing competitions and reaching the tops of Mont Blanc, Elbrus, Aconcagua, Matterhorn, and more. Future outdoor targets include Kilimanjaro in winter and international running events. And one of them is the 2024 Paralympic Games in Paris.
As a world silver medalist in paraclimbing and the captain of Romania's national paraclimbing team, Răzvan knows that performance comes with pain and sacrifices. His fingers are hurting almost constantly, and the scratches and bruises on legs and arms are rather ordinary. Not to mention muscle and joint pain after extreme effort.
"There were moments when I bandaged my fingers before training, and I bandaged them like that, each one separately, because I knew it would hurt. Endurance means staying on the climbing wall for a long time, and the skin does not last as long as the passion, the desire, the will," Răzvan says.
"Mentally, it's tough to know that it will hurt like hell for the next half an hour, and so you start to bandage your fingers as a precaution. And you do it not because it won't hurt but because the skin won't come off and tomorrow you'll be able to do a different kind of training."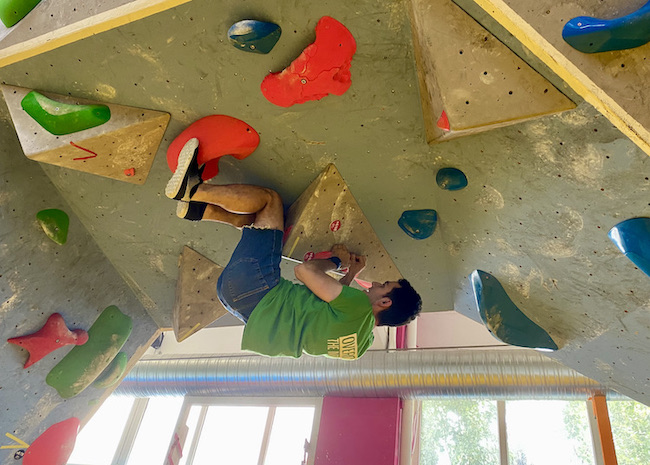 But climbing is more than just sports for him. It changed his thinking, making him more solution-oriented, confident and daring, ready to take on fresh challenges or simply live in the moment. 
And when he's not competing or trying new things like running jumps, he's passing the message and climbing skills to others as a trainer at the Climb Again gym in Bucharest. He works with children, helping them to overcome fears and limits on the climbing walls and inside their minds. Kids and adults with or without disabilities come to the center to climb or have fun at the indoor adventure park set up there.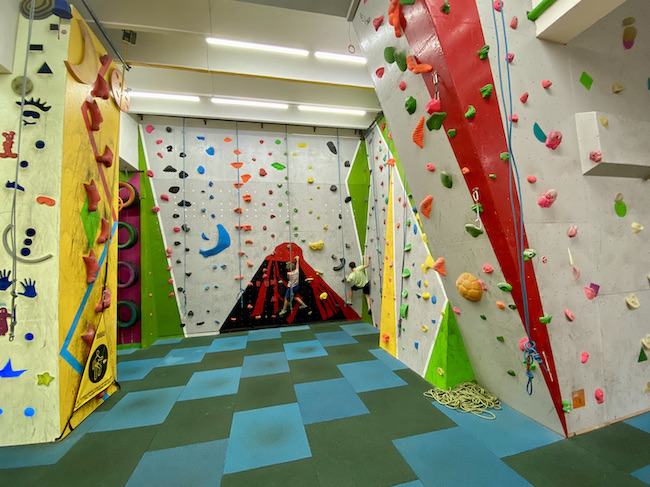 But Răzvan believes that any other sport or activity can help people with disabilities go out of their comfort zone, overcome their fears and possible shame, and dare. He says one thing to do is be honest with yourself, take a break when it's too much, but don't give up. Learning takes time but always comes with rewards.
"Choose something you want, something you think is really cool, something you like. Whatever that is. And then start working to make it a reality. Do it in small steps, accept that it may take years to do it," he says. "And learn to enjoy the little wins. If you don't know how to appreciate each small step, you won't get to appreciate the end if it takes so long. And I, from my own experience, can say that it takes longer for a blind person."
"There are beautiful moments and ugly moments. And then these things compensate. But you keep going, that's what you do."
-----
Climb Again is a non-profit affiliated with the Romanian Mountaineering and Climbing Federation (FRAE), founded and led by Claudiu Miu, former Balkan climbing champion. Since 2014, it has been organizing free sessions of climbing therapy, physical therapy and psychological counselling for children and young people with disabilities. But its centers' doors are also open to people who simply want to try climbing or Ukrainian refugees seeking a new activity. Further details can be found here.
Irina Marica, irina.marica@romania-insider.com
(Photos: Irina Marica/Romania-insider.com)
Normal