Music festivals and tourism ministry partner to promote Romania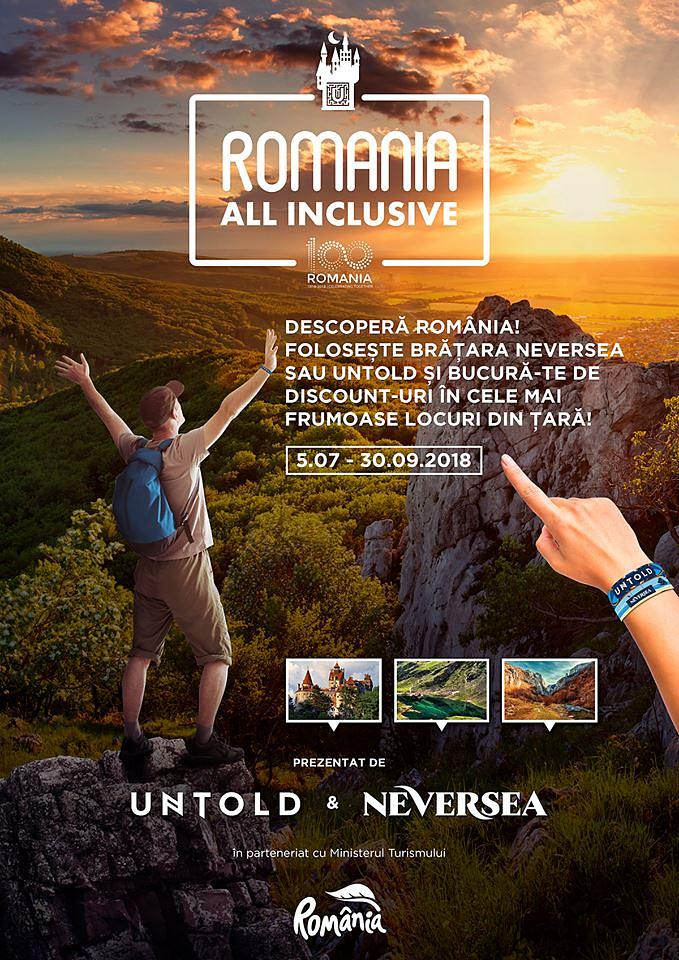 The tourism ministry and the organizers of the Untold and Neversea music events have partnered to promote Romania to festival goers.
Under the partnership, those attending the events can use the festival wristbands as an access pass to visit 70 tourist sites in the country, for free or at a discounted price. The list of sites can be consulted here. The offer is valid in between July 5 and September 30.
The list of tourist sites is open to additions and tourism operators can list new venues as long as they offer a benefit to the owners of a 2018 Untold or Neversea bracelet.
The partnership is called "Romania, all inclusive" and expands on Untold's previous "Transilvania, all inclusive" campaign, launched in 2016. It also marks the 100-year celebration of the 1918 Union and aims to turn the country into "the world's large resort."
The tourism ministry also appointed Untold, one of the largest festivals in the country, a Romanian tourism ambassador. It is the first Romanian brand to receive the title. The event, which has been taking place in the western Romania city of Cluj-Napoca for the past four years, attracts more than 300,000 local and international visitors at each edition. In 2017, the organizers of Untold held the first edition of the Neversea festival, in Constanta, at the Romanian seaside.
"I said I trust this team because, in their case, the facts speak for themselves. For four years, Untold has been gathering hundreds of thousands of people in one of Romania's largest cities; organizing the Neversea festival will take the tradition further to the seaside," Bogdan Gheorghe Trif, the tourism minister, said.
"The 'Romania, all inclusive' campaign is our new initiative […] Three years ago, we started with 'Transilvania, all inclusive', with which we aimed to offer free or discounted access to tourist sites in Transylvania. The campaign went very well, we had a high number of tourists visiting Transylvania because of it. This year, being an anniversary one, we wanted to turn the campaign into a larger one, to mark the Centennial [e.n. of the 1918 Union]," Edy Chereji, the Untold marketing and communication director, explained.
Untold takes place this year between August 2 and August 5, with a lineup that includes Black Eyed Peas, The Chainsmokers, Jason Derulo, Tiesto, Don Diablo, Tujamo and Danny Avila. Neversea takes place between July 5 and July 7, with a program that includes performances from Armin Van Buuren, Steve Aoki, Galantin, GTA, Jonas Blue, Kungs, Tujamo and Yellow Claw.
Blood donors get free tickets to Romanian music festivals
(Photo: Untold Facebook Page)
Normal