Romanian film review – An End of Summer Watch List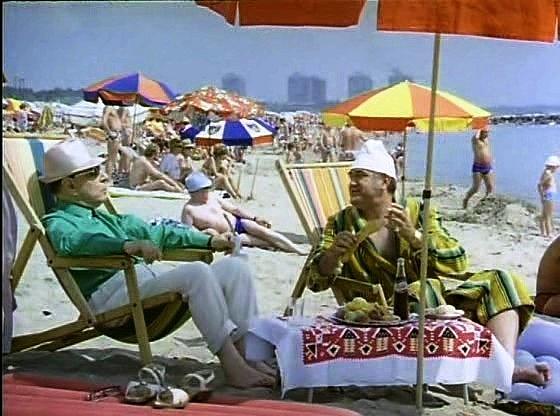 With summer almost over, here is a list of movies to accompany these last moments of the season, or to watch them later and prolong the summer nostalgia. The list includes titles which take place at the seaside, in the mountains (i.e. you classical summer holiday spots), or generally in a setting suggesting heat, holidays, laziness, and, needless to say, yours truly can happily recommend. So scroll below and click on the links for more details on the movies and where to watch them (if the linked articles should not include this info because they were published when the films were still running theatrically, you can find them meanwhile on DVD/Blu-ray at Cărturești or Amazon).
Summer is almost always synonymous with lightness and comedy, so the kick-off should belong to a true comedy classic. B.D. la munte și la mare (1971), about a police squad fighting petty crime, stars some of the best comedy actors this country has ever produced, jaw-dropping slapstick and a miracle-making icon.
Nae Caranfil's hilarious, sexy road movie Asphalt Tango (1996) is, like all of his films, fiercely intelligent, brilliantly written and admirable at mixing humour and drama. The story of a hapless guy trying to win back his wife who is leaving for Paris is an endlessly quotable gem. And it stars the formidable Charlotte Rampling.
Another classic, and immensely moving, especially considering its true story, is Cristian Nemescu's 2007 California Dreamin' (Endless). The story of a group of American soldiers travelling through Romania in 1999 with military equipment on their way to Kosovo and being stuck in a dusty village due to bureaucracy and an overzealous station chief has laughs, a big heart, and a wonderful Armand Assante.
Just as moving, but equally delightful, and very very droll, is Marian Crișan's Morgen (2010), the story of an unassuming security guard in a city near to the Hungarian border who stumbles over an illegal Turkish refugee on his way to Germany. I might be bending the rules a bit here, because I am not sure whether it's not set in late spring, but the film is too moving and too good not to be mentioned.
Tudor Giurgiu's Of Snails and Men (2012) is also grounded in social realities, featuring a group of factory employees with a highly unorthodox idea to raise money and save their jobs. Set in the 1980s, it is gloriously retro and very droll.
For lighter, sillier, but nevertheless entertaining fare dealing specifically with relationships, sex, and fun, you can't go wrong with #Selfie (2014) or Love Building (2013).
The most recent comedy I would include on this list is less laugh-out-loud and with a much sharper social commentary. Corneliu Porumboiu's The Treasure (2015) is the story of three guys looking for a treasure supposedly buried in a garden. It is deceptively simple, has a perfect ending, and the funniest use of a metal detector. I have to admit I am also guessing with this one: judging by the thick sweaters the protagonists wear, it could also be spring or early autumn, but its fairy tale touches makes me think of summer and, well, it is simply too good to leave out.
Some of my favourite short films are, coincidentally, set in summer, from the chilling perfection of Adrian Sitaru's Waves to the comic genius of Hanno Höfer and Corneliu Porumboiu's shorts.
To finish the comedy list in style (and substance), there is Aferim! (2015). A film on Roma slavery in 19th century Wallahia, this is probably not the first title anyone would associate with summer, but in its arthousy, aesthetically exquisite way, it ticks all boxes: it is set in summer, it's ferociously funny, and a mixture of western and road movie, two of the most sun-drenched genres. It has generated intense debate on Romania's history, acknowledging and coming to terms with a national past, and is a must-see.
Since we have been sliding towards graver topics, we can now move on to dramatic entries and it's best to start with a bang. Nicolae Constantin's Tănase electrifying feature debut The World Is Mine (2015), a coming-of-age story set in an unnamed city by the sea, is rough, loud, foul-mouthed, and fearlessly acted.
To return to classics, I could not leave out Lucian Pintilie, possibly the most influential of Romanian directors. His 1994 drama An Unforgettable Summer is a beautiful period piece on the tensions between the Romanian administration and the peasants and revolutionaries of Bulgarian and Macedonian descent in Southern Dobrogea in 1925.
The last entry also belongs to Pintilie and is an undisputed masterpiece. Reenactment (1968) is considered by many to be the best Romanian film of all time. While I am sceptical of rankings, it is hard to argue with this one. A fierce critique of repression and the misuse of power, it features two young men caught by the authorities while being drunk and misbehaving, and offered a milder sentence if they re-enact their brawl in an educational film against the dangers of alcoholism. When the crew move to a restaurant in the mountains to start shooting, things take an inevitable turn to tragedy. Unforgettable, and undeniably the most moving ending this list could wish for.
by Ioana Moldovan, columnist
Normal