Romania's President attends Government meeting as changes to criminal laws are considered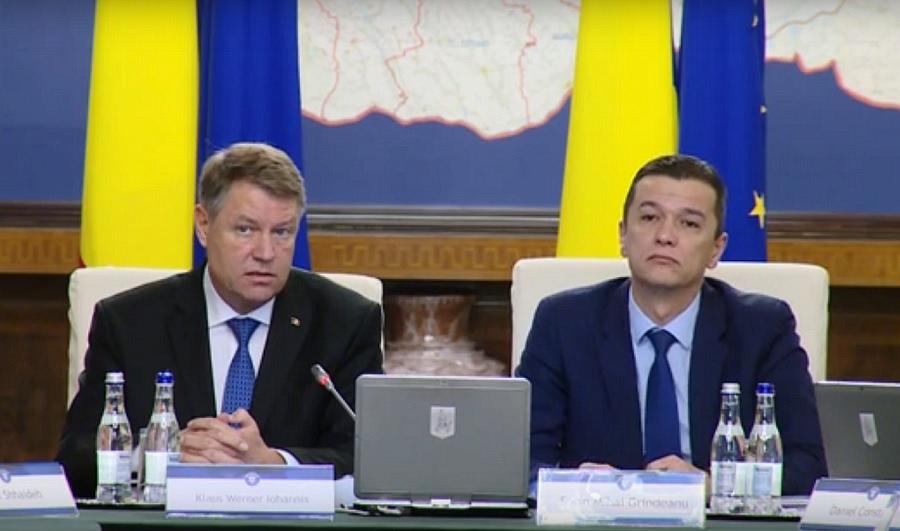 Romania's Government was expected to issue an Emergency Ordinance to bring several important changes to the criminal laws on Wednesday. President Klaus Iohannis (left) went to the Government's headquarters to attend the cabinet meeting on Wednesday morning and asked Prime Minister Sorin Grindeanu (right) not to include such an Emergency Ordinance on any cabinet meeting's agenda without a transparent consultation.
"There are two elephants in the room and nobody talks about them: the pardoning ordinance and the ordinance to modify the penal codes," said Klaus Iohannis at the beginning of the meeting.
"I obviously talked about them with the Prime Minister this morning and he said that discussions on these ordinances had taken place with some colleagues from the Government. He told me that these matters won't be added to today's meeting agenda. He also agreed to not include these matters overnight into any cabinet meeting," the President said, adding that these matters should be discussed transparently because this is the only way to reach a consensus solution.
The Government was expected to decide the pardoning of inmates convicted for several types of crimes on Wednesday. Changes to the definitions of some criminal offences, such as abuse of power, negligence at work, conflict of interests, were also expected to be on the cabinet meeting's agenda, according to several governmental sources quoted by local Hotnews.ro. If these changes were made, they would be the equivalent of a "masked amnesty", as many ongoing corruption cases will be impacted, according to Hotnews.ro.
Prime Minister Sorin Grindeanu said on Tuesday evening that he didn't agree to discuss anything related to amnesty, but that a discussion about pardoning may take place. However, if the Government decides to pardon some people, this decision will not include serious offences such as corruption, tax evasion, and other major crimes, Grindeanu added, according to local Mediafax.
Justice minister Florin Iordache also said on Tuesday that although amnesty shouldn't be considered, pardoning should be considered as a solution to solve the problem of overcrowded prisons in Romania. According to Iordache, Romanian prisons have 19,000 places and 27,000 convicts and building new prisons would take a few years. The justice minister said just before taking his mandate that discussing an amnesty law in the Parliament was auspicious. However, he changed his statement after President Klaus Iohannis, chief prosecutors, and magistrates spoke against an amnesty law.
Normal