Romanian film review – Behind closed doors: Sieranevada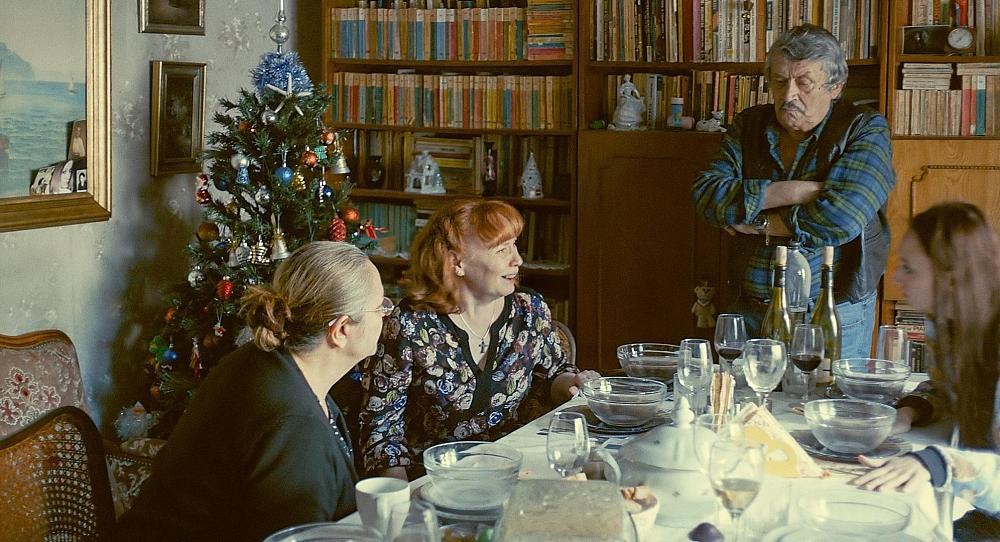 Since we last talked about Dan Chișu's The Anniversary and its inevitable comparison to Cristi Puiu's Sieranevada, why not discuss the latter, not only because it is one of the best films in recent years, but also one of the funniest.
Speaking of fun, neither Cristi Puiu's name nor a film about a family gathering in a cramped Bucharest apartment would normally sound like a happy night at the movies, but miraculously this is just what this film is: a wonderfully engaging, endlessly entertaining masterpiece. While Cristi Puiu has a great gift for comedy, albeit one which can turn pitch-black, like in his perfect debut Moartea domnului Lăzărescu/The Death of Mr Lăzărescu, his more recent films, more conceptual and austere, could not have prepared me for the sheer viewing pleasure that is Sieranevada.
The (mysteriously titled) film centres on a family gathering to commemorate 40 days since the passing of patriarch Emil. The main character, if you can call him that, is his son Lary, a jaded doctor who arrives late after a (for us hilarious) argument with his wife on the way. He is the one who might be called in charge, trying to organise the day, and apparently the go-to guy for any trouble. And so family members come and go, they bring friends who seem to overdose on drugs, a priest makes a brief appearance (of course), other people arrive and we're not sure whether they are also family or simply old friends (not that it matters much), some discuss conspiracy theories, couples argue, other couples unload their intimate issues (again, cringe-worthily hilarious for us). And all that while trying to not completely torpedo a proper, traditional feast.
What may sound like a mind-numbing experience is an impressive tour de force. Sieranevada is anything but easy viewing but it is absolutely immersive if you go with it, and both intellectually and emotionally rewarding. There are no introductions as to who is who, and how everyone is related; we just watch these very different people as they interact and at some point feel like a part of the maelstrom of emotions. The dialogue goes from politics to family secrets, love, sex, daily problems, and yes, politics (the older aunt with communist nostalgia is a particular treat). All this while preparing the dinner which gets postponed perpetually, as you might expect. The way everything looks effortless is the work of genius, from the exceptional acting, to the brilliant dialogue and especially the camera, which glides and moves in such a small space, creating a wonderfully fluid sense of motion. It's all a jaw-droppingly choreographed ballet.
A friend told me that what he remembered most from the film were slamming doors and this is actually a great observation to sum up the film's rhythm: people entering and exiting rooms, and doors slamming harder as emotions heighten. Who would have known that watching doors open and close for almost three hours can be a transfixing experience.
Sieranevada has been released on DVD and if you haven't watched it yet, drop everything you're doing and run to the nearest store or order it online. If you have, it is probably the best season to watch family stories, so watch it again. It would also make for a great Christmas present, since we are talking about families and the (soon to come festive) season. In short: there is simply no reason to not watch this film, or to not talk everyone you know into watching it.
By Ioana Moldovan, columnist, [email protected]
(photo source: Cannes Festival website/film still)
Normal