Thousands march in Bucharest to support anticorruption department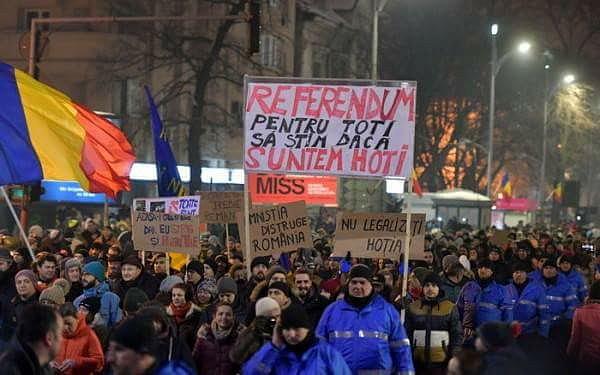 About 5,000 people participated in a march to support Romania's fight against corruption in Bucharest on Sunday evening, March 6.
The protesters started from Victoriei Square, the place where the biggest protests in Romania in the last 25 years took place at the beginning of February. They went to Universitatii Square, to the Parliament's Palace, and then to the headquarters of the National Anticorruption Directorate (DNA), before returning to Victoriei Square, according to News.ro.
The protesters shouted slogans against the Government and the heads of the Parliament's two chambers, and expressed their support for DNA, the institution that has been fighting top and medium level corruption in Romania in the last four years. The demonstration was organized under the moto: "We support DNA and want public institutions depoliticized."
A few hundred people also protested in other big cities, such as Cluj-Napoca and Timisoara.
The new protests were organized after Romania's Constitutional Court ruled last week that DNA exceeded its powers when it decided to investigate the circumstances in which the Government adopted an emergency ordinance that changed the Criminal Code and partly decriminalized some corruption offences, in a late cabinet meeting on January 31.
The ordinance, which was strongly opposed by DNA and Romania's General Prosecutor Augustin Lazar, led to massive anti-government protests in Bucharest's Victoriei Square and was repealed on February 5. The Parliament then voted a bill to reject the ordinance.
However, the Constitutional Court's decision prompted Senate president Calin Popescu Tariceanu to ask for DNA chief prosecutor Laura Codruta Kovesi's resignation. Tariceanu, who has been sent to court by the DNA for lying under oath in a corruption case, is one of the institution's biggest adversaries. He claims that DNA is out of control and that leads to abuses.
Normal