Romania's Adrian Ghenie, among most acclaimed at Venice Art Biennale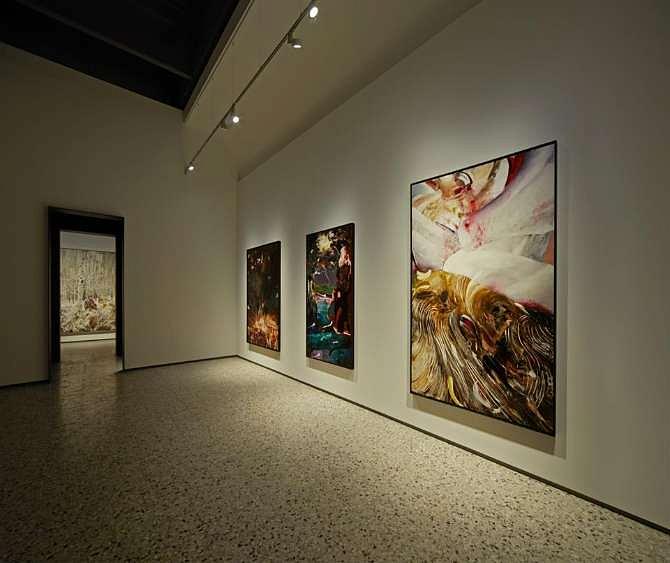 International critics have acclaimed Romanian painter Adrian Ghenie for his exhibitoon at the Venice Biennale, which opened last weekend.
Ghenie's exhibition Darwin's Room is one of the best at this year's Biennale, according to international media, which had access to it two days before the public. The exhibition is part of Romania's pavilion at the Venice cultural event.
The Romanian painter's exhibition gather 19 works dating from 2008-2015, including two new paintings [PHOTO GALLERY BELOW]. None of them are however on sale at the Pavilion. Ghenie's paintings sells for million of dollars: as much as USD 2.4 million at auctions.
The New York Times, the Financial Times, The Art Newspaper, Apollo magazine and Artsy all covered Ghenie's exhibition at the Biennale. "By far the best pavilion at the Venice Biennale is the Romanian's Adrian Ghenie," wrote Les Echoes. Similar statements appeared in the other international journals.
Darwin's Room is a project initiated by the  Cluj – based Brush Factory, whose co-founder Ghenie is. Several art universities in Romania and abroad, as well as art galleries from around the world joined hands in creating Darwin's Room.  More about the project, on its Facebook page. 
Ghenie's works have been exhibited in some of the most important museums, galleries and private collections in the world, among which the Pompidou Center in Paris, the Palazzo Grassi, Tate Liverpool.
The Venice Biennale, which opened on May 9, and titled All the World's Futures, will be open until November 22. The 56th International Art Exhibition starts at the Central Pavilion (Giardini) and continues at the Arsenale, with over 136 artists from 53 countries, 89 of whom are showing at the Biennale for the first time.
Romanian becomes best selling young artist in the world in 2014
Romanian sells 3 paintings for record price in Sotheby's auction
Romanian painting sells for record EUR 1.7 mln in Sotheby's auction
(photos: Darwin's Room on Facebook)
Normal